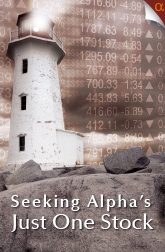 Several times a week, Seeking Alpha's Jason Aycock asks money managers about their single highest-conviction position - what they would own (or short) if they could choose just one stock or ETF.
---
Jim Roumell founded Roumell Asset Management in 1998 after more than a decade as a financial advisor. Prior to establishing his firm, he was a registered principal at Raymond James Financial Services.
If you could only hold one stock position in your portfolio, what would it be?
We recommend a long position in Compuware (NASDAQ:CPWR). It's a leading software vendor whose products manage and measure application and IT infrastructure performance. The firm also runs Covisint, a cloud-services business that provides a platform for automotive firms as well as healthcare companies to securely exchange data and information. Covisint has been expanding its services into additional vertical markets, and we expect this diversification to drive significant growth in the years ahead.
How does your choice reflect your investment approach?
Compuware is a great fit for the RAM philosophy. Its mainframe software business accounts for the overwhelming majority of the firm's $200 million-plus of annual free cash flow. Moreover, the mainframe software business has proven to be a reliable free cash flow generator for years.
In addition, Compuware has two businesses with high growth potential that we believe carry virtually no intrinsic value at Compuware's current share price. First, Covisint generated over $10 million of bookings in the March 2010 quarter and management expects this business to grow 30% in the current fiscal year.
And second, Compuware recently acquired Gomez, which is an industry leader in performance management software for Web-based and mobile applications. The company trades at better than a 14% free cash flow yield, vs. a peer group of infrastructure software vendors that yield around 10%. In short, we own a stable cash flow annuity stream at a discount, plus we've gained two high-growth options essentially for free.
Can you talk about the sector? How much is your selection based on Compuware's industry, as opposed to a pure bottom-up pick?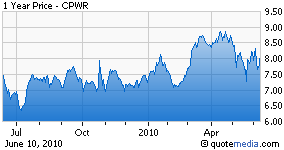 Compuware was primarily a bottom-up selection. We like the mainframe markets overall because they generate high margins and predictable cash flows. With Compuware, we saw a business trading at a depressed multiple, and the opportunity appeared even more attractive when we saw the two "free" growth options. We think the combination of stable cash flows coupled with two significant growth options is a good recipe for RAM's clients.
How is Compuware positioned with regard to competitors?
In mainframe software, Compuware competes primarily with IBM, and to a lesser extent with CA and BMC Software (NASDAQ:BMC). These are formidable competitors, but there are relatively few product replacements in mainframe software. With a shrinking base of mainframe programmers and developers, these customers typically buy the same products and tools that have helped them over the last 10, 20, or even 30 years. In technology parlance, these are "sticky" customers that deliver consistent revenue and cash flows.
Compuware's non-mainframe software products compete with OPNET Technologies (NASDAQ:OPNT) and Keynote (NASDAQ:KEYN), CA (NASDAQ:CA), BMC Software (BMC), Quest Software (NASDAQ:QSFT) and several other vendors with good products. With the acquisition of Gomez, however, Compuware can now manage applications that run inside the enterprise as well as those that are delivered as services (i.e., the "cloud"). This gives IT organizations the potential for true end-to-end visibility. As corporations rely on a mixture of client-server and Web-based applications, Compuware has IT management solutions that midsized or large corporations need to support their businesses.
How does Compuware's valuation compare to its competitors?
In valuing Compuware and other technology firms, we rely principally on free cash flow yield. Compuware delivers better than a 14% yield vs. an average of roughly 10% for the peer group of software companies. IBM, which is arguably its closest competitor, carries a yield of less than 11% and BMC Software has approximately a 13% yield. We think Compuware is priced more attractively than these competitors.
Does your view differ from the consensus sentiment on Compuware?
The sentiment on the stock seems mixed. Overall, the mainframe business is perceived as boring, and while that may be true, we like the predictable cash flow. We are more optimistic and perhaps more patient than others, and are convinced that Compuware's investment in higher-growth businesses will result in significant share price appreciation over the next 12 to 18 months. The recent March quarter results suggest things are moving in the right direction, and leave us even more confident.
Does management play a role in your selection?
In situations where firms are using cash flows from one business to invest in new growth areas, then management is critical. Bad acquisitions, underfunded R&D, or poor technology vision can be damaging. A recent visit with management and improving execution leave us more confident in the leadership team.
What catalysts, near-term or long-term, could move CPWR significantly?
The keys for share price appreciation are Covisint and Gomez. Continued bookings growth and expansion into new vertical markets are critical valuation drivers for Covisint. Management intends to monetize this asset through a spin-off. Whereas Covisint's multiple appears dampened under Compuware, we think a spin-off will uncover the true value of this high-growth cloud services business.
On the Gomez side, it is basically an execution story. Compuware announced it would acquire Gomez in October 2009, so we must still see how the integration progresses. Compuware seems comfortable letting Gomez run mostly on its own, but to extract the true value of the deal, the firm must effectively cross-sell their products.
What could go wrong with your pick?
On the Covisint side, a data center failure, or a security vulnerability could adversely impact the growth trajectory. Loss of key engineering and sales talent at Gomez would also be damaging. Compuware could acquire another company in the near term that would strain management resources or reduce earnings and cash flow expectations. Those are the biggest risks we see.
Thanks, Jim, for sharing your thesis with us.
Disclosure: Long CPWR
Read more Just One Stock articles »
If you are a fund manager and interested in doing an interview with us on just one stock or ETF position you'd hold, please email Rebecca Barnett.