Remember when many investors were bearish on Europe about a year ago? Fears that Europe would melt down in another financial crisis kept many investors from buying stocks in that region. As it turned out, investors who took a contrarian view and bought European equities ended up with big gains, and that same type of potential may now be presenting itself with Chinese stocks. Let's take a look at the charts for a popular European and Chinese stock ETF below (which shows the recent pullback in Chinese stocks and the big gains in Europe over the past year or so):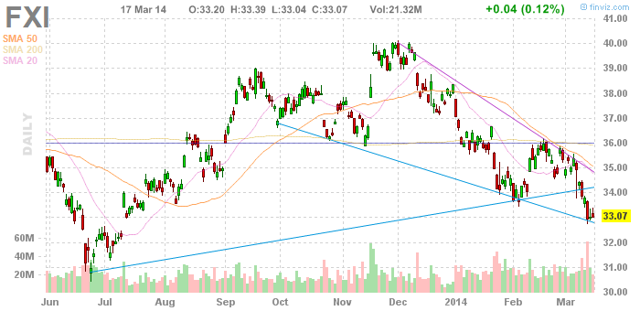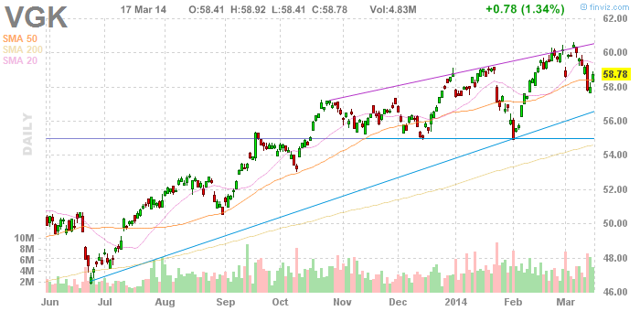 To be sure, China is not typically my first choice when it comes to transparency and honesty. However, it is extremely hard to ignore the growth potential of that economy over the long term. With a huge and rapidly growing population base and rising incomes, China is a secular growth story that will continue to play out for decades. The main reason for concern about China now is a cooling economy. Officials are trying to slow down speculation and excessive growth in order to avoid a bubble-bursting scenario. I believe this is a good strategy and that concerns the Chinese banking system will melt down are overblown. With trillions in reserves, the Chinese Government and Central Bank has the wherewithal to keep the system running at healthy levels and inject liquidity when it wants. If Europe was able to avoid a banking system meltdown with much lower growth rates and far less in the way of central bank reserves, there is every reason to believe that China is going to be just fine. As "Calafia Beach Pundit" points out in a recent article, China is still growing rapidly and the central bank has trillions in reserves, which virtually ensures that there is no risk of a catastrophic financial meltdown. The article states:
"For the past 15 years or so, Chinese inflation has been very similar to U.S. inflation, as the chart above shows. But since the yuan appreciated against the dollar by about 37% over this same period, Chinese prices effectively rose by roughly that amount relative to U.S. prices. This has made China somewhat less competitive, and that has worked to slow its growth on the margin. But it's still growing by at least 7% a year. And the central bank still has almost $4 trillion of reserves, which makes the yuan potentially the most rock-solid currency on the planet. What's not to like about a growing economy and a strong currency and low inflation?"
The Chinese Government is trying to keep growth at healthy and sustainable levels while not providing so much economic stimulus that the economy overheats and forms a bubble that bursts. It seems that many investors are viewing any pullback of stimulus as a real problem since the Chinese economy is starting to slow down. However, this is probably just the right measure and the slowdown is minimal (as noted above), with annual growth still coming in at around 7%. Some of the more recent economic data from China has been confirming a slowdown, but much of that could also be due to the timing of the Chinese New Year, which typically alters economic data. I believe the data will improve in the coming months and that should bolster confidence that the Chinese economy remains on track for 7% growth.
Some analysts are seeing the upside potential in Chinese equities. A recent Barron's article points out that analysts at UBS are bullish on emerging markets and China is favored for gains of about 10% in 2014. The article states:
"We forecast a 10% gain in EM equities in 2014 to a target MSCI GEMs index level of 1,100; we are Underweight in GEMs within a global portfolio. Recovery in EM equities is likely to be a long, slow grind as growth gradually returns. Further FX declines in fundamentally weak countries are a risk. However, we would look to buy selectively in favored markets on renewed weakness in EM equities. Our favoured markets are China, Korea, Mexico, Hungary and Peru; our Overweight sectors are Financials, Industrials, IT and Healthcare."
So just how cheap are Chinese stocks? The iShares China Large-Cap ETF (NYSEARCA:FXI) which is comprised of some of China's largest companies has a current price to earnings ratio of about 7, and a dividend yield of around 4.3%. Compare that to the S&P 500 Index (NYSEARCA:SPY) which trades for about 15 times earnings yields just around 2%. The iShares China Large-Cap ETF is well diversified and has holdings such as China Mobile Ltd. (NYSE:CHL) and PetroChina Co., Ltd. (NYSE:PTR) and many others. This ETF is an ideal way for investors to get exposure to a wide range of undervalued Chinese stocks, and it is a very liquid investment.
An interesting way to buy cheap Chinese stocks at a discount is the JPMorgan China Region Fund, Inc. (NYSE:JFC). This is a closed end fund that invests primarily in large cap Chinese equities. It currently trades at a discount of about 12.5% to net asset value, which is around $16.65 per share. Its portfolio includes stocks like Tencent Holdings Ltd. (OTCPK:TCEHY), CNOOC, Ltd. (NYSE:CEO), Hutchison Whampoa Limited (OTCPK:HUWHY) and many others. It has about 143 holdings, which shows it is well diversified and this reduces risks for investors. With the shares trading at about $14.75 now, investors are getting about $2 per share in "free" stock since the net asset value is significantly higher. Chinese stocks are already cheap, so the additional discount to net asset value makes this an ideal investment for deep value investors.
Data is sourced from Yahoo Finance. No guarantees or representations are made. Hawkinvest is not a registered investment advisor and does not provide specific investment advice. The information is for informational purposes only. You should always consult a financial advisor.
Disclosure: I am long FXI, JFC. I wrote this article myself, and it expresses my own opinions. I am not receiving compensation for it (other than from Seeking Alpha). I have no business relationship with any company whose stock is mentioned in this article.