Last year oil remained around $100 a barrel - near historic highs, but Exxon Mobil (NYSE:XOM), BP Plc. (NYSE:BP) and Chevron (NYSE:CVX) performed poorly primarily due to the same industry wide problems: thinner downstream margins, declining upstream production and lower divestment gains. Thinner downstream margins can be attributed to overcapacity on top of slow demand and higher crude prices, but upstream production and divestment gains are more specific to Exxon - they both contributed to a 27% decrease in earnings from 2012 to 2013. Other possible reasons for the decline include:
Global refining margins continue to remain under pressure as biofuels become more competitive.
Municipalities, especially in Asia-Pacific and the Middle East, continue to expand refining capacity, which is creating downward pressure on profitability.
Lower commodity prices and rising costs of production are placing pressure on upstream earnings. Upstream growth exists in deepwater, Arctic and Black Sea projects, but projections have been pushed back.
Summary: Global refining margins will likely continue to remain under pressure due to industry overcapacity and municipal economies that are willing to run refineries at very low - or even no - return.
2014 will be another year of flat production and thinner margins. Beyond 2014, the company expects its upstream production to grow at 2-3% CAGR until 2017. Exxon believes capex peaked in 2013 and expects expenditures to decline in 2014 to $39.8 billion, down from $42.5 billion in 2013, and then continue at an average of approximately $37 billion from 2015 to 2017.
Meanwhile, Chevron is ramping up capital spending projects over the next two to three years for upstream production projects. One project for liquid natural gas in Austrailia is expected to be online by the end of 2014, which is perfect timing for China.
On March 2013, a report published by IHS Chemical found China increased consumption of methanol by 23% from 2010 to 2012. Methanol is a byproduct of liquid natural gas. The country is expected to consume 32 million tons of the chemical this year, which is half the world's production and over 4x consumption in the United States.
TTM ROCE for Exxon is 21%, and has averaged 22% for the last three years. If price continues to follow ROCE patterns, it could be indicative of a short-term sell off, recovering in the fourth quarter. More than likely the current sell off is due to a reduction in capital spending. One possible scenario is that the price enters into a trading pattern with a bottom at 91, followed by a short-term dive into the 80s, and then a recovery in the third quarter with a top at $101.
That said, the recovery is less certain than the decline. S&P has a 12-month target of $101 based on a forward EBITDA multiple of 5.7x. 5.7x is a premium to Chevron, which I find difficult to believe. With a PEG ratio of 4 compared to an industry ratio of 1.83, I expect Exxon to pull back to the mid-80s before it breaks through $100 again.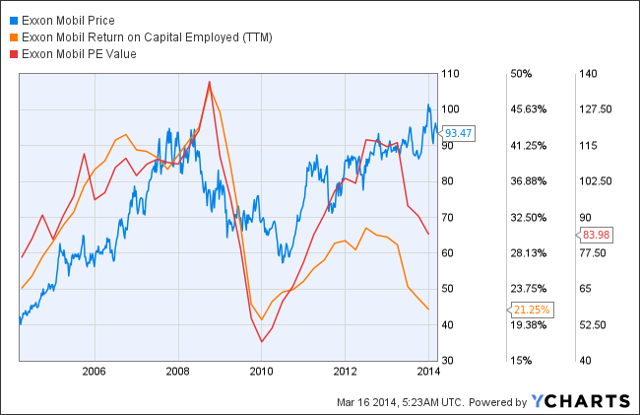 Bottom line ...

Based on the opinion of 16 brokers, and according to data provided by Thomson/First Call Research, the high price target is $112.00, the mean target is $100.03, and the low target is $86.40. According to my research, all signs point to the low target, at least in the short-term.
Disclosure: I have no positions in any stocks mentioned, and no plans to initiate any positions within the next 72 hours. I wrote this article myself, and it expresses my own opinions. I am not receiving compensation for it (other than from Seeking Alpha). I have no business relationship with any company whose stock is mentioned in this article.