The typical investor interest in Windstream (NASDAQ:WIN) centers on whether the company can continue paying out a $1 annual dividend that equals a 12% yield. The bizarre focus on what the company pays out to shareholders has investors looking in the wrong direction.
Windstream is a provider of advanced network communications to businesses and consumers primarily in suburban and rural areas. The company continues to transition from legacy voice consumer services to more advanced cloud computing, managed services, broadband, and digital TV services.
While it's important for investors to understand the dividend payout ratio and whether a stock will need to cut the dividend in the future, the more important metric is free cash flow, or FCF. Investors should understand that the ultimate valuation of a company is based on the cash it generates and not the portion that it pays out to shareholders. If anything, Windstream might fare better long-term by implementing a capital allocation strategy similar to CenturyLink (NYSE:CTL) (see analysis here). Last year, CenturyLink cut its dividend in order to use the extra cash to pay down debt and repurchase shares.
Focus On Adjusted Free Cash Flow
The definition for FCF according to Investopedia:
A measure of financial performance calculated as operating cash flow minus capital expenditures. Free cash flow (FCF) represents the cash that a company is able to generate after laying out the money required to maintain or expand its asset base. Free cash flow is important because it allows a company to pursue opportunities that enhance shareholder value.
The FCF metric is very crucial to telecommunication stocks due to the large requirement for capital expenditures. The ability to fund capital expenditures and still generate consistent FCF is a sign of strength normally overlook with Windstream and CenturyLink due to the lack of revenue growth.
For 2013, Windstream generated $891 million in adjusted FCF. Based on the current valuation, the stock trades at roughly 5.3x the trailing FCF. The midpoint of 2014 guidance of $830 million provides a multiple of 5.7x. In essence, the company will generate more cash than its current market valuation over the next six years. See the below slide from the Q413 earnings presentation with quarterly FCF details: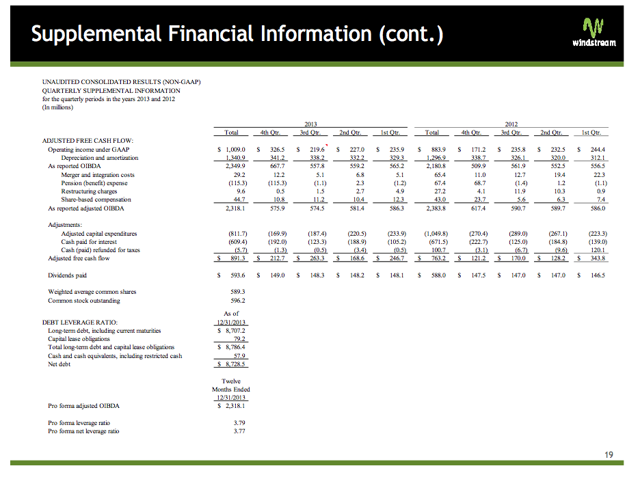 Dividend Reviewed
Clearly investors need to review the dividend level and payout ratio and see if it fits with their financial needs. Tax issues of dividend payments and retirement income needs can dramatically alter an investment decision based on the high dividend payment of Windstream. Also, reviewing the stock action of CenturyLink and other stocks that have recently cut dividends is helpful. Ultimately though, the stock should be valued on the level of free cash flow and not the amount it pays to shareholders via a dividend.
Windstream has consistently paid a $0.25 quarter dividend since the last dividend installment of 2006. The consistency of that payment should shield investors from the constant concerns of dividend cuts.
On the flip side, the 2013 dividend had a 68% payout ratio and the company guided towards a ratio that could reach 78%. The guidance is for adjusted FCF to fall to somewhere between $775 million to $885 million in 2014. The dividends paid in 2013 equaled $594 million. Even at the low end of guidance, Windstream will have nearly $200 million of left over cash to spend.
Conclusion
Investors focus too much on the dividend yield of Windstream instead of analyzing the FCF valuation. For investors that want large dividends, it could be the ideal stock. For other investors that would prefer that the company incorporate a more flexible capital allocation strategy, then the plan implemented by CenturyLink is more attractive. The flexibility to repurchase shares when a stock is trading at less than 6x FCF or pay down high cost debt makes for a more attractive situation. Regardless, Windstream is attractive based on the solid FCF and not based on the dividend yield.
Disclosure: I am long CTL. I wrote this article myself, and it expresses my own opinions. I am not receiving compensation for it (other than from Seeking Alpha). I have no business relationship with any company whose stock is mentioned in this article. The information contained herein is for informational purposes only. Nothing in this article should be taken as a solicitation to purchase or sell securities. Before buying or selling any stock you should do your own research and reach your own conclusion or consult a financial advisor. Investing includes risks, including loss of principal.