"Many of us crucify ourselves between two thieves - regret for the past and fear of the future." - Fulton Oursler
For value investors that missed the big run in General Motors (NYSE:GM) stock from May to December last year, the market is now giving another opportunity to buy these undervalued shares at a lower entry point.
The shares have sunk ~14% since the start of the year on concerns about an expanding recall regarding ignition systems that occurred years before the current CEO took charge. Although the recall has cast a cloud over the shares, I believe sunnier days are ahead for patient value investors.
Ryan Brinkman, an analyst at JP Morgan, came out with an opinion this morning stating that General Motors has as much as 50% upside once these recall issues get put behind it. I place credence to his comments for two primary reasons.
These comments echo my own opinion and are why I recently added additional shares to my core position in GM within my income portfolio. More importantly, Mr. Brinkman is a four-star rated analyst according to Tip Ranks which ranks analysts against each other based on the accuracy of their calls.
JP Morgan's analyst makes several important observations about the valuation and prospects for GM and why the stock is offering a good entry level. Among these are:
The shares are down 14% YTD, in contrast competitor Ford (NYSE:F) is slightly positive for the year.
Although the recall should cost some $300mm in EBIT for FY2014 and has lowered the firm's estimate for next quarter's earnings from 51 cents a share to 40 cents a share; it has no impact to the bank's FY2015 estimates on GM.
The company seems to handling the recall well so far with three "preemptive" recalls.
GM remains the highest rated auto manufacturer within its industry coverage. JPM has a $52 a share price target on the shares, ~50% above the current stock price.
The company continues to show impressive growth in China where it now sells over 250,000 vehicles a month through joint ventures. The company believes it will be selling over 100,000 Buicks a month by 2015. Europe is slowly recovering and February auto sales showed a an over 7% Y/Y improvement. GM will not make money in Europe in 2014, but it should cut its losses significantly. Finally, domestically weather has had a negative impact on sales and inventories in the first quarter. However, as warmer weather arrives that "pent up" demand should juice sales in the second quarter.
From a valuation perspective, the shares are cheap. The stock is selling at under 10x this year's expected earnings and just over 7x projected EPS in FY2015. The five year projected PEG of GM is significantly below 1 (.49). In addition, the shares now yield 3.5% and this is the core reason it is in my income portfolio as the company just initiated a dividend this year after the federal government shed its stake. I expect significant dividend growth in the years ahead as earnings are on a nice upward trajectory.
Finally, the stock seems to have formed a double bottom at ~$34 a share (See Chart) which makes me like the risk/reward profile even more at current levels. BUY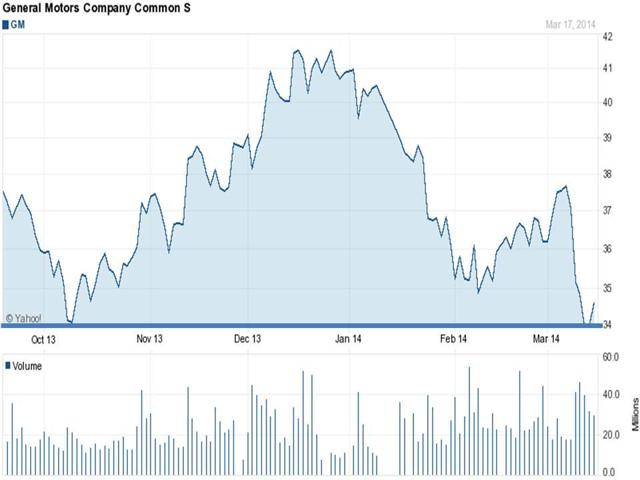 Disclosure: I am long GM. I wrote this article myself, and it expresses my own opinions. I am not receiving compensation for it (other than from Seeking Alpha). I have no business relationship with any company whose stock is mentioned in this article.