Due to soaring demand for air travel as well as strong interest from militaries eager to beef up their air force hardware, events are shaping up nicely for firms across the aerospace sector. Several companies have seen soaring share prices or positive revisions to earnings estimates due to this trend, and with both the civilian and military demand stories still in place, the months ahead are shaping up nicely as well.
While many investors might focus in on giant companies like Boeing (NYSE:BA) or aircraft leasing companies like Aercap Holdings (NYSE:AER) to play the trend, a look to the supply chain side of the equation could be another solid idea too. One way to do this is with Wesco Aircraft Holdings (NYSE:WAIR), an overlooked firm that could also be a way to play the surging aerospace sector.
Wesco Aircraft Holdings in Focus
Wesco helps the aerospace industry manage their supply chains more efficiently, specializing in just in time inventory management systems, as well as long-term agreements, which set prices for specific parts. The firm has a global reach across more than a dozen countries, and it supports over 7,000 customers including all the leading original equipment manufacturers, giving WAIR exposure to all the major Western Aircraft programs.
WAIR hasn't taken off like some of its counterparts as of late, but given the trends in the space, smooth skies might be ahead for this company. This may be especially true when investors consider the earnings estimate revision activity that we have seen for WAIR in recent days.
WAIR Earnings Estimates
For the current year estimates, three analysts have upgraded their view of the company's profit potential in the past two months, compared to zero moving their estimates lower in the same time frame. Investors have also seen a similar revision trend for the next year time period too, as earnings estimates have risen from $1.52/share 60 days ago, to their current level of $1.69/share today.
If that wasn't enough, these rising estimates have also helped to push the anticipated growth rate for WAIR up to just under 14% for the current year. And, for next year, earnings growth is now expected to be just over 21.5%, suggesting that the positive story for WAIR could definitely pick up steam in the months ahead.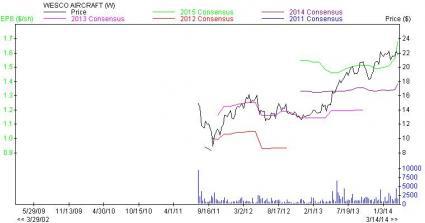 For these reasons, we currently assign WAIR a Zacks Rank #1 (Strong Buy), meaning that we are looking for some outperformance from this company in the near term. Analysts seem to be unanimously feeling better about the company's prospects, and the strength in the industry is difficult to ignore.
This is especially true when one considers the industry rank of the aerospace and defense segment at this time. Currently, the space is just outside of the top 5%, and not a single company in the industry receives a rank below 'hold', so WAIR's services should be in high demand across the space.
Bottom Line
As demand for aerospace products continues to rise, many of the big players in the industry will look to improve their supply chains in order to make their operations more efficient, and push more finished products out the door. This trend looks to bode well for WAIR, as the company is an expert in this field and it is already entrenched with some of the segment's biggest firms.
This trend could allow WAIR to be the next big beneficiary of the aerospace trend, and a winner as we approach Spring. So if you have missed out on the surge in aerospace so far, look to this supply chain manager, as strong earnings estimate revisions suggest that it could be the next company to take off in this top ranked sector.