The list gets longer and longer, with companies jumping on the medical marijuana or cannabis story train as fast as they can issue press releases. For some, the story is easing the suffering of children stricken with seizures and improving the medical regiment of HIV patients. For others, like Nuvilex, it is cancer treatments and concussions.
The street is making so many different claims about the beneficial effects of medical marijuana that soon, I'm sure we'll have reports that cannabidiol treatments effectively cure ADHD, male pattern baldness, and bunions. But, for Nuvilex, cannabinoids are only a small, albeit recent addition to the story. For them, the story is all about live-cell encapsulation technology treatments for various cancers and for diabetes. Whether the licensed technology is appropriate and effective for delivering cannabinoid based treatments is unknown.
Introduction
This article is going to look into the story being told by retail investors and Nuvilex press releases, the story being told by the company filings and its finances, and compare and contrast the stark differences between the two. We will also look into the historic financing of the company and what is in store for shareholders based on recent financing agreements.
To begin, we should know a little more about the company.
The company began as a software development company, DJH International, Inc. in 1996. In 2000, the company bought Global Procurement Systems, Inc. and changed its name to eFoodSafety.com, Inc. This company was in a similar business as DJH. Three years later, in October 2003, the company acquired Ozone Safe Food, Inc., another similar company. On February 4, 2004, the common stock of eFoodSafety.com was registered with the SEC and began publicly trading under the trading symbol EFSF.
However, there was low demand for the company's produce safety and software tracking products. To change business strategies, eFoodSafety.com began to acquire other companies outside its core business line. The company acquired Knock-Out Technologies, a developer of products using organic, non-toxic food based substances in May 2004, and then MedElite, Inc., an exclusive U.S. distributor of a topical scar-reducing cream in August 2005.
The following year, in 2006, the company formed a subsidiary called Cinnergen to manufacture and market a nutritional supplement, and a subsidiary called purEffect to manufacture and market an acne treatment trademarked under the same name. The next year, in July 2007 the company formed I-Boost to manufacture and market a food bar. In March 2008, the company formed another wholly owned subsidiary, Cinnechol, Inc., to market non-prescription nutritional supplements. In 2009, the company sold purEffect for equity and future royalties, and bought Freedom-2 Holdings, to manufacture and market tattoo ink. Then, on January 20, 2009, the company changed its name to Nuvilex, Inc. This change was, "to better reflect its business operations." As a result, its trading symbol on the OTC changed to NVLX.
On May 26, 2011, Nuvilex entered into an Asset Purchase Agreement with SG Austria Private Limited to purchase 100% of the assets and liabilities of SG Austria. As a result, Austrianova Singapore Private Limited and Bio Blue Bird AG became wholly-owned subsidiaries of Nuvilex.
It is this purchase, the acquisition of Bio Blue Bird that provided Nuvilex the exclusive, worldwide licenses to use the proprietary cellulose-based live cell encapsulation technology. So, let's bold that date, or better yet, place it in a nice big graphic. Why? So you can easily refer back to it later.

The Nuvilex Story - a timeline by filings.
It is at this point that the now circulating story surrounding Nuvilex begins. To be specific, with a press release dated June 6, 2011.
Nuvilex, Inc. Readies Pancreatic Cancer Treatment for Expanded Phase II Clinical Trials

SCOTTSDALE, AZ -- (OTC Disclosure and News Service) -- June 6, 2011 -- Nuvilex, Inc. (OTCQB: NVLX) announced today it is aggressively engaging the steps necessary to use its encapsulated cell technology for pancreatic cancer in expanded Phase II clinical trials in the United States, Europe and Australia. The company's objective is to have a protocol submitted to the regulatory agencies in these countries as quickly as possible.
However, from there, the company strangely goes silent, at least with respect to filing material event disclosures related to the business. One would expect that as the company makes progress towards it goals, that it would consistently update shareholders through 8K filings, quarterly and annual reports. However, here is a linked summary of every material report (8K) filed by the company from then until now:
What is missing from these announcements?
Where are the material filings disclosing applications with the FDA? Where are the disclosures that the company has partnered with cancer research leaders like Anderson Cancer Center, the Mayo Clinic, Johns Hopkins, or the Cleveland Clinic? Where in any of the above filings is there anything about research, development, or production of cancer treatments? The company has declined to comment who, outside of Nuvilex, if anyone, is conducting research using its Live-Cell Encapsulation or "cell in a box" technology.
Ok, let's give them the benefit of doubt. Although this company is allegedly on the cusp of a revolutionary and effective treatment or even cure for pancreatic cancer, breast cancer, and even diabetes, that doesn't mean they have to play an open hand. There is nothing wrong with a company protecting its intellectual property while continuing to develop processes to bring its treatments to market. Whether it is patented technologies or a trade secret, companies reserve the right to keep their cards close to vest to prevent things like misappropriation. So, even though the story being told by filings (no research) does not match the whispers on the street (on the verge of a breakthrough), let us look at the financials and see what they say.
Financials
The first place we are going to look is the company's balance sheet. I highly recommend that any investor look at the financial statements of any company they are considering as an investment. While it may be difficult for some of us to wrap our minds around the financials of companies like Google (NASDAQ:GOOG) or General Electric (NYSE:GE), when it comes to small cap and micro cap companies, a review of the financial statements can go a long way in helping the retail investor avoid risk skewed, or poor investments.
One of the first things to notice from the balance sheet below, taken from the company's last quarterly filing, is the change from audited to unaudited. With the change, the company has increased the assets reported by valuing the Bio Blue Bird License and investment by more than $4MM. We can also see total liabilities have dropped by $2.8MM. (More on that later.) The net result; stockholder equity has skyrocketed from a $1.5MM deficit to $3.6MM. However, the only material change disclosed in the 8K filings was replacing the auditor with a new accounting firm.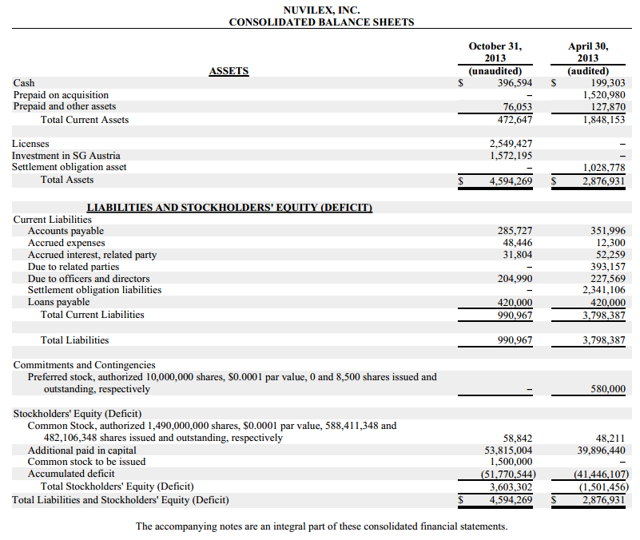 Next, we can take a look at the income statement, courtesy of OTC Markets, with a focus on revenue and expenses. These numbers go back to 2010, and show a consistent drop in revenues. However, the more curious line item is Research and Development spending. First, scroll up in the article and notice the audacious date graphic I placed above. Then come back here and look at the income statement. How much money has the company spent on R&D since that date? If you need to, repeat the exercise.
Now, how can a company that is reporting absolutely $0 on research and development, and has not announced any partnerships or working relationships with researchers be moving their process to market? How can they be any closer today in treating diabetes, breast cancer, or pancreatic cancer than they were three years ago?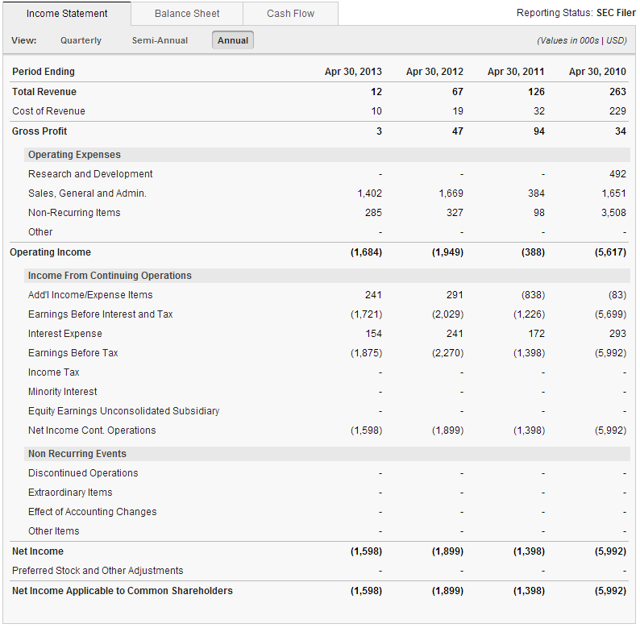 All good questions that we unfortunately do not have an answer for at this time. I have attempted to contact the company multiple times, but have not received any information, comments, or even acknowledgement from the company. (For interested parties, here is a direct link to contact the company.)
So, let us continue our investigation through the public records available. The company has restructured, right? And that's a good thing, right? Plus, there is that announcement of new financing that I have kept saying we are going to get to. Ok, let us look at it now.
History of Dilution - the Debt Reduction and Recent Financing
First, we can look into the "restructuring" demonstrated above on the balance sheet when the company shifted from reported audited numbers to unaudited. Below is another composite graphic of two notes sections from the company's latest quarterly report. It lists the common stock transactions, including shares issued for compensation, debt settlement, and conversions of preferred stock. Note that NONE of these shares were registered with the SEC.
As an aside, and if readers are interested, you can get a better estimate on what the company's general expenses were by subtracting the value of shares issued for compensation from the amounts listed on the income statement above.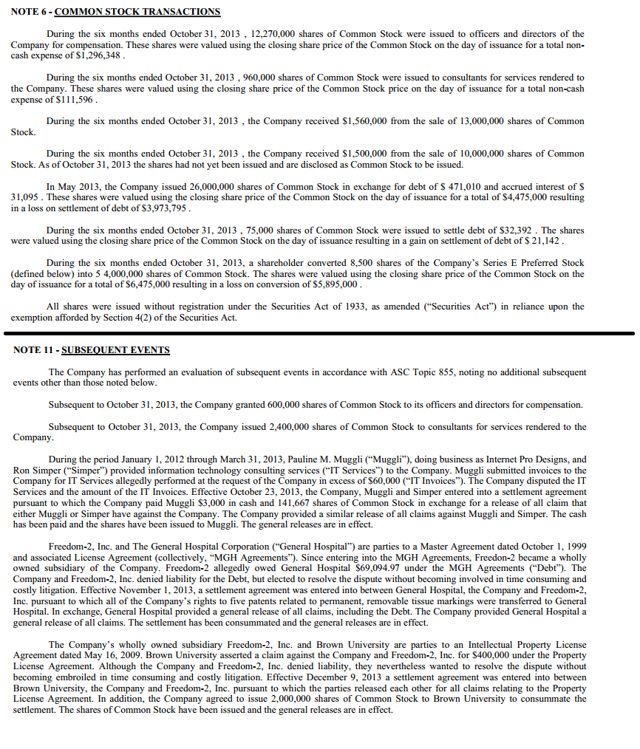 So, readers can see that the changes in assets, liabilities and shareholder equity on the balance sheet above are almost all completely due to auditing changes and dilution of existing shareholders. But, what about that recent financing announcement.
As linked above, Nuvilex recently announced that it had entered into an agreement to sell Lincoln Park Capital Fund LLC to sell to Lincoln Park up to $27,000,000 in shares of its common stock. The announcements said that Lincoln Park had already purchased 8,000,000 shares of Common Stock for $2,000,000. That is an effective cost of $0.25 per share.
The street has made a big deal about these shares being restricted. "Notice we said restricted shares, that's right, LPC has put a great deal of its money on the line with a number of built in protections for Nuvilex," in a release dated February 24 through the Stock Market Media Group. What the announcement didn't mention was this text from the company's 8K filing:
As consideration for its commitment to purchase shares of Common Stock pursuant to the Purchase Agreement, the company has agreed to issue to Lincoln Park 5,062,500 shares

of Common Stock upon execution of the Purchase Agreement, and 5,062,500 shares of Common Stock which will only be issued to Lincoln Park pro rata to the extent it makes additional purchases against the $25,000,000 total, or in the event the registration statement filed pursuant to the Registration Rights Agreement is not declared effective within 270 days from the date of the Purchase Agreement.
So, LPC bought 8MM restricted shares at $0.25 per share for a total of $2MM, but was GIVEN 5MM shares that were trading at $0.37 on Friday March 7, 2014. The value of those shares: $1,873,125. Not a bad pay off for both. NVLX gets to announce $27MM in funding while LPC only puts $127,000 at risk.
By the way, do you think Nuvilex shareholders should be happy that an accredited investor gets in at 37% discount, and that there are now millions and millions of shares more in the dilution pipeline ready to wash over them?
Conclusion
It is unknown why this company has decided to release press statement after press statement related to medical marijuana or cannabis when the claimed core of the business is related to cancer research and diabetes. The company, when queried, did not explain how the live cell encapsulation or "cell in a box" technology can be used with cannabinoids chemical compounds. Therefore, I am suspicious that this software development company with products varying from skin cream to tattoo ink and food bars can truly be successful in tackling a serious medical issue.
After looking into the history and financials of the company, and after looking to the treatments and research being conducted by medical and industry leaders, I have come to the conclusion that Nuvilex has simply jumped on the cannabis bandwagon to keep its name in front of the street. As a result, I believe the street and retail investors have seriously mispriced these shares and that future expectations are unrealistic.
I do not own these shares. I will not buy these shares.
Caveat Emptor!
Disclosure: I have no positions in any stocks mentioned, and no plans to initiate any positions within the next 72 hours. I wrote this article myself, and it expresses my own opinions. I am not receiving compensation for it (other than from Seeking Alpha). I have no business relationship with any company whose stock is mentioned in this article.
Additional disclosure: This information is not investment advice, nor is it a suggestion to either buy or sell any of these securities. Retail investors should do their own research and fully understand the risks associated with these companies.
Editor's Note: This article covers one or more stocks trading at less than $1 per share and/or with less than a $100 million market cap. Please be aware of the risks associated with these stocks.