As mentioned in my previous article, a change to lease accounting is coming that will affect some industries more greatly than others. After the Enron debacle, the SEC made specific recommendations to improve the quality of financial reporting, specifically related to off-balance sheet items, such as operating leases. At the time on the SEC report in 2005, it estimated that there were $1.25 trillion in undiscounted liabilities that did not appear on the balance sheets of US issuers. In perhaps the biggest change to accounting rules, operating leases will now appear on balance sheet as an asset and liability. This article concerns financial statement implications that will occur under FASB's lease accounting rule change for Walgreen Co (WAG), CVS Caremark Corp, (NYSE:CVS) and Rite Aid (NYSE:RAD). A 10 year comparison of their performance is presented, as if the new rule had already been in place.
This article is intended for investors with a mid-long term horizon in Rite Aid, Walgreens and CVS Caremark. It may also be if interest to investors in ETFs with significant holdings in these stocks, such as RTH, XLP, VDC, PMR and FXG.
Background:
Operating leases are one of the few items that management can easily place "off the balance sheet". If a lease does not meet the criteria for a capital lease, then it is an operating lease. Capital leases appear on the balance sheet as an asset and a liability. Operating leases do not. Leases can easily be structured to qualify as operating and, therefore, need only appear as a 10k disclosure, with very little detail.
The proposed standard would pull most operating leases, with the exception of leases under 12 months, including all renewal terms, onto the balance sheet. There will be two classifications of leases, "Type A" and "Type B". Instead of expensing the rent of a Type A lease, (most equipment would fall under this type) the expense would 1. amortize the asset and 2. have an interest expense component. With this change, EBITDA and CFO improve and Debt to Equity, Interest Expense and CFF deteriorate.
Type B leases (mainly property leases), which is the majority of the drug store retailer's leases, would be expensed similarly to, though not precisely as, current rules for operating leases.
Walgreens owns approximately 20% of its locations. Rite Aid and CVS Caremark own just under 6% of their locations.
Evaluation & Findings:
Data was gathered from annual reports for the prior 10 years for Walgreen Co, CVS Caremark Corp and Rite Aid's. In each 10k, some data is listed for operating leases but not enough information (such as the discount rate at the date of lease commencement, terms of each lease, dates of subsequent reevaluation, etc) is presented to discount each operating lease to its present value, as would be required under the new standard. It is unknown if every operating lease required to appear on the balance sheet under the proposed change is present in the disclosed note. Therefore, the undiscounted total of operating lease obligations for each year was added to the asset and liability side.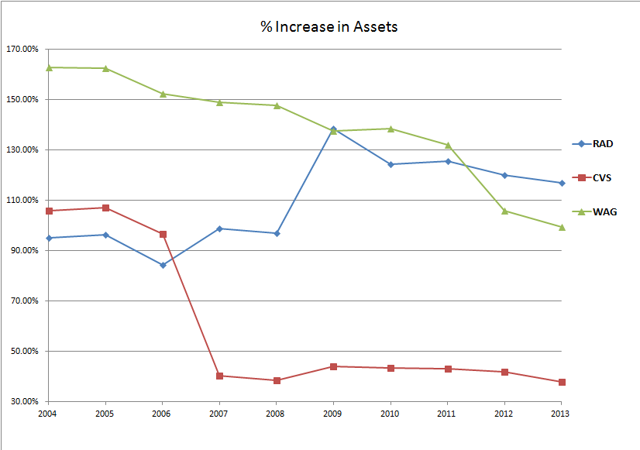 (All images sourced from 10k data)
Rite Aid and Walgreens will have a significantly larger balance sheet once the change is implemented.
While the percent increase in debt looks similar for Rite Aid and CVS Caremark, Walgreens' debt will increase significantly.
Note - the CVS-Caremark Rx merger was completed in 2007.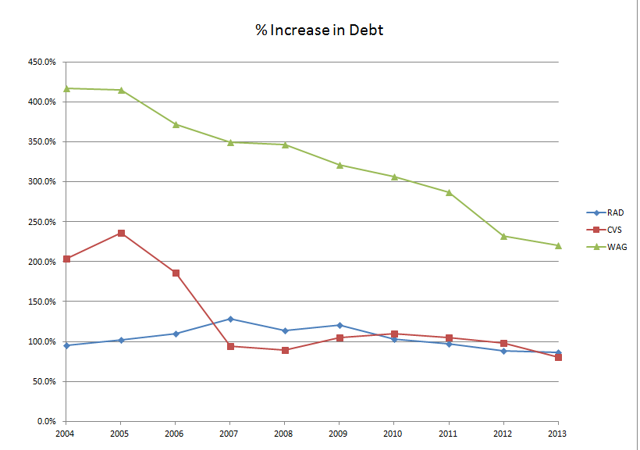 Given these changes, here is a look at the performance of the 3 firms performance by Asset Turnover and ROA over time with a current comparison.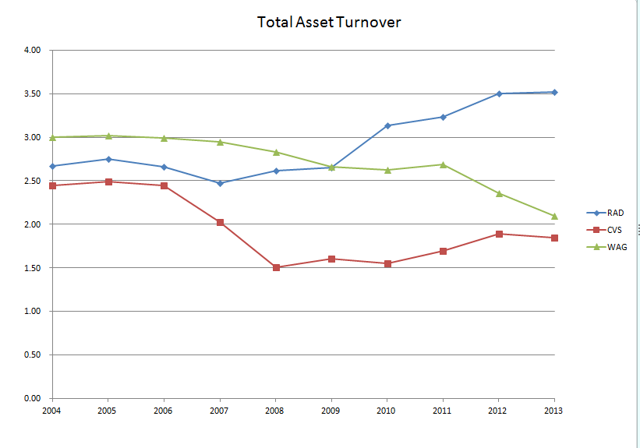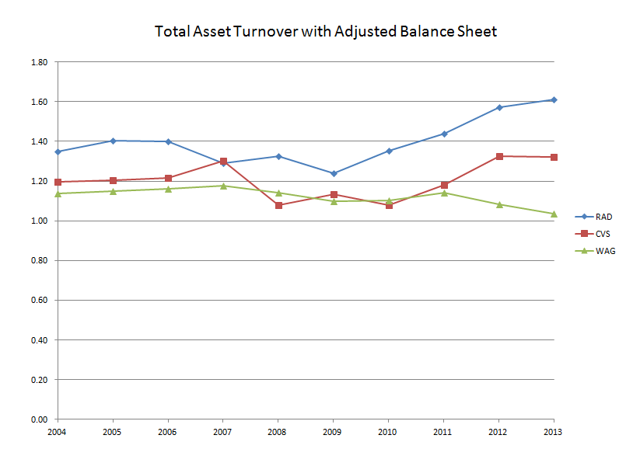 If one evaluated the three firm's asset turnover using their existing balance sheet, Rite Aid's performance is spectacular compared to Walgreens and CVS Caremark. However, if you consider the off-the-balance sheet assets, the performance difference, while still apparent, is somewhat less thrilling.
Unlike CVS Caremark and Walgreens, which have added stores every year, Rite Aid has been closing stores since its Brooks Eckerd acquisition and has been shrinking its balance sheet by decreasing its noncurrent assets.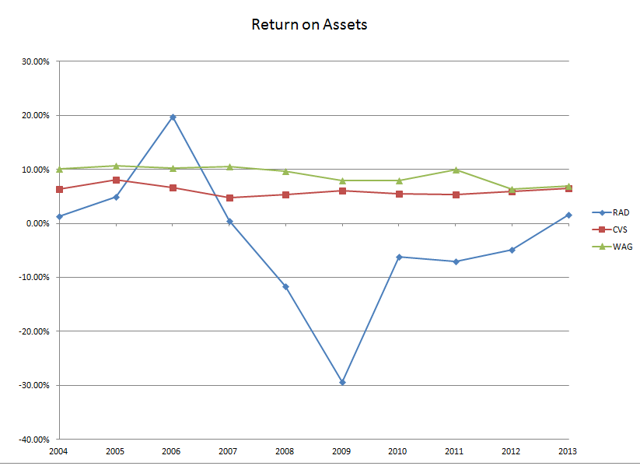 Initially, CVS Caremark and Walgreens look almost identical in their ROA with Rite Aid lagging. But once we add the off-balance sheet leases, CVS Caremark improves slightly over Walgreens.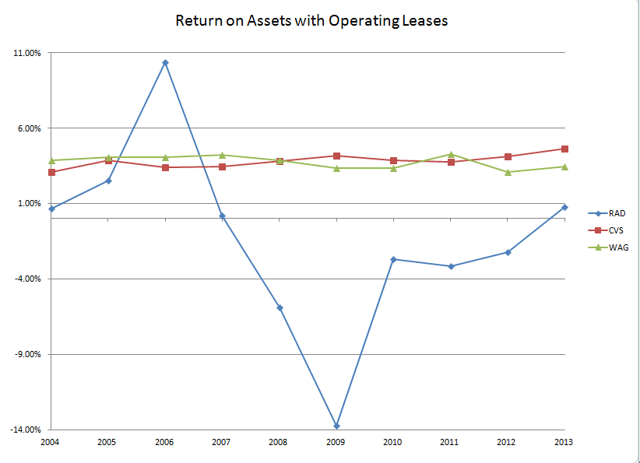 Conclusion
All three firms will experience a dramatic change to their balance sheets once the lease accounting changes are implemented. This may move them into violation of their current loan and debt covenants and will affect their future borrowing ability.
There is still time for firms to change their operating leases and it should be noted that using a higher portion of "variable rent" in a lease may be a way for firms to avoid putting the true value of operating leases in the balance sheets. The portion assigned as variable need not be included in the liability.
Investors that had thought of Walgreens as relatively debt-free may want to reconsider their risk. Although, it still owns approximately 20% of its stores and could engage in sale-leaseback transactions to raise cash.
Investors who believe Rite Aid is turning its balance sheet and performance around may want to reconsider the additional liabilities and assets, especially given the recent pop in the stock. Increasing debt and assets on an already under-equitized balance sheet may not bode well.
Overall, CVS Caremark's balance sheet will look most similar to its current state. Although Rite Aid's asset turnover bests CVS Caremark's, both firms are trending up since 2009. Walgreen Co's trend is neutral to negative. The past two years, it has outperformed Walgreen Co and Rite Aid on ROA basis.
Is this a reason to buy CVS? Certainly not. But if I had to long one of three, based on this data alone, it would be CVS.
Disclosure: I have no positions in any stocks mentioned, and no plans to initiate any positions within the next 72 hours. I wrote this article myself, and it expresses my own opinions. I am not receiving compensation for it (other than from Seeking Alpha). I have no business relationship with any company whose stock is mentioned in this article.