Unravel your SPDR Gold Trust (NYSEARCA:GLD) interests taken on the Ukrainian crisis, as developments have taken tension off and it appears the situation will not escalate further.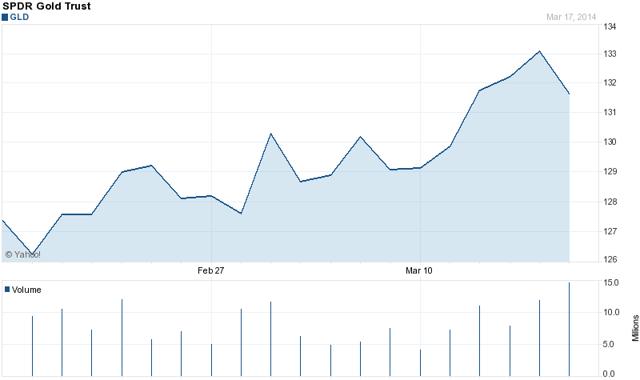 1-Month Chart of GLD at Yahoo Finance
Recent gains since February 28th have been mostly made on the news of the Russian incursion of Crimea and the developments that have followed. Over the two weeks since that dark day and through Friday March 14, the SPDR Gold Trust gained 4.3%, while the SPDR S&P 500 (NYSEARCA:SPY) fell by 0.9%. The entire precious metals complex gained due to safe haven characteristics, in my view. You can see that here in the performance of relative ETFs.
| | | | |
| --- | --- | --- | --- |
| Security | 02/28 - 03/14 | YTD | Last 12 Mos. |
| SPDR S&P 500 | -0.9% | +1.7% | +21% |
| SPDR Gold Trust | +4.3% | +12.7% | -16% |
| Market Vectors Gold Miners (NYSEARCA:GDX) | +7.1% | +26% | -29% |
| Direxion Daily Gold Miners Bull 3X (NYSEARCA:NUGT) | +21.5% | +86% | -81% |
| iShares Silver Trust (NYSEARCA:SLV) | +1.3% | +7.2% | -28% |
The referendum regarding the division of Crimea from Ukraine and its unification with Russia was broadly accepted by the general population, though under controversial circumstances. The vote and the signing of a treaty Tuesday by Russia's President Putin sets the stage for Russia's annexation of Crimea. This was expected to perpetuate a down-spiraling geopolitical situation. However, something else is happening that I believe will halt the drive of the GLD here and take away support for it.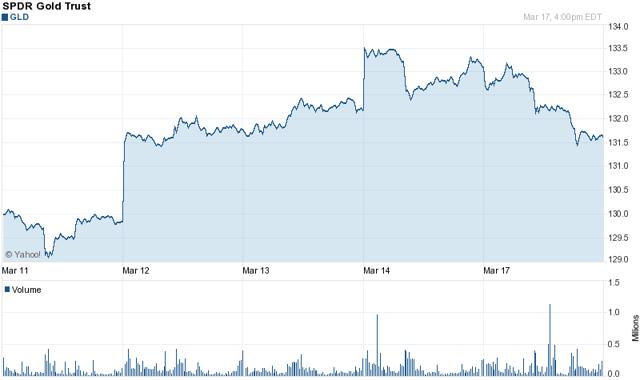 5-Day Chart of GLD at Yahoo Finance
It's already started, as is evidenced here in the 5-day chart of the GLD. The threatened sanctions against Russia have proven hardly hefty enough to incense Russia to counter Western restrictions with much of a punch. Previously, we have been looking for hard-hitting actions to potentially set Russia in the direction of cutting gas to Europe and harming the euro. We even thought Putin would undermine the dollar in every way he could. While he may still work towards that end game, it appears Russia wants to calm the situation that exists today and stop at Crimea for now. Tuesday, Putin said Russia had no interest in invading Eastern Ukraine. That furthered support for global markets and set capital flight out of gold and the SPDR Gold Trust.
While Russian troops will very likely continue to flow into Crimea, I expect it will be more parade-like than in the dark of the night. It seems the Ukraine, under its new government at least, will have reason enough to restrain itself from engaging Russia. The West appears unwilling to oppose Russia militarily, in my view. The sanctions set forth thus far have been against individuals in Russia and Crimea, and are not damaging to Putin or very disturbing to Russia proper, in my view.
Obviously, this is opinion, but it is one that the market seems to agree with as well, given the movement of securities over the last two days. It's certainly not in the interest of Russia nor the West to go to war. So, besides the barking and balking, I see little reason for the GLD to gain further from here. You will want to keep your eyes on Eastern Ukraine, where violence between Russians and Ukrainians could set the stage for the next round some day, but that day should not be soon enough to support the GLD here. While other catalysts may develop for the GLD through the year, it should give back ground for now, in my view.
Disclosure: I have no positions in any stocks mentioned, and no plans to initiate any positions within the next 72 hours. I wrote this article myself, and it expresses my own opinions. I am not receiving compensation for it (other than from Seeking Alpha). I have no business relationship with any company whose stock is mentioned in this article.