Technology, because of its very nature, is a rapidly evolving sector, and history provides ample evidence of its evolution. Operating successfully and sustainably in this sector requires constant change, otherwise the stage is taken over by a rival that embraces change. In the recent past, the computers industry began to shift, and smartphones and tablets emerged as a result. We have witnessed strong growth in the smartphone and tablets industry, and the computer devices industry is in transition. This trend is expected to continue in the years to come. This transition is also changing the landscape of different industries that lie within the ecosystem, including the semiconductor industry. This report is intended to analyze the impact of the transitioning PC industry on semiconductor players and their credentials for the future.
The industry and Major Players
PC Market
IDC predicts that the PC market, including desktop and laptops, will experience a negative CAGR of around 2% in the period of 2012-2017. Mature PC markets are expected to show an even more negative growth of around 4%. The only positive growth will come through portable PCs at a CAGR of 4.8% in emerging markets. No growth is expected to come from mature markets at all. Moreover, Gartner claims that the strong growth in tablets continues to negatively impact PC growth in the emerging markets. Overall, PC demand is not expected to get any better in the future. The best-case scenario is that the demand will remain flat until 2017.
Major players in the PC semiconductor industry include Intel (NASDAQ:INTC) and Advanced Micro Devices (NYSE:AMD). The leading foundries involved in the production of chips are TSMC and Global Foundries. Intel also has fabs (fabrication plants), and is actively involved in the production of chips using the most advanced process technologies.
Intel is essentially the leader in the semiconductor industry, with a 15.7% market share as at December 2012. Its share in the PC market is around 84%, with the rest belonging to AMD.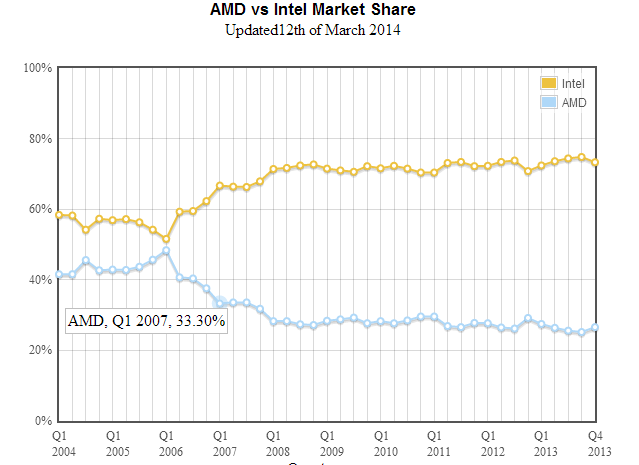 Source: cpubenchmark.net
Intel will be greatly affected by the sluggish PC demand due to its obvious dominating position in the market. AMD, on the other hand, will not be affected much due to its strategic shift toward graphics and custom chips. Intel should address the smartphone and tablets market if it is to maintain its dominating position in the semiconductor industry.
As far as foundries like TSMC are concerned, their focus is on mobile application processors, and they will not be materially affected by the PC decline.
Smartphone and Tablets Market
We mentioned in several earlier pieces that the smartphone and tablets market is growing and is expected to grow in the future. Almost all research firms believe in the strong growth of the smartphone and tablets industry. The CAGR projections of smartphones and tablets are summarized in the table below:
| | | | |
| --- | --- | --- | --- |
| CAGR (2012-2017) | Unit growth | Revenue growth | Emerging markets |
| Smartphones | 14% | 12% | 26% |
| Tablets | 31% | 18% | |
| | | | |
Source: Deloitte research
Smartphones and tablets are expected to grow in the near future, with the leading growth coming from emerging markets like China, Brazil and India. IDC believes that the considerable growth in emerging markets will continue. The growth is inevitable, and will also impact other industries in the ecosystem, such as the semiconductor industry.
Key players of the semiconductor market related to smartphones and tablets include Qualcomm (NASDAQ:QCOM), Samsung (OTC:SSNLF), MediaTek, Broadcom (BRCM), Marvell (NASDAQ:MRVL) and Nvidia (NASDAQ:NVDA). Intel and AMD are also trying to penetrate the smartphone industry with the upcoming Merrifield and Mullins, but the main difference is in the architecture. The leaders manufacture ARM-based chips, while Intel and AMD are relying on their x86 architecture for mobile chips.
The largest player currently is Qualcomm, with around 35% of the application processor market, followed by Samsung, with around 25% market share. Both these companies use ARM architecture to manufacture application processors. The mobile baseband processor (connectivity processor) market leader is also Qualcomm, with an almost 60% market share. Moreover, Qualcomm offers system on chips, i.e. integrated chips that include application processors, graphics and modems on a simple chip that results in lesser costs as compared to discrete solutions. A research report mentions that the trend of integration of more functions onto a single piece of silicon is likely to continue in the future.
Competitive Scenario
The ecosystem must be understood before analyzing the competitive scenario and outcomes in the years to come. There are three types of business models in semiconductor manufacturing; pure-play Foundries, IDMs (Integrated Device Manufacturers) and Fabless manufacturers. Foundries are pure-play manufacturers that manufacture for the fabless companies, such as TSMC. IDMs are involved in the production themselves (e.g. Intel), and fabless manufacturers outsource their design manufacturing to foundries (e.g. Qualcomm is a client of TSMC). TSMC is the leading foundry, Intel is the leading IDM and Qualcomm is the leading fabless manufacturer of the industry.
ARM vs. x86
ARM is an instruction set based on reduced instruction set computing (RISC) and developed by the British company, ARM Holdings. Its advantage lies in power consumption. The processors based on ARM architecture, using a similar node process to x86, are less power-hungry in normal circumstances. x86, on the other hand, is based on complex instruction set computing (CISC) and developed by Intel. x86 has a better performance than the ARM architecture. Because of their particular nature and performance, ARM was suitable for smartphones, whereas x86 was suitable for PCs and high-performance computing. Continuous research and development allowed the performance-power gap between the two architectures to diminish, and Intel now offers atom products comparable in power to ARM-based processors. This indicates that there will be strong competition in the coming years in the smartphone and tablet space, as x86 and ARM will compete on an equal footing.
Intel's Position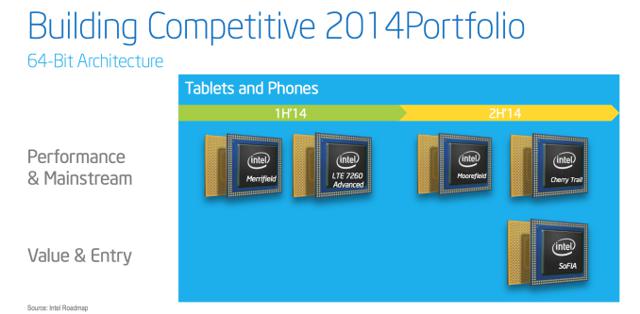 As Intel is facing growth issues from the PC side, it is increasing its efforts in the mobile space. It launched the 32nm processor Clover Trail+ in 2013. These efforts did not gain much traction thanks to Qualcomm's (and others') 28nm ARM-based processors, which were less power hungry. However, Intel is expected to roll out an application processor, codenamed Merrifield, in the near future, based on 22nm process technology. The company claims that it will have a 50% performance boost on Clover Trail+. Adding to this, the power consumption will also be less, as the 20nm process results in low power-consuming processors. If this holds true, Intel will address the power problem in the short term. The company is making big claims with its upcoming Merrifield: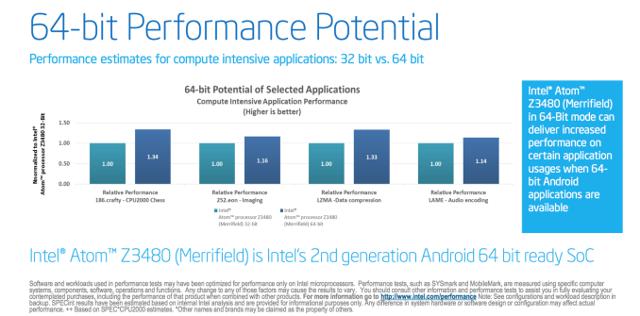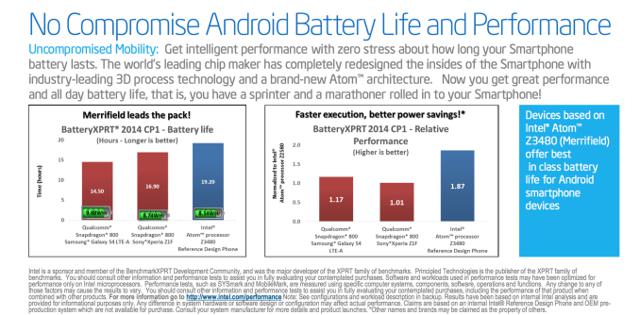 Source: Intel website
The company also managed design wins with Dell, Lenovo and ASUS, but still lacks big design wins, such as Apple and Samsung. TSMC is also head-to-head with Intel in terms of node process technologies, and the 20nm ARM will also be out. We all know that at a similar node process, ARM-based processors will win in terms of power consumption. Moreover, new node processes like 20nm and 14nm will result in higher costs, and the price performance may become an issue. We believe that Intel will remain slightly ahead in node process upgrades. This will help the company to compete with ARM processors based on earlier node technologies, but this comes at an increased cost. Another problem is x86's software compatibility limitations with Android devices. Therefore, we do not see Intel becoming the leader of the smartphone application processor and SoC industry in the near future. Intel will only retain its dominating market position if it embraces ARM technology in the mobile space and its fabs start manufacturing for ARM clients; surprisingly so, this is already happening. As the company is already ahead in node process technologies, the ARM strategy will be a big threat to foundries like TSMC. Pursuing growth through ARM clients will help Intel in maintaining its leading position in the overall semiconductor market. Otherwise, the revenues will shrink amid the declining PC business. Embracing the ARM architecture along with the x86 would be a sensible strategy.
Qualcomm's Position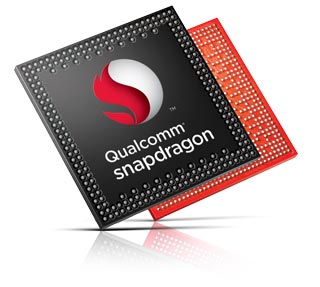 Source: Company website
Qualcomm is the leader in the smartphone SoC market, with its differentiated Snapdragon application processors and SoC offerings. Qualcomm is in a unique position in the semiconductor industry. It not only designs SoCs, but also has an expansive IP portfolio related to 3G and 4G. The company benefits from royalties from LTE and 3G-enabled devices sold each year. In our view, Qualcomm is exposed to less risk as compared to other competitors in the mobile semiconductor industry. Qualcomm is sticking to 28nm for now, whereas Intel has advanced to 22nm by offering Merrifield in the form of Atom Z3740 and a Quadcore variant. Qualcomm is planning on a 20nm 810 in the future, but the current offerings of Intel are a threat to its market position. However, Qualcomm does have a cost advantage due to its 28nm and the fact that it uses integrated chips, which help in the overall power reduction. As a whole, the competition is tough for the current year, as Nvidia's Tegra K1 also claims superior performance and AMD's GCN-based Mullins is also on its way.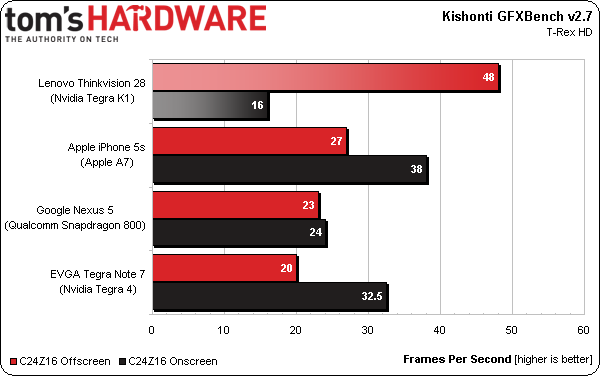 Source: Tom's Hardware

Source: Company website
But the real question is unanswered. Will these chips be able to compete with Qualcomm on the basis of cost and power? With its 22nm, Intel will most likely compete on power and performance, but not on cost. Tegra K1 and AMD Mullins are graphics-heavy chips, and Tegra is already receiving criticism for its power consumption. AMD's Mullins, on the other hand, is based on 28nm x86. Hence, they are not expected to compete on power, but they can find a niche market in gaming-oriented tablets.
Overall, Intel will compete with Qualcomm in the high-end market. In the medium to low-end market, Qualcomm is expected to dominate, along with Samsung. Intel is also a threat to TSMC in the ARM-based processor manufacturing space, and we believe if it pursues ARM manufacturing aggressively, it will maintain its dominating position in the overall semiconductor industry, despite the declining PC industry. AMD and Nvidia are expected to find their share of market in tablets with Mullins and Tegra K1. The pick of the industry is Qualcomm, with high growth prospects and low risks, along with differentiated products and a vast IP portfolio.
Disclosure: I have no positions in any stocks mentioned, and no plans to initiate any positions within the next 72 hours. I wrote this article myself, and it expresses my own opinions. I am not receiving compensation for it (other than from Seeking Alpha). I have no business relationship with any company whose stock is mentioned in this article. Equity Flux is a team of analysts. This article was written by our Technology analyst. We did not receive compensation for this article (other than from Seeking Alpha), and we have no business relationship with any company whose stock is mentioned in this article.