The annual rite of bracketology is upon us. Millions of Americans are filling out their college basketball scorecards in an attempt to win the couple hundred dollar office pool or the 2.5 quintillion (1 with 18 zeros behind it) to 1 chance of winning $1 billion from Warren Buffett. While I just picked some first round knock offs and have Creighton defeating Villanova in the national championship game, I don't suspect Mr. Buffett needs to fear me or anyone else for that matter.
As I was filling out my first round bracket, it struck me that there's a striking similarity between bracketology and the decisions that many dividend investors might be faced with their portfolios. While it's easy to pick all the favored seeds and play it safe, we know that there will be a couple of upsets along the way and that finding an underdog that makes it to the "Elite 8" or Final Four can give you a big edge in the office pool.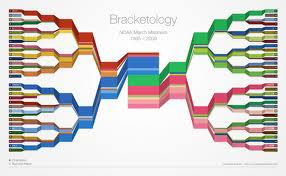 The Favorites
In many of my previous writings, I've stressed the importance of comparing the gamut of dividend investments before necessarily playing it safe with tried and true dividend growth plays like Procter & Gamble (NYSE:PG), Coke (NYSE:KO), Johnson & Johnson (NYSE:JNJ), Colgate (NYSE:CL), and the like. These are your four number one seeds - your Floridas, Virginias, Arizonas, and Wichitas. They'll probably go deep into the tournament, providing consistent performance. But since everyone else is picking them too, there might not be that much value in the selection - bracket total return alpha as it were.
But playing it safe, especially for retired investors, and maybe for many others who like a slow and steady pace, is the name of the game. You're content to stick with what has worked in the past and/or don't have the risk tolerance to make reckless picks like Weber State over Arizona in the first round. In the tournament's history, no number 16 seed has ever beaten a number one team. Since 1985, however, seven number 15 seeds have beaten number two seeds, so upsets do happen. Perhaps this year Virginia will get knocked off by Coastal Carolina?
Though I think your dividend growth stalwarts should compose the bulk of most portfolios designed for a "sleep well at night" mentality, I certainly would not necessarily buy them at any price. The four aforementioned names are high quality businesses, but their current prices reflect, perhaps over-reflect that quality, so for now, caveat emptor.
The Underdogs
There's really nothing like watching an upset occur during March Madness. That is of course if you are an alum (or fan) of the losing team! Picking bracket underdogs or out-of-favor dividend stocks can be a risky proposition. Losing a 1-5 seed early on can be a major bracket buster just as picking a high-yielding security that had high yield for a reason can be a real portfolio buster. Thus picking Florida Gulf Coast last year to beat Georgetown in the first round was a real risky, yet "alpha" generating bracket move last year.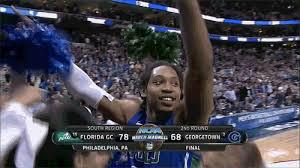 So risk management when it comes to looking at higher-yielding fare is a must. As I've opined in the past, higher yield does not always equate to higher risk - however one wants to define risk - although I would say that there is some level of symmetry to the contention. Some of your double-digit yielders like diversified option income closed-end funds have far less capital risk involved than some of your 2-4% yielding C-corporations in my opinion. They may not grow income like a dividend growth stock might, but with such a starting yield advantage, they could offer many income investors a better portfolio solution.
Sometimes your high-yielders become mid-range-yielders, presenting a robust total return opportunity. I've often pointed to Northstar Realty (NYSE:NRF) as an example of an under-the-radar, high-yielding stock whose value has been realized. Then there is Prospect Capital (NASDAQ:PSEC), a business development company, or BDC, currently yielding in excess of 12%, which, as its President discussed with me, would provide for an exceptional return opportunity if valued similarly to industry peers.
The Dreaded 8-9 & 7-10 Match-Ups
Amongst the hardest games to pick in the college bracket are the 8 versus 9 seed and the 7 versus 10 seed. No clear favorite, basically a flip-of-the-coin situation that could go either way. One seemingly needs to rely on gut instinct to make a pick here.
While gut instinct may not provide for the most robust of methods to make an investment selection, sometimes when faced with two equally attractive companies, and limited funds with which to invest, hard choices need to be made.
So in these hypothetical instances, which companies would you favor?
My personal choices would be F, XOM, KMI, and PM from both dividend growth and total return perspectives, but I certainly wouldn't pound the table against any of the other names either. Sometimes when one looks at large-cap companies with similar yields, dissects the financials, but can't come up with a clear favorite, one must go with the company they "feel" will do better going forward. Let's face it, where a company has been and where it is now isn't always indicative of where it is going.
Conclusion
As you consider whether Harvard can pull off an upset of Cincinnati or whether North Dakota State can knock off Oklahoma this week, take the opportunity to dwell on your own income portfolio. Is your portfolio dominated with higher seeds? Can you afford to be taking the potential risks of picking underdogs? Are you comfortable with the decisions you've made with like-yielding equities?
While portfolio management should be taken seriously and is hardly a game, as you contemplate risks you are taking with your bracket, consider whether those same type of risks are appropriate for your income portfolio. A busted bracket is something everyone can easily get over. A busted investment portfolio is another story.
Disclosure: I am long CL, PM, XOM, NRF, PSEC, JNJ, VZ. I wrote this article myself, and it expresses my own opinions. I am not receiving compensation for it (other than from Seeking Alpha). I have no business relationship with any company whose stock is mentioned in this article.
Disclaimer: The above should not be considered or construed as individualized or specific investment advice. Do your own research and consult a professional, if necessary, before making investment decisions.