Introduction
I find it difficult to write a bearish case for Tesla (NASDAQ:TSLA) given the stock's all-time performance, so for this article, I won't be doing that. In fact, I believe that Tesla will continue to grow and prosper, but I am very skeptical about whether this growth will continue through the year, or after they roll out more results in the future. Tesla's attempts to make the electric car the new driving standard have been very successful, and have given the entire automotive industry a desire to take a stab in the new market. For this article, I would like to focus on the possibility of upcoming challenges Tesla may face from competitors in the future.
For now, Tesla's electric car is in a league its own, with nobody matching their standards. However, if you remember, this was also the case for Apple (NASDAQ:AAPL) when they launched the iPhone in 2007. Taking this into consideration, opening a new position for the long run in Tesla may represent risk levels to investors that are too high to be desirable, as Tesla is priced considering future growth.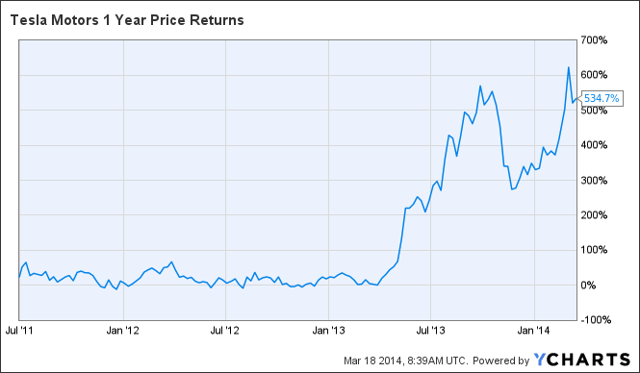 TSLA 1 Year Price Returns data by YCharts
Will Tesla continue to lead the EV movement in the future?
It's not often that the market comes across a company that will decide to go back to the drawing board because they are dissatisfied with their working, yet imperfect product. Tesla and Apple, or Elon Musk and Steve Jobs, are great examples, and that is precisely why they have been so successful. The only problem with making a perfect product is that in a competitive market, you must be the first to introduce it. Fortunately, this applies to their one-of-a-kind products, Apple's iPhone and Tesla's first electric car, the Roadster. However, when taking the history of the iPhone and mobile market into consideration, it was clear that competitors were deeply challenged at first, but eventually reached competitive levels that allowed them to take a significant portion of Apple's market share.
Will Tesla's Future Be Similar to Apple's History?
A part of Steve Jobs' innovative streak was the world-changing iPhone. Released in 2007, this new technology shocked the mobile industry and was beyond the imagination of any other phone manufacturer at the time. However, it wasn't long until the industry responded. A year later, HTC, using Google's (NASDAQ:GOOG) new Android mobile operating system, developed their first attempt of the smartphone: the HTC Dream, or G1, as seen below. In comparison to the iPhone, it was terrible in many ways, but as the entire mobile embraced the new trend started by Apple, perseverance finally paid off and they eventually got it right. A few years later, around '10-'11, competitive mobile devices from multiple companies emerged, such as the Samsung (OTC:SSNLF) Galaxy S2, as an example.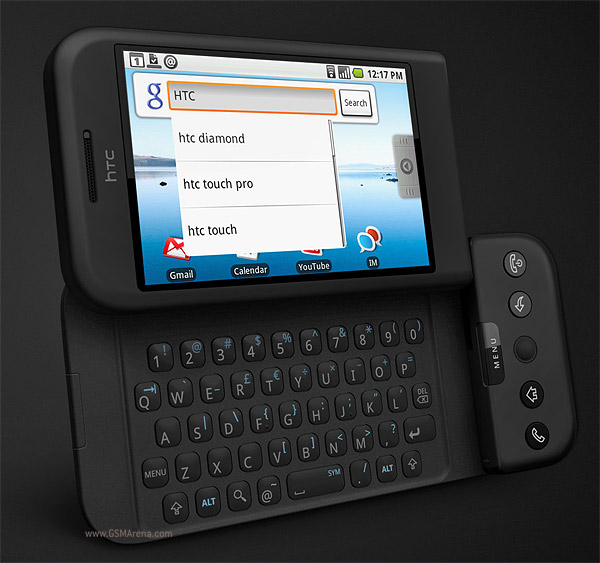 The First iPhone response: The HTC Dream/G1, as on GSMArena
The Race to the affordable electric car
It is clear that the luxury EV market belongs to Tesla, as their lineup dominates the industry alone. However, the future of affordable EVs is still a gray area, even though Tesla is at a major advantage. Right now, Tesla is focused on the Model X's launch later this year, so talk about the Model E is currently at a minimum, and it is likely that we may not hear more until the 2015 North American International Auto Show in Detroit. However, we do know that their plan is to release an EV around 2016 or 2017, with a 200-mile driving range, sporting a price tag of around $35,000. Tesla has built a very good reputation for meeting goals, and with recent developments such as the Gigafactory, it is likely that they won't disappoint.

Tesla and Nissan (OTCPK:NSANY) LEAF, as seen on Ecars 2014
This leaves competitors with a clear "deadline", and if unable to produce a high-range, affordable EV by then, they will allow Tesla to dominate all levels of the new market. Not inclined to such a happening, they have been on their toes to meet this "deadline."
Going back to where I discussed their being the first in the market; Tesla's introduction of a new technology allowed them to take their time and make a safe approach by starting with the Roadster, their first car, also an EV, launched in 2008. It was designed to be a high-cost, low-volume product, allowing Tesla to create a high-quality vehicle to sell to a small amount of people, essentially for "practice." Next, the Model S was a mid-cost, mid-volume product, and as we know, has been unarguably successful. This time, they were able to generate profits, while continuing to practice. In addition, the Model S helped them learn and take the necessary steps to produce their proposed Model E, the low-cost, high-volume EV expected 2017.
In a rush to respond, other auto manufacturers didn't have this luxury of taking their time to perfect, and as a result, companies like Nissan quickly launched the LEAF in 2010 as the first alternative to Tesla's EVs. The LEAF's range, compared to the Roadster or Model S, clocked in at less than one-third the distance of the Roadster at around 80 miles. In spite of that, being targeted towards a low-cost market, where Tesla is currently absent, they were able to sell 100,000 global units as of January 2014. This was a success and a great way for Nissan to "practice" as well. Not just Nissan, but GM (NYSE:GM), Ford (NYSE:F), BMW, Honda (NYSE:HMC), among others, have entered the market as well. To get an idea of some of the affordable EVs they've produced, I constructed a simple chart below focusing on MSRP and driving range.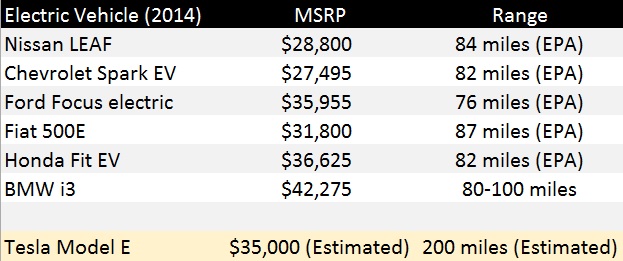 As expected, Tesla's expected results of the Model E far exceed anything of what's currently available in the market. However, going into the future, there have been subtle talks of a current-generation LEAF with the range of 125 miles. GM has also hinted that the Chevrolet Volt may come with a 200-mile electric range, plus an on-board generator by 2016 for $30,000. I also believe that in order to preserve the sales of the current generation, auto manufacturers must put their greatest efforts into remaining quiet in the matter of driving range.
Conclusion
Although Tesla has been an incredible driving force of the industry, there is an entire industry ready and willing to use all of their resources necessary to meet the future demand of the consumer. Although I am unable to say for certain, I do believe that competitors will eventually find a solution to meeting the Model E's launch results in 2016/2017, even if it means offering a lower-priced product with an inferior range.
When considering entering a long-term position with Tesla, I believe that the stock's current levels weigh into consideration a future that may not offer a performance as satisfactory as investors have been fortunate enough to receive in the past. In the end, Tesla is an incredibly volatile and unpredictable stock, and unless you are comfortable with these conditions, I believe that you may be able to find an investment elsewhere.
Disclosure: I have no positions in any stocks mentioned, and no plans to initiate any positions within the next 72 hours. I wrote this article myself, and it expresses my own opinions. I am not receiving compensation for it (other than from Seeking Alpha). I have no business relationship with any company whose stock is mentioned in this article.