Mary Barra has her hands full at General Motors (NYSE:GM). Revelations that GM sat for 13 years on information that its ignition systems in some smaller cars might impair the operation of the airbags and put car owners at risk was greeted with surprise and dismay and Ms. Barra's speech that "something went wrong in our process and terrible things happened" in GM's systems struck a plaintive chord with many.
The fact is, this is the same old GM. There is nothing wrong with GM systems for identifying and reporting quality control issues, it is a world class system. I was Chief Executive of a GM supplier for many years and I can tell you that the GM Quality Control system is outstanding.
But a QC system is only as good as the people who use it. The courts will eventually determine what happened in this case but I am confident it was not a failure in systems but a failure in management.
General Motors' history is littered with product recalls and safety issues. Take for example this note published by CEBOS:

Source: CEBOS
Like the current issue, GM apparently sat for years on issues with its engines that risked fires. It defies logic that GM was unaware of the problem and seems self-evident that failure to deal with the issue promptly reflected economic rather than consumer safety concerns, at least as I see it.
In my view, GM has a culture that is puerile, focused solely on short-term profits and replete with bad practices and weak governance.
The last contract my company had with GM is an example. We contracted to sub-assemble cockpits for the Chevrolet Camaro being produced in Oshawa and invested millions of dollars in equipment and training. As soon as the investments were made and production was about to begin, GM demanded a 50% reduction in the price for our sub-assembly work or they would move the business to another supplier. We refused, they followed through on the threat and we suffered millions of dollars in costs to close the facility. The merits of that decision by GM will be contested in a lawsuit between my former company and GM, which is still before the courts and I won't comment further. The point is, regardless of the legalities, it is poor form to contract with a party, let them get pregnant with major capital outlays and then demand a 50% price reduction. Anyone who has ever supplied a car company knows that no supplier can absorb a 50% price reduction on any contract.
At less than fifteen times earnings and with strong demand for new cars in North America and growth in China, GM looks cheap.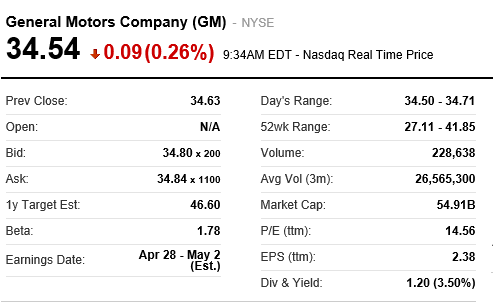 Source: Yahoo.com Finance
But, the shares are not cheap as I see it. The same bad practices that defined GM for decades have not gone away and this latest issue of product safety is just a current example. It seems that GM knew of the problem, hid it from sight until it could not be hidden any longer, and now profusely apologizes for the "terrible things" their actions gave rise to. The apology is likely hollow for the survivors of those who lost their lives in GM vehicles as a result of the ignition issue, and is unlikely to stem an exodus of customers who will seek out alternative vehicles from manufacturers with higher standards of behavior.
Investors are often well-advised to assess the quality of management rather than the price or features of a company's products in deciding where to place their investments. Good management prevails over time, while weak management and poor governance can overwhelm even good products in the fullness of time. Inadequate governance at GM makes it a poor investment longer term.
It is too risky to own GM, despite the current strong automobile market, and too early to short the stock, so I will watch from the sidelines. When I do enter the name, it will be on the short side of the market.
Disclosure: I have no positions in any stocks mentioned, and no plans to initiate any positions within the next 72 hours. I wrote this article myself, and it expresses my own opinions. I am not receiving compensation for it (other than from Seeking Alpha). I have no business relationship with any company whose stock is mentioned in this article.