At the end of Feb 2014, Annaly Capital Management (NYSE:NLY) announced its fourth-quarter earnings which show that the company made some improvements in almost all departments compared to what we last reported in our analysis. In this article, we will again be discussing comparison of American Capital Agency (NASDAQ:AGNC) and NLY and how this recent quarter affects our previous analysis.
Book Value per Share
During fourth-quarter 2013, the book value per common share of Annaly dropped to $12.13 per share which is a 4.5% decrease compared to AGNC's 5.3% decrease. It indicates that although the entire REIT has experienced a drop in book value per share due to Fed tapering speculations, but the decline in NLY's valuations has been minimal. While we are seeing this decrease in book value per share, we should also note that American Capital repurchased 28.2 million shares during fourth-quarter 2013 while Annaly didn't make any repurchase. This supports the better management performance of Annaly compared to American Capital.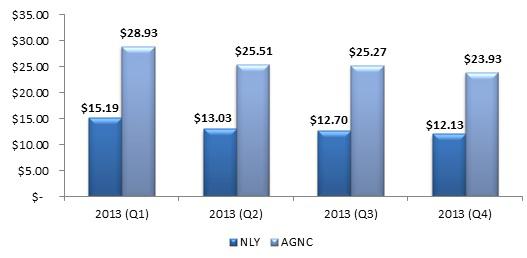 Source: Company Statements and Yahoo Finance
In addition, we can see that the company's investment portfolio has not changed which means that there is still high operating risk involved in the NLY. The company maintained its 91% investment in Fixed Rate Mortgage (FRM) while remaining 9% is invested in Adjustable Rate Mortgage (ARM). Detailed disclosures have not been made by the company about breakdown of investment in Fixed Rate Mortgage, which limits out capacity to analyze the risk related to maturity duration.

Source: Yahoo Finance
While the company did not change its portfolio composition, it did try to reduce its operating risk through hedging. Annaly increased its hedging from 85% in the third-quarter 2013 to 92% in fourth-quarter 2013. This will help the company to reduce its exposure to the interest rate risk which was one of our main concerns about the company related to FRM. Moreover, the company has also decreased its leverage ratio from 5.4:1 during the third-quarter 2013 to 5:1 in the fourth-quarter 2013 which has further decreased Annaly's risk level. We believe that this decrease in risk levels is improving the attractiveness of Annaly.
Interest Rate Spread
Compared to the third quarter, Annaly managed to increase its net interest rate spread by a higher percentage compared to American Capital. The reason behind this increase was a better asset yield of NLY compared to AGNC. Annaly reported an asset yield of 3.05% while American Capital reported 2.82% which shows that the portfolio of NLY proved to be better than that of AGNC. However, as Annaly increased its hedging to decrease its risk, it led to an increase in its cost of funds. This increase has prevented the company from fully reflecting the high asset yield in its net interest rate spread. Cost of funds of Annaly increased from 1.81% during third-quarter 2013 to 2.07% in fourth-quarter 2013.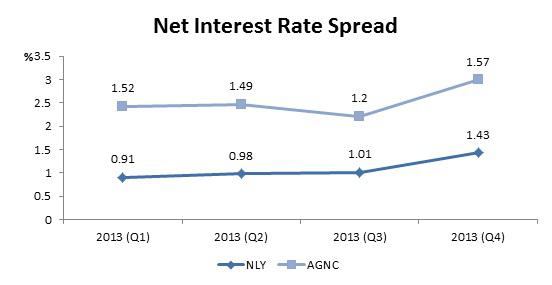 Source: Company Statements and Yahoo Finance
This change in interest rate spread has already shown some effect on the company's financials as Annaly reported net interest income of $633.9 million which is approximately 15% increase quarter over quarter.
Analysis
REITs are always a dividend play, and there is not much change in the stock price. Good long-term mREIT investments should be judged on their investment portfolio and how the company manages its risk. We saw that there were no changes in the composition of the investment portfolio, but the company did increase its hedging from 86% to 92% quarter over quarter. Furthermore, it also decreased its debt burden as we saw a decrease in its leverage ratio from 5.4:1 to 5:1. We believe that both these things would prove to be a good strategy by the company as it has tried to decrease its risk without compromising asset yield (high risk = high returns and vice versa). Although the increase in hedging also means an increase in cost of funds but we believe that even after increased hedging in the fourth quarter, the net interest rate spread is still pretty attractive.
Bottom-line
During the last few months, we have seen an industry-wide decline in mREIT yields. American Capital's annualized dividend yield dropped by 48% during 2013 while Annaly suffered a 34% drop in annualized dividend yield (shown in table below).
After the recent decline in net interest rate spread, we believe that Annaly might show some increase in its dividend in the coming quarters. Therefore, we believe that investors should see the fourth quarter as a positive one Annaly as significantly improve it as an investment.
Annualized Dividend Yield

Annaly

American Capital Agency

2013 (Q1)

16.7%

22.68%

2013 (Q2)

14.8%

13%

2013 (Q3)

13%

14.5%

2013 (Q4)

11%

11.8%
Disclosure: I have no positions in any stocks mentioned, and no plans to initiate any positions within the next 72 hours. I wrote this article myself, and it expresses my own opinions. I am not receiving compensation for it (other than from Seeking Alpha). I have no business relationship with any company whose stock is mentioned in this article.
Additional disclosure: Equity Flux is a team of analysts. This article was written by our Basic Material and Financial analyst. We did not receive compensation for this article (other than from Seeking Alpha), and we have no business relationship with any company whose stock is mentioned in this article.