The Hershey Company (NYSE:HSY) 6/9/2010:
Price - $51.54

52-Week - $33.70 - $51.54

EPS - $2.21

P/E – 23.11

Market Cap. – $11.62 billion



On June 8th, The Hershey Company surpassed the $50 mark and sustained, even built, on these gains the following day, even though the Dow was down 40 points at the close. In looking at Hershey, I see a company who produced an awesome first quarter earnings report (more on this later), and that is expected to report a cyclically poor second quarter a few months from now.
I will admit that I did listen to their live streaming conference earlier this year, but was often put off by the numerous times different types of chocolate were discussed as opposed to sales figures and marketing plans. (This stance may have been shaped by my opposition to coconut flavored products and the analysts' insistence on asking questions on the matter.)
Like other confectioners, Hershey boasts a starting line, so to say, whice includes Hershey's Kisses, Reese's Cups, KitKats and York Peppermint Patties, backed by an array of other choices, some of which do not get the attention they deserve (the competitor to M&M's, the Kissables, is the first that comes to mind; I cannot fathom how the public does not prefer the slightly thicker colored coating to that of the aforementioned M&M).
Looking at the earnings of the confectioners sector, it is indeed quite cyclical. In analyzing past data, one will see that the 3rd quarter is the work horse, followed by a slightly weaker 4th quarter. Over the last three years, the first and second quarters have typically been 20-30% below the yearly average quarterly earnings.
However, what is extremely interesting is the fact that it is the first time in recent history that the Q1 earnings have exceeded that of the previous year's Q4. This may suggest that though the second quarter earnings may not excite anyone (they are predicted to be only 0.454 cents, a 19 cent drop since Q1), if the second half of the year continues to have a significant measure on the first half, than we could expect to see a massive 3rd quarter. Hopefully this made some sense, and yes I realize the logic is extremely sketchy.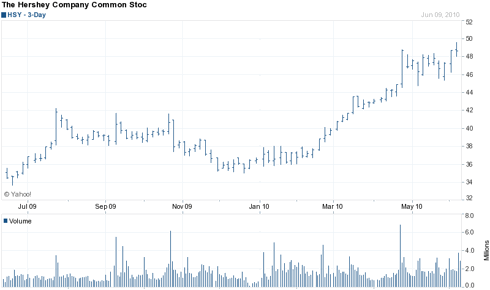 (Click to enlarge)
On to the groupthink: Yahoo Finance reports that there are 11 analysts following Hershey with a median target price of $48, the high being $55, and with a 3.1 rating on the 1-5 buy-sell scale. Hershey has a 52-week range of $33 to $51, and is currently trading at around 25% higher than the 200-day moving average. Additionally, they have a beta of 0.39 and a price to earnings multiple of roughly 23, which is difficult to directly compare to any other company given Hershey's diverse product line and the fact that Mars is private.
So, are we setting up for a significant drop in the near future? It is tough to say. June 8th, Hershey crossed a resistance level just over $49, which of course is bullish in the short-term. They have not seen the sunnier side of $50 since 2007, and had highs in the mid $60's in 2005. Personally, I think the $55-$60 range is a bit far-fetched, since the steep increase in earnings seems to have been accounted for the 25% increase in share price. I find it more likely that they will trade in the $48 to $52 range for some time, rendering their recently increased dividend less appealing (2.7%). It is somewhat reassuring to know that is unlikely for this dividend to be lowered and/or dropped based on historical yields and increasing cash on hand.
In conclusion, as anticlimactic as this may seem, Hershey is not necessarily a buy given most analysts require a 15% increase in the next year to gain said designation, and I am not sure if that would include the yields from dividends, though I don't see why it would not. On the other hand, it is not a sell unless a poor 3rd quarter is announced in a few months, since Hershey is an extremely strong company with quality products.
Also, I believe that chocolate is not as effected as other goods from a sour economy and the price stood its ground during the Miserable May of 2010 (I'm not sure if this term has been used yet, but I'd like to take credit for it). Of course, Hershey has non-food related products as well, like an amusement park and a hockey team, but neither has huge effects on revenue. It should be noted the Hershey Bears have made it to the American Hockey League finals led by Mathieu Perreault, Karl Alzner, and Kyle Wilson, and have a very devoted following, so … go Bears.
Disclosure: Author long HSY