Solazyme A Sea of Opportunity
Solazyme, Inc. (NASDAQ: SZYM: $14.65) makes renewable oils and other byproducts. The company's proprietary technology uses microalgae in an industrial fermentation process to produce high-value triglyceride oils and other bioproducts. Triglyceride oils are used in a wide range of products including fuels, industrial oils, personal care products, and food.
Solazyme sells the triglyceride oils and bioproducts to companies that use Solazyme's products as intermediates and ingredients. Solazyme has invested in its own consumer-focused business to commercialize products manufactured through its proprietary processes.
Solazyme has recently completed the infrastructure for commercial production. In 2013, Solazyme completed construction of the 20,000 MT Archer Daniels Midland Company facility in Clinton, Iowa. The company completed the downstream companion facility operated by American Natural Products in Galva, Iowa. Commercial operations started in 2014. Solazyme's 100,000 MT SB Oils facility in Brazil is near completion. Both these facilities will create a massive boost to revenues. By the end of 2015, the company is expecting to reach 550,000 MT of nameplate capacity.
Solazyme collaborates with blue chip companies across many industries signaling credibility of the company's process and technology across product markets. Solazyme partners with Archer Daniels Midland (NYSE:ADM), Bunge (NYSE:BG), and Unilever (NYSE:UL) among many others.
Solazyme's skin care brand Algenist has 21 SKUs and recently launched in China. In 2013, Algenist revenues reached $19 million up 21% from 2012. Algenist unanimously won the 2014 Marie Claire Prix d'Excellence de la Beauté in France. Solazyme's production process and environmental friendliness creates a potential for differentiation and a significant growth opportunity for its consumer product business.
Solazyme recently raised $125 million of capital and partnered with Bunge to raise another $100 million for their renewable oils JV. Solazyme has $168 million in cash on its balance sheet and expects 2014 capex of $30-40 million. Solazyme should have sufficient capital to get cash flow positive in 2015.
Solazyme growth opportunities are endless. Solazyme production process and microalgae can be used in multiple products, from fuels to industrial oils to personal products to food such as algae milk. The market potential is endless. Solazyme is just starting to scale the business and focus on multi-product opportunities. The company's flexible technology platform and wide range of uses of its oil gives Solazyme a $1.5 trillion dollar addressable market.
By the end of 2015, Solazyme's goal is to reach capacity of 550,000 metric tons. Current average selling price is $2,600 per MT. Using a more conservative figure of $2,000 per MT and capacity utilization, Solazyme's revenues could hit $1 billion in 2016, placing the current EV/2016 sales ratio at 0.86. Given the strength of the company's initial products and the market potential, the market should be placing a much higher valuation on the company. Using 4x EV/2016 sales would be more appropriate particularly when gross margins on production could reach 60%. This would lead to over 400% upside over the next few years as the market starts to get better sense of Solazyme's product strength and growth opportunities.
Technical Analysis by Harry Boxer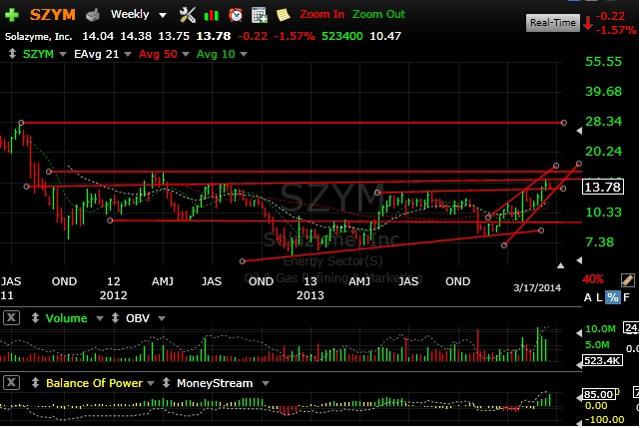 Shortly after its IPO in 2011, Solazyme's share price experienced a steep drop from near $27.50 to near $7.50. The stock went into a long basing period forming a large 2½-year inverse head & shoulders bottoming pattern. Over the last 3 months, Solazyme nearly doubled to test the neckline of its major base and technical resistance at the $15-16 zone. The Tech Trader believes Solazyme's shares will soon breakout and move to test their initial target of $18 level followed by a possible move into the low $20s and then high $20s.
Conclusion
Solazyme has a strong technological process and a product with multiple uses in markets with significant size. The company is extremely cheap based on expected revenues.
Disclosure: I have no positions in any stocks mentioned, but may initiate a long position in SZYM over the next 72 hours. I wrote this article myself, and it expresses my own opinions. I am not receiving compensation for it. I have no business relationship with any company whose stock is mentioned in this article.
Additional disclosure: I was assisted in the preparation of this article by my associate Mark Melendez.