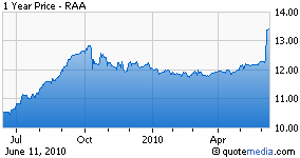 Click to enlargeThere are two important takeaways from this week's BlackRock California Investment Quality Municipal Trust (RAA) liquidation plan announcement:
The BlackRock California Investment Quality Municipal Trust, Inc. (NYSE Amex:RAA) (the "Fund") announced that its Board of Directors has approved submitting a Plan of Liquidation and Dissolution (the "Plan") to the Fund's shareholders at the Fund's annual meeting of shareholders anticipated to be held on September 2, 2010...
First, all public shareholders of RAA can celebrate. In one day, the market value of this Municipal Bond Fund went from $12.34 to $13.38.
The second, more important takeaway is that the Closed-End Municipal Income Fund Secondary Marketplace affords opportunities unique to those of individual Municipal Bonds, or Mutual Fund alternatives. The unlocking of value demonstrated by RAA's 8.4% one-day return is not easy to predict or time but such returns are also far from random.
There are tremendous inefficiencies in Closed-End Funds. Investor returns can be dramatically inferior or superior to the underlying securities given that market prices can move independently of the NAV. Excessive reliance on readily available discounts or yield information often contributes to inferior returns for failing to contemplate "why" yield or valuation presents itself as such and "what" forces would change those metrics. It is my opinion that recognizing and evaluating the details relevant to the "why" and the "what" for any particular Closed-End Fund is critical.
BlackRock's RAA was among the many Closed-End Funds trading at persistent discount. Such is suggestive that the Closed-End Fund structure was making the assets inside less valuable to its shareholders. But, discounts can grow as easily as they can narrow because the interest of shareholders and management is misaligned.
Several indicators can be demonstrative of value unlocking potential at a discounted Municpal Income Closed End Fund. Relevant dynamics include: 1) whether the sponsor and boards motivations are questionable, 2) the magnitude of fees being paid by the fund to its advisor and other interested parties, 3) the motivations and history of the shareholder base, and 4) Governance Options amongst many other things.
How interconnected and intricate can relevant details be in Closed-End Funds? Very, as I've learned in time. I began work on this piece Tuesday but it literally took two days to cautiously mitigate the risk that I could be misled by the word choice associated with the RAA press release. Earlier this year, a respected person in the Closed-End Fund space directly provided me criticism suggesting I was too detail-oriented. I took his commentary as an affirmation and it turned out that the instance of detail orientation which trigged the feedback was in fact on point.
Nobody will participate in every opportunity that comes to fruition. My own portfolio construction of tax-advantaged income securities is largely publicly disclosed, via Covestor Ltd., to which I license portfolio data. I had absolutely no stake in BlackRock's RAA, but I can certainly appreciate the skill set likely exercised by some who did.
Disclosure: No positions