Apple (NASDAQ:AAPL) is getting another helping hand from its old savior, Microsoft (NASDAQ:MSFT). AAPL has been in the doldrums lately but I can see the share rising above $550 again soon. Satya Nadella, Microsoft's new CEO, will most likely announce the release of Microsoft Office for the iPad this coming March 27.
Rumor or not, this report of Office-for-the-iPad boosted MSFT's price by as much as 5%. It is therefore likely that once Apple iLoyalists start perking up on this latest industry buzz, AAPL can rally past $550 again soon. It may even soar higher if the report proves true next week.
Like millions of iPad owners, I have been waiting for years for Microsoft to deliver its precious Office suite to the world's best-selling tablet. Nadella's decision to port its productivity suite to the iPad will really maximize the use of Apple's tablet in the corporate environment.
Whether at home or at work, Apple's free document creation apps and other third-party solutions like Quickoffice Pro just don't match up to the convenience of using industry-standard Microsoft Word, Excel, and PowerPoint.
Microsoft Office Boosts Apple's Enterprise Sales
The current iPad versions are already fit for Microsoft Office usage. However, the rumored iPad Pro's 12.9-inch display size will make it an ideal replacement for notebooks of office grinding. Touch typing speed really benefits from larger screens.
The popularity of the iPad indicates that more companies will gradually shift their hardware purchases to tablets for their personnel's use. The BYOD nature of BlackBerry Enterprise Service 10 encourages the use of iOS devices in the enterprise market.
Samsung (OTC:SSNLF) already has rolled out the Note Pro tablet that's obviously intended for office productivity. Apple, I firmly believe, will also market a bigger-size iPad model. The corporate market is just too lucrative to ignore.
A full-function Microsoft Office for the iPad can give Apple a solid boost in corporate sales. The iPad Pro gives the company better leverage to compete with the competition. Samsung is largely responsible for the company's lost market tablet market last year. Pride demands Apple go head-to-head with its Android rivals.

Since Google and Microsoft loathe each other, I think Nadella will not allow a full version of Office to port to Android tablets. This should slow down the entry of Android tablets in the lucrative enterprise market.
Buy Once or Subscription-based?
It doesn't really matter if Microsoft makes the Office version for the iPad tied to an Office 365-subscription. Most iPad users in the corporate environment will still go for it. Enterprise buyers tolerate expensive-but-reliable products.
Nevertheless, the huge existing number of individual iPad users might also convince Microsoft to consider putting the iPad Office app as a one-time purchase deal. Home-based usage discourages people from signing up to expensive subscription-based software deals.
I prefer a buy-once option for Office for the iPad but Microsoft recently introduced a cheaper $69.99/year Office 365 Personal offering. The said price point ought to be acceptable to iPad owners - who usually belong to the affluent class of buyers. I'll sign up for it if really delivers a full-version of Office to my iPad.
Lower ASP of Tablets
Apple still remains the leader in number of tablet sales but the rise of cheaper premium Android and WP8 tablets will further degrade the iPad's position. Apple has no choice but to lower the price of its offering to keep up with market trends.

Apple already reduced the entry-level iPad 4's price to $399. The forecasted lower ASP for tablets can be equalized from more units sold and app sales. Microsoft Office is one of those blockbuster franchises that promise healthy commission money for Apple.
There are already around 200 million iPad owners. Even if only 10% of that market pays for Microsoft Office, the gross revenue estimate is already beyond a billion dollars. Many first-time tablet buyers will also likely prefer an iPad over an Office-less Samsung Note Pro.
Conclusion
Microsoft wants to leech off the iPad's success, but Apple still benefits from the introduction of Microsoft Office to the iPad. Microsoft can earn billions of dollars from iPad Office subscriptions and Apple will get a cut.
AAPL is a strong buy. I now realize that the stock has very little chance of dropping to $400. Tim Cook is aggressively doing buybacks. The $14 billion covert stock repurchase action over a two-week period is very reassuring to long-term iLoyalists.
Before the last earnings report last January, Apple was trading above $550. Aftermarket trading dropped AAPL by almost 8%. The sell-off was primarily attributed to the lower-than-industry-predicted iPhone sales, 51 million units vs. 56 million Wall Street estimates.
The iPhone accounts for more than 50% of Apple's revenue so the sell-off was understandable. However, Apple's management did prompt repurchases of AAPL to show its own displeasure over the market's negative reaction. Tim Cook's company profitability is unmatched by any other technology company. EPS-wise, Apple deserves a higher valuation.
A $550 price target is within reason based on recent historical prices. The stock is now trading at $531 but once Nadella releases official statement regarding the Office for the iPad, investors will likely push AAPL higher.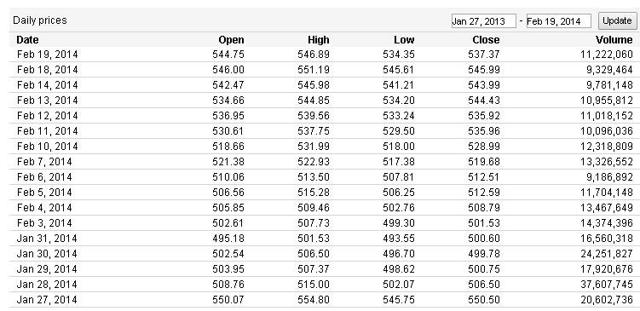 The company's $37.03 billion net income is way higher than market-darling Google's $12.92 billion. Apple's current P/E of 13.21 is still far below GOOG's 33.60.While not in the same line of business per se, Apple deserves better appreciation for its consistent year-over-year profitability.
Based on fundamentals alone, AAPL is undervalued at these current price levels. Long and strong for Apple.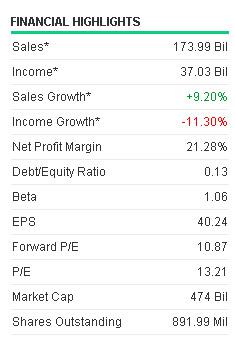 Disclosure: I have no positions in any stocks mentioned, but may initiate a long position in AAPL over the next 72 hours. I wrote this article myself, and it expresses my own opinions. I am not receiving compensation for it (other than from Seeking Alpha). I have no business relationship with any company whose stock is mentioned in this article.