Qualcomm Inc. (NASDAQ:QCOM) is a technology company operating in the communications equipment industry. The company was founded in 1985 and is headquartered in San Diego, California. Note that this is a qualitative analysis of the company; the financial analysis and cash flow based valuations will follow in our next piece on Qualcomm.
The company is primarily involved in the development and commercialization of wireless communication technologies like CDMA (Code Division Multiple Access) and OFDMA (Orthogonal Frequency Division Multiple Access). Note that GSM is the commercial form of TDMA (Time Division Multiple Access), CDMA is a third generation (3G) technology and LTE (4G) is an OFDMA based standard. The company has a substantial IP portfolio related to CDMA and OFDMA. In simple terms, any company seeking to develop products that use one of these technologies will require a license from Qualcomm. Apart from the licensing IP portfolio Qualcomm also designs, manufactures and markets products based on the above mentioned technologies. The products of the company primarily include chipsets that are used in mobile devices and tablets etc.
For reporting purposes, the company is divided into four segments; QCT (Qualcomm CDMA Technologies), QTL (Qualcomm Technology Licensing), QWI (Qualcomm Wireless & Internet) and QSI (Qualcomm Strategic Initiatives).
QCT (Qualcomm CDMA Technologies)
This segment generates revenue through sales or licensing of ICs and system software based on CDMA and OFDMA. The chipsets of the company are used in several devices including smartphones, tablets and laptops. The trademark MSM (Mobile Station Modem) includes mobile data modems and Qualcomm Snapdragon processor devices that perform the core baseband modem functionality in wireless devices providing voice and data communications as well as multimedia applications and global positioning functions. Qualcomm's competitors in this segment include (and are not limited to) Broadcom (BRCM), Ericsson (NASDAQ:ERIC), Intel (NASDAQ:INTC), MediaTek, Marvell and Samsung Electronics. The company generated around 67% of its revenue through this segment in the fiscal year 2013.
QTL (Qualcomm Technology Licensing)
QTL grants licenses or provides rights to use portions of the company's IP portfolio including patent rights essential for the manufacture of devices implementing certain TDMA, CDMA and OFDMA technologies. On a worldwide basis, the company currently competes primarily with GSM/GPRS/EDGE digital wireless communications technologies. Qualcomm generated around 30% of its revenue from this segment in the fiscal year 2013.
All remaining segments generate around 3% of the company's revenue.
Market Performance
Shares of Qualcomm are listed on NASDAQ and are currently trading at around $77. The valuations of the company grew by 15.29% in the last year or so. More recently (in the last three months) the valuations grew by around 4.3%. The valuations have grown because future revenues and earnings are expected to grow, and the company has matched analyst estimates in several past quarters. Therefore, the investors are confident about the revenue and growth estimates of the company, and this has resulted in the increasing valuations. The figure below summarizes the actual and estimated EPS comparison for the past four quarters:

Figure 1 Source: Yahoo finance
Industry Overview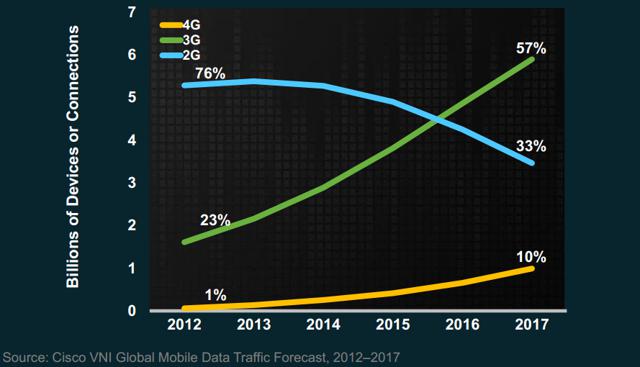 2G connections are going to decline in the coming years while 3G and 4G devices and connections are expected to increase. 3G will have a 57% share of devices or connections by 2017. Moreover, Cisco also predicts that mobile devices and connections will grow at a CAGR of 8.3% during the same period. GSMA Intelligence is quite optimistic about LTE growth and predicts that LTE connections will reach around 1 billion by 2017. This translates to an impressive CAGR of 54% (2013-2017). ReportsnReports.com affirms this as its own projections reveal a 56% CAGR in LTE until 2020. The image below also tells the story of 3G/4G growth.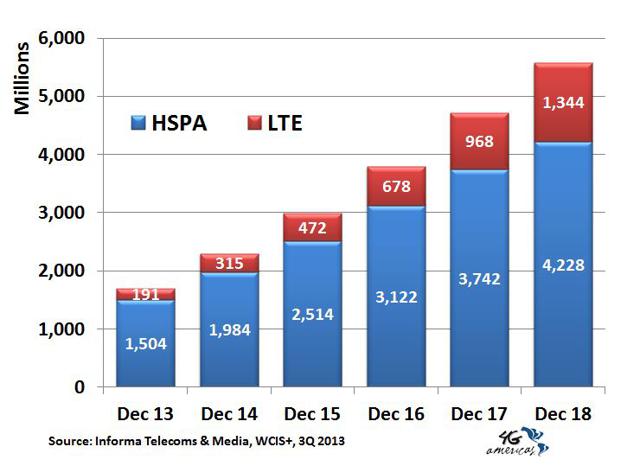 Furthermore, IDC projects that smartphone shipments are expected to increase at a CAGR of 11.5% until 2018. All in all, the industry outlook is positive, and if Qualcomm manages to offer competitive products in the 3G and 4G enabled chipset space along with maintaining its vast IP portfolio, the industry's growth will be reflected in its revenues and earnings.
IP Portfolio
Qualcomm has a vast IP portfolio related to 3G and 4G technologies. There are many pointers that suggest so. Firstly, the company generates around 30% of its revenue via licensing its IP portfolio which translates to above $7 billion. Secondly, the company claims that the mobile communication industry generally understands that in order to develop a product that uses CDMA technology one needs to acquire a patent license from Qualcomm. Both these facts point to Qualcomm's vast IP portfolio related to CDMA and 4G technologies. The company also claims that its intellectual property has been incorporated into most wireless communications technology standards and that it has catered to almost 250 licensees. A report reveals that Nokia, LG and Qualcomm hold 43% of the seminal patents related to 2G and 3G. As the company does not hold any 2G patents, it is possible that a large proportion of 3G patents belong to Qualcomm's.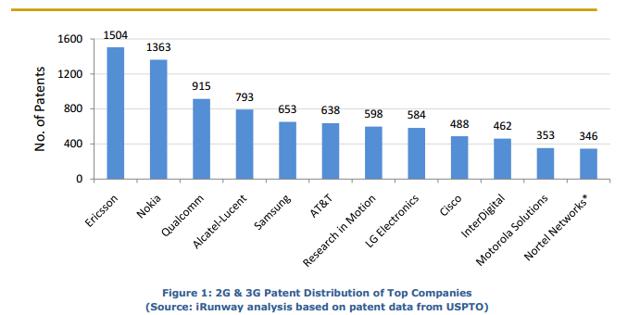 Another interesting point is that the same report also reveals that Qualcomm is the leading holder of core patents in advanced 3G mobile technologies as well as CDMA and WCDMA standards. Viewing this research in combination with Cisco's graph presented above, it is clear that Qualcomm is strongly positioned to grow its IP and patent licensing revenues in the coming years. As far as LTE is concerned, Qualcomm holds the leading share of seminal 4G patents according to the market research firm iRunway. And it does not end here; Qualcomm is looking to the future and is among the leading patent holders for LTE-A. LTE-A is significantly faster than the other technologies:

Figure 2 Source: digitaltrends.com
A more recent research report by Cyber Creative Institute reveals that Qualcomm has the largest number of declared patents. The report goes on to claim that:
"Qualcomm secures the 1st place in the essential patent ranking. This suggests that Qualcomm has been allocating significant resources for analyzing its own patents and actively declaring patents that exceed reasonable criteria. It is foreseen that their declarations will further increase in the future. Keeping pace with the company's globalization efforts, Qualcomm is likely to hold a lot of essential patents in many countries".
With a vast IP portfolio related to 3G, 4G LTE and LTE-A, Qualcomm will generate growing licensing revenues over the next 5 years or so. As the adoption rate of 3G and 4G increases, the revenues will also be boosted through licensing and royalties. We believe that Qualcomm's licensing revenues will increase in line with the device sales and connections growth of 3G and LTE, and it will be amongst the fastest growing companies in its industry.
QCT: The Chipset Business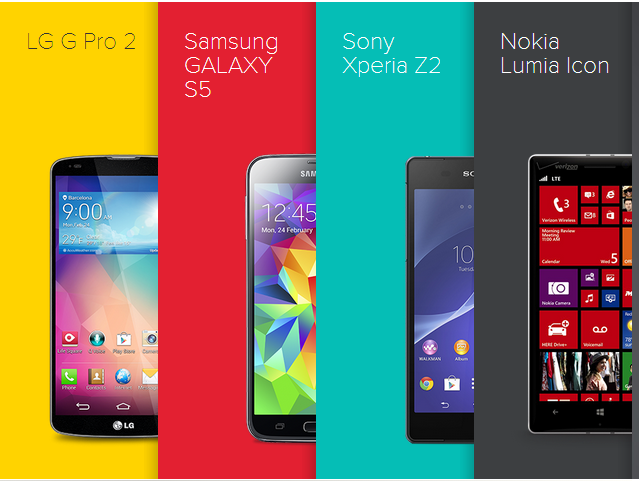 Qualcomm has become well known for its mobile chipsets, and its processors are featured in several smartphone brands. Qualcomm is a key supplier to many smartphone manufacturers, including HTC, Samsung, Nokia and Motorola etc. Many of the latest smartphones including the Samsung Galaxy S5, Sony Xperia Z, LG G pro 2 and Nokia Icon feature a Snapdragon chipset. This is indicative of the differentiated offerings of Qualcomm. Moreover, smartphone shipments are expected to grow at a CAGR of 11.5% until 2017. With its current design win volume, it seems that Qualcomm will reap significant benefits from the smartphone growth in the coming years.
Competitive Position
We reviewed several benchmarks covering Snapdragon 200 to 800. In the light of these benchmarks, the Snapdragon tends to be ahead in performance generally. See one of the benchmark tests below:
Figure 3 Source: Tab Showdown
This indicates that Qualcomm is the better choice in a multi-threaded situation. Apple's (NASDAQ:AAPL) A7 achieves the highest performance per core, but it only has two cores as compared to Snapdragon 800's four. On the GPU front, the test revealed that Snapdragon 800 has a superior GPU than its counterparts. Another head to head comparison between Snapdragon 800 and Exonus 5 (Samsung) reveals that the Snapdragon model of Note 3 is faster in both CPU and GPU charts. The graphics performance of the Snapdragon model was also 29% faster in 3DMark and 8% faster in GFXBench.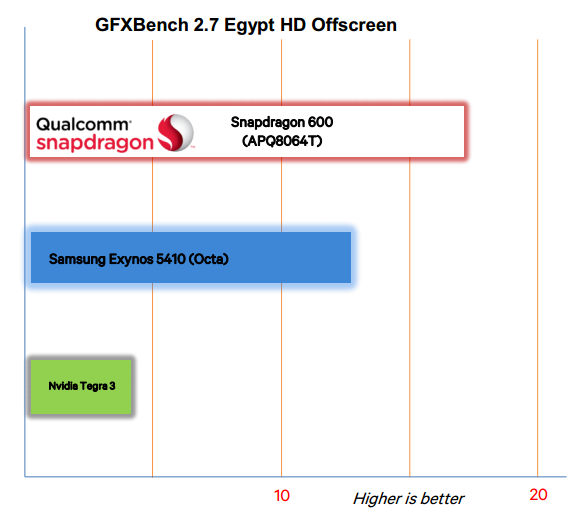 The GPU performance of the midrange Snapdragon series is superior to the competition. Therefore, it appears that Qualcomm's current offerings are better in terms of performance. However, the coming year is indicating an uncertainty in this performance domination. The upcoming Tegra K1 from Nvidia is a real threat to Snapdragon's future design wins. Some unofficial benchmarks show that the Tegra K1 outperforms the upcoming Snapdragon 805 by a considerable margin. The Tegra (4 cores) is outperforming Snapdragon by 16% according to the benchmark. Moreover, Huawei's octacore Kirin 920 also outperformed Snapdragon 801 in the benchmark tests. However, the energy consumption remains veiled right now, and it will be the defining factor as far as achieving design wins is concerned. If Tegra and Kirin manage to lower their energy consumptions to Snapdragon's level, Qualcomm may have to suffer design losses until it comes up with a better solution. On the other hand, Qualcomm's 801 is already featured in the S5 and Xperia Z so it might be a little too late for Huawei's Kirin, but Tegra K1 is a real threat to Snapdragon 805. Note that without the energy consumption data it is not possible to pick any winners.
Key Takeaways
Qualcomm is better positioned than its competitors like Ericsson and Nokia to capitalize on the growth prospects of 3G and 4G. The company will generate consistently increasing revenues from its licensing segment because it holds seminal patents of 3G and 4G technology. It will also witness revenue growth from the chips segment due to its current differentiated product line. High end chip growth may suffer due to Nvidia's Tegra, but it highly depends on the relative power consumption the chips. OEMs are confident about the performance of Snapdragon, and that is why we are seeing the 801 in new high end phones. In our view, Qualcomm is well positioned in the chips business and is expected to experience growth in the future. We are initiating coverage with a buy rating and a price target of $85 given the growth potential of 3G, 4G and the leading position of Qualcomm in the mobile SoC industry.
Disclosure: I have no positions in any stocks mentioned, and no plans to initiate any positions within the next 72 hours. I wrote this article myself, and it expresses my own opinions. I am not receiving compensation for it (other than from Seeking Alpha). I have no business relationship with any company whose stock is mentioned in this article.
Additional disclosure: Equity Flux is a team of analysts. This article was written by our Technology analyst. We did not receive compensation for this article (other than from Seeking Alpha), and we have no business relationship with any company whose stock is mentioned in this article.