At the beginning of the last century many traveling circuses had a staff of geeks. Geeks were the freaky entertainers who perform unmentionable acts such as biting off the heads of live chickens and swallowing them. Today 'Geek' means a socially estranged person who protects himself by hiding within a veil of modern complexity to develop skills that others find daunting. Geeks are shy individuals who bite off pieces of knowledge.
Geeknet Inc. (GKNT) began as VA Linux Systems in 1995. It grew to be a complex organization that specialized in providing solutions for technical professionals. In 2001 the VA Linux System's 10K first alluded to its retailing organization. This organizational division became Think Geek, which sells unusual items,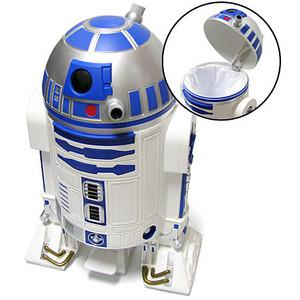 gadgets, games, toys and other merchandise that interest programming enthusiasts, computer users, game players and those who are known as geeks such as an R2D2 waste basket.
Think Geek became the main component of the Geeknet organization in September of 2012, when Geeknet sold all of its technology operations to Dice Holdings along to two of its subsidiaries. It received $20M cash as compensation for the sale of its technology business. Additionally $1.1M of its financial obligations were assumed by Dice Holdings. Financial metrics before this time have little meaning because they were dependent upon the portion of Geeknet's business that is no longer operational.
During 2013 Geeknet lost two hundred thirty four thousand dollars. A portion of this loss may be accounted for as evidenced by a comment in Geeknet's February 2014 earnings conference call that Geeknet's technology costs increased by 53% in 2013.
Geeknet's 2013 10K filing shows $53M cash, $9.6M accounts receivable and $20.1M inventory value with short time payables and liabilities of $19.7M, and no long-term debt.
I would not have taken notice of Think Geek except for two observations:
Think Geek is now primarily an Internet retailer. It conducts a wholesale business that sells its custom designed merchandise to Books A Million in Canada and Urban Outfitters (NASDAQ:URBN), Target (NYSE:TGT), Toys 'R' Us and Wal-Mart (NYSE:WMT) and in the US. Think Geek's sales volume is not large as many retailers experience, about $138.25M with $116M assigned to direct sales and $22M to its wholesale division. Its margins are low at 19.6%, with $16.8% applied to its Website sales and 34.3% to wholesale sales. Think Geek has a captivating Website that displays a myriad of very strange products, many unlike anything that you have ever encountered. It offers Dr. Who, sonic screwdrivers, blade runner umbrellas and canned dragon meat. Think Geek also offers everyday usable items such as cell phone cases, technical tools and security devices.
Many of its items are relatively high priced, and sell in the $50 and above range. Higher price items are an advantage in E-commerce where the fixed cost of packing an item is more easily amortized. It offers trendy products used for jokes and novelties, many of which are licensed by the Doctor Who, Star Wars, Minecraft, Game of Thrones and Star Trek organizations. It manufactures items that are designed by Geeknet's development arm, its Geek Labs division.
Some institutional investors in Geeknet are MARLIN SAMS FUND L.P. with 25.93% ownership, Blackrock Fund Advisors, Inc. with 2.39% and Vanguard Group with 2.36% ownership. Smaller institutional investors include Portland General Electric Pension Plan, Zacks and California Public Employees Retirement System. Since September 12, 2013, when it sold its consulting business, its share price varied between $19.13 and $12.78. It now is slightly above its low at $14.50 as I wrote this article (March 18).
In the years 2013, 2012, 2011 and 2010 Think Geek had respectively an average of 91,212, 89,300, 73,076 and 53,111 daily visitors to its web site and in the same order, annually sent 2.02M, 2.0M, 1.7M and 1.3M orders to its customers. The price of its average shipped order gradually increased from $55 to $57 during this time.
Investing in this company may be seen as exotic a venture as the company's name suggests, but with its strong cash position and recent history of increased E-commerce sales, it seems to have relative safety and great growth potential. Think Geek could easily expand its product line to the computer, tablet and cell phone business by offering products such as cases and accessories, and enter the gadget market full force, which could increase its sales by a large multiple. Gadgets always sell, good times or bad, because they celebrate affluence with prosperity and remove people's minds from economic difficulty.­
I see further improvement to its sales volume by bettering its operations. Photograph quality on its web site could be improved since imaginative photos increase sales. Its web site might include noting the available inventory quantity of offered items to increase urgency of purchase, and delete an offering from its site when the merchandise is not available. These would be inexpensive changes that certainly might improve customer experience and create additional sales volume.
Most productive could be Think Geek's entry into the big-ticket electronics business that fits in well with its present product line. Though this business may be conducted at a low percentage margin, the dollar profit margin gained would be enormous. Think Geek is already set up to handle these types of sales. The addition of new business for Think Geek would not be a large strain on its employees, since it contracts for order fulfillment with a third party, and requires little internal effort.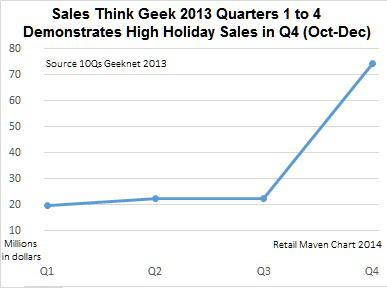 A major portion of Think Geek's business is conducted during Holiday Season. The expansion of its product line to include merchandise that is used on a regular basis by the tech community could increase sales and better utilize employees' efforts.
Its profit structure could be increased by increasing markup. It is difficult to understand why its Web business bears such low margin while its wholesale business is high margin. This is the key to analyzing the future potential of Geeknet. On the other hand if the cause of low margin is poor inventory handling followed by large discounts needed to adjust inventory, this could be corrected to give reasonable margin, and the profit potential of Geeknet might be enormous. If the cause of low margin for Web sales is inherent in its product offering, the profit potential of Think Geek could be limited.
The nature of items that Think Geek sells are not as subject to competitive price comparison as are commodity merchandise, so I am betting that substantial ability exists for Geeknet to increase its margin percentage.
Geeknet is an investment that does not appear to have a large down side and could encounter massive growth as it discovers how to increase margin percentages, new markets and new products.
Disclosure: I am long GKNT. I wrote this article myself, and it expresses my own opinions. I am not receiving compensation for it (other than from Seeking Alpha). I have no business relationship with any company whose stock is mentioned in this article.
Editor's Note: This article covers one or more stocks trading at less than $1 per share and/or with less than a $100 million market cap. Please be aware of the risks associated with these stocks.