This is part 8 in a continuing series of articles discussing building a portfolio of dividend income equities. The strategy seeks to use value investing principles and apply them to stable companies offering reliable dividends. Further safety is sought by diversifying through a wide range of industry segments and often using multiple tickers in each of those segments. This lowers our entry cost.
Series parts 1, 2, and 3 lay out the philosophy, strategy, and methods of the Tortoise Strategy and Use of Covered Option Writing to boost performance. I recommend readers review each of these first 3 initial parts. Beginning with part 4, each subsequent installment reviews and analyzes one of the 16 tickers identified in the preliminary screen (listed in part 4). A full index of links to the complete series, including future installments as they occur, is available here.
Philip Morris International
| | | | |
| --- | --- | --- | --- |
| Philip Morris Intl. (NYSE:PM) | $ 80.52 | $ 3.76 | 4.70 % |
Philip Morris, International, established in 1987, manufactures and sells tobacco products internationally outside the USA. From its outset as part of the breakup of the predecessor Philip Morris conglomerate in 2008, it has been a cash cow with tobacco as its single focus, its products sold in over 200 countries with 15.6% of the international cigarette market outside the United States.
Philip Morris has provided a strong history of growth since its 2008 spinoff in both share price and dividend distributions. Shares reached an all-time high of $96.44 in April of 2013 and have since pulled back to about $80.00 where they remain in a consolidation pattern since the end of January of this year.
(source: yahoo.com)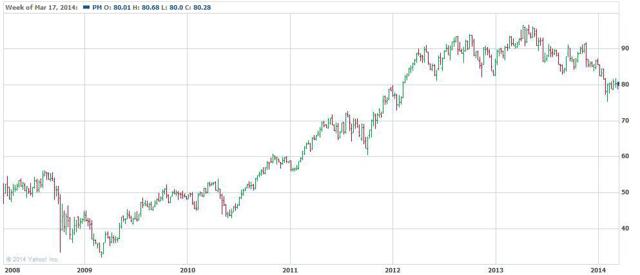 Because Philip Morris is a cash cow, investors value for a reliable and growing dividend income stream, its best valuation metric is yield rate. In the dividend income equity market, the company sets the dividend distribution, and overall market forces of risk adjusted yield allow investors to bid share price up and down to a price that creates a yield reflecting investor consensus on the risk adjusted value share price to create a competitive yield vis-a-vis similar risk weighted dividend income alternatives. For those not familiar yet with YDP charts, I refer you to my introductory article on YDP chart analysis and its precursor article with several YDP chart interpretation examples.
A look at the YDP Chart indicates two clear yields investors target in pricing the shares relative to the dividend. An upper yield trend focused on 4.50% and lower yield trend of 3.50%, each appears to reflect market sentiment to future tobacco industry stability and earnings safety. The current price consolidation around $80 is aligned with the 4.50% yield trend (4.70% at current price) and probably reflects the pricing in of risk related to potential new European regulatory actions on tobacco products. The yield settling in around the historical 4.50% trend combined with the price consolidation focused on $80.00 indicates current share price is at fair value at the upper limit of the stable range on the current dividend distributions. An increase in dividend distribution of 32 cents would allow shares to move up to $87.37 to maintain the same yield rate. Removal of some of the current European regulatory risk will allow the shares to move higher as lowered risk sentiment responds by moving yield rate down towards the lower 3.50% historical trend. Shares priced in accordance with the current $3.76 annual dividend would rise to $107.43 to reach the 3.5% effective yield rate.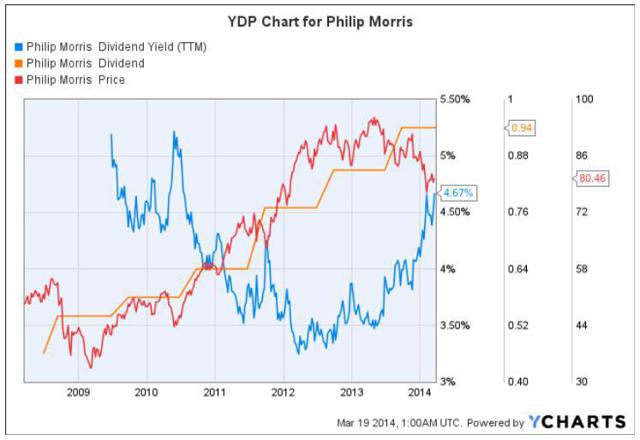 With dividends as the primary driver of valuation, their safety and reliability is important. Cash dividend payout ratio is the key measure of this metric for sustainability. The 64% current payout ratio is at the high end of typical payout comfort levels and towards the historical high side for Philip Morris. It appears under control, showing a general slow decline to better levels since late 2012 except for a one quarter spike in mid 2013. The company's ability to adjust capital expenditures and improve debt structure should insure an adequate coverage ratio continues and the dividend along with periodic increases remains secure.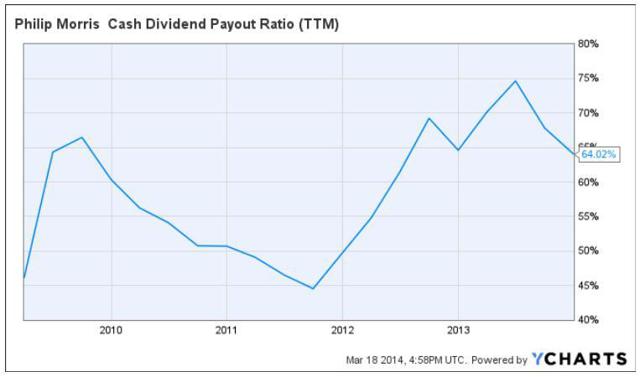 A brief technical analysis shows a consolidation around $80.00 has been taking place as shares trend sideways since January. The next significant support level below $79.17 is about $69.20, last visited in late 2011. Further, the current consolidation is near the upper limit of a long term down-trending channel which began May 2013. The current chart formation of an up-trending pennant begun in early February 2014 is not supported by volume (which is falling) and likely to fail to achieve a breakout in the near future. Should the current sideways price drift continue, shares will technically soon break out to the upside of the long term down-trending channel. A dividend rise or improvement in sentiment regarding the European regulatory environment is likely needed to sustain any such breakout. Therefore, $80.00 is believed to be a close to the top for the shares at this time. Shares can be expected to remain in lateral drift around $80.00 at least until the next financial reporting period, announcement of a dividend increase, or change in the European regulatory sentiment. A further weakening in price to remain within the fading long term down-trending pattern would drive yields above their historical high side equilibrium 4.50 zone and is only likely to be sustained in the down-trend if negative sentiment increases beyond the present levels. This would be a return to the sentiment trends documented by the YDP chart that were in force prior to current consolidation.
Traditional value metrics also indicate current prices are within accepted and historical value ranges both internally for PM and measured against competitors and the cigarette industry. Operating margin compares favorably against competitors Imperial Tobacco (ITYBY) and British American Tobacco (NYSEMKT:BTI), as well as domestic tobacco's Lorillard's (NYSE:LO) .44 and Reynolds American's (NYSE:RAI) .40 margin rates.
(source: yahoo.com)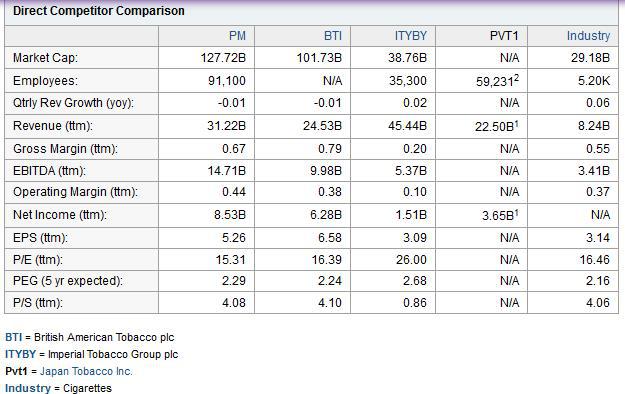 Philip Morris shows good value on Price/Free Cash Flow ratio, tracking its competitors favorably and improving over them rapidly the last four quarters. This is a measure of the cash available to pay dividends among other things and is therefore a very important comparative metric among income investments.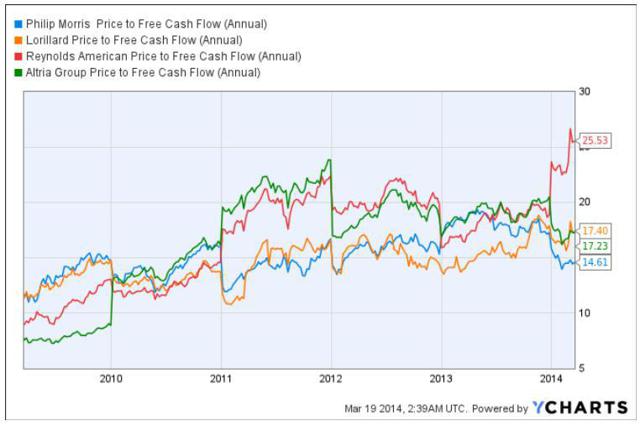 In summary;
Philip Morris is a quality dividend income equity with a reasonably safe dividend that can be expected to continue to grow in the future and to drive additional share price growth with that.

At present, the company is consolidating prices in a lateral drift since the end of January. An upward trending pennant is fairly well formed but lacks volume support and is likely to fail in any breakout, perhaps even leading to a breakdown and resumption of the long term down-trending channel it has been in since May 2013. Significant technical support is not present until $69.20.

The 4.70% dividend is attractive but with unresolved technical chart trends now in the process of forming that have more downside potential than upside, it will be best to examine some alternative strategies to opening a position at current open market prices of $80.52.

Covered option writing should be examined for alternative ways to establish a below current market entry point and obtain cash income at favorable yield rates while lowering market risk for the near term. These strategies will be examined in the section below.
Covered Options to boost performance:
Covered Calls (left side of chart)
As discussed above, it is not a favorable time to initiate a position at the $80.00+ current share price. A review of near term covered call options does not find any suitable combinations of Strike price above a current market entry basis and with a premium return yield rate sufficient to be attractive.
(source: schwab.com)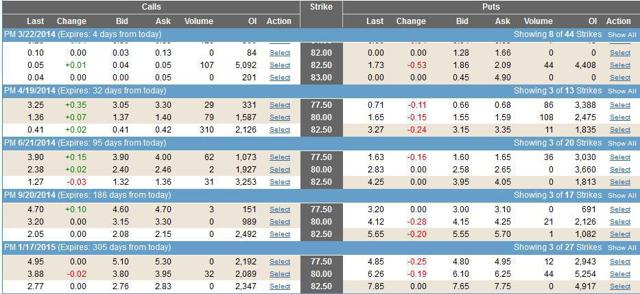 Cash Covered Puts (right side of chart)
The 4/19/2014 $77.50 Put offers a $3.02 discount from current market price. The $0.66 premium further adjusts the effective basis to $76.84, a full 4.57% discount from today's retail price if shares are presented during the next 32 days. The $0.66 premium represents an annualized 9.71% annualized rate of return on our covering cash if the option contract expires unexercised. This is an attractive hedge position to maintain while allowing current technical chart trends to resolve. While $77.50 is still significantly above the ultimate $69.20 strong support level, there are weak intermediate support points on the way down and it is not likely that a major breakdown back to that 2011 range will occur anytime in the near future. With shares at fair value (but the high side) at $80, this strategy provides us a means to bide our time and be paid for doing so along with a discounted entry point if shares resume their downward channel trend and reach $77.50 in the next 32 days. Should this occur, the reduced entry price boosts the effective yield on the present $3.76 dividend from 4.70% to 4.89% on the adjusted basis price, a significant long-term boost equivalent to an entire typical dividend hike based on historical PM growth rates. Further income and effective yield boosts beyond that will likely be available through covered call writing using Strike prices chosen to insure a profit if called away for our newly acquired shares as the months progress.
Other Put options at Strikes and premiums further out (as seen on the above option chain chart) do not look as attractive and add to the risk that a breakout to the upside on any improving sentiment leaves us chasing this quality dividend income generator with put premiums below yield rates attractive for the long term.
Conclusions & Recommendations:
Do not establish a Philip Morris entry at current retail market price. Alternative covered option strategies are more favorable.

The shares are presently in a technical transition forming a new pattern or resuming the long term down trend. This pattern should be resolved in the next few weeks and become clear.

The Company is an attractive dividend income equity and suitable for most investors to target for entry at suitable prices in the immediate future.

Sell to open the 4/19/2014 $77.50 Put at the current premium of $0.66 for immediate income, to earn a 9.71% annualized return on cash waiting for an entry, and to obtain a 4.57% discount from current retail to an adjusted basis price of 76.84 with dividend yield boost from 4.70% to 4.89% if shares are presented in the next 32 days.
In part 9, I will discuss AT&T Corporation (NYSE:T). Each subsequent part of the series will discuss and evaluate one more of the original 16 tickers identified in the preliminary screen for building your Tortoise on Steroids portfolio.
I hope you will join me as I detail the use of covered option writing on quality dividend income equities to develop a model portfolio for the Super Tortoise. Simply click on the bold link labeled FOLLOW above the title at the top of this article to get an email notice of my new articles when they are published.
Disclaimer: I am not a licensed securities dealer or advisor. The views here are solely my own and should not be considered or used for investment advice. As always, individuals should determine the suitability for their own situation and perform their own due diligence before making any investment.
Disclosure: I am long LO. I wrote this article myself, and it expresses my own opinions. I am not receiving compensation for it (other than from Seeking Alpha). I have no business relationship with any company whose stock is mentioned in this article.