Even with a 200% run-up since January 2012, 80% for the KBW Bank Index and 45% for the S&P 500, Bank of America (NYSE:BAC) still trails rivals in profitability and value.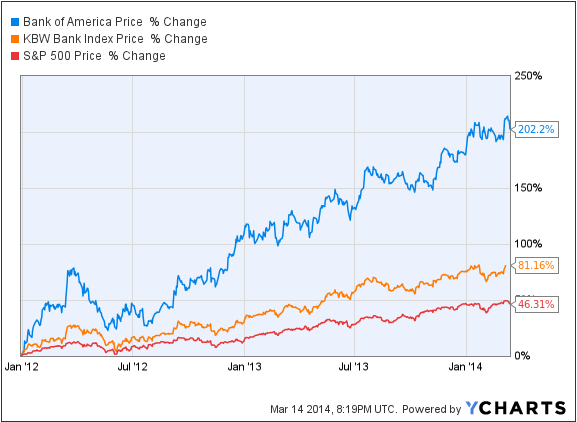 Boosting these may not be all that hard, meaning the bank's best years can lie ahead.
Bank of America's surging stock price.
Bank of America earned almost as much as it had the five years previous in 2012, but it:
Trades at half the price-to-tangible book value multiple of Wells Fargo and a third of US Bancorp.
Growing revenue while cutting costs, the upside potential in Bank of America price is as huge as analysts expected.
How Bank of America's revenue growth will continue.
CEO Brian Moynihan announced a $5 billion annual cost cutting plan in 2011, with a reduction of 30,000 jobs. Market Watch analysts expect the bank to meet these expense targets-with faster progress leading to earnings surpassing estimates.
Countrywide legacy issues have faded (including a $10+ billion settlement with Fannie Mae). General trends include the:
Fed announcement December 2013 to reduce "quantitative easing" (QE) by $10-75 billion
QE winding down gradually through 2014.
U.S. economy continuing to improve.
The Fed's decision is expected to boost net interest margins. With the asset-sensitive balance sheet and exposure to the U.S. consumer, the growing economy should grow bank earnings.
Analysts expect specific help from:
Improving bank card loan balances, boosting consumer and business banking unit 11%.
The business mix supporting a lower cost-to-equity ratio.
Analysts predicted Bank of America will have a 12% return in 2015, even without higher interest rates. With higher rates, these returns would move into the mid-teens. This will make the stock price target of $19 per share, up from $16.
Bank of America may be a stock to buy and hold for 20 years.
Bank of America has come through a hard time, and it has put investors through it. But, considering its relative value to peers, commanding market presence, and growth opportunities, this might be a stock to buy and hold for decades.
Bank of America remains the top largest bank in the U.S.-measured by deposits in consumer operations. It has "massive and expanding" business and investment banking services, wealth management, et cetera.

Source: SNL
Since January 2007 Bank of America is still down over 60%, while:
JPMorgan Chase (NYSE:JPM) is up 35%, and
Source: YCharts
Each bank has a hugely different outlook emerging from the Crisis of 2008, but this discount cannot be discounted. And remember those valuation discounts: 1.25 price to tangible book value ratio compared to 1.5 for JPMorgan or 2.0 for Wells Fargo. On valuation alone Bank of America merits consideration as a buy-and-hold.
Short-term outlook for Bank of America is not entirely rosy.
Bank of America has returned 8% so far this year, after a stunning 35% 2013 return. But shares continue to trade at only 1.2 times reported December 31 tangible book value ($13.79), and price/earnings 10.4 times consensus 2015 earnings estimate ($1.62). Short-term challenges do appear in the U.S. economy:
The preliminary index of consumer sentiment declined to 79.9 in March 2014 from 81.6 in February-making for the fourth-straight decline (Thomson Reuters/University of Michigan).
Following a 35% gain in 2013, after a 30% 2012 gain, the KBW Bank Index fell 0.5% to 69.54-with declines in all but seven of the 24 index components.
Even with these short-term drags, analysts predict strong rises in Bank of America for 2014.
Investment analysts love Bank of America for 2014.
Major upcoming events to watch, generally in the banking industry and specifically with regard to Bank of America are:
March 20-Comprehensive Capital Analysis and Review (CCAR) results.
March 26-Bank of America dividend announcement.
All of these are expected to push Bank of America stock prices up. The Fed should continue easing, the CCAR should look good for the bank-and this would be the only thing that might keep them from announcing an increased dividend.
And the bank is expected to receive Fed approval to raise its quarterly dividend to 5.75 cents per share (from 1.0), and to be approved for over $7 billion in share buybacks. After 2013 stress tests, the bank was approved to buy back $5 billion in common shares and $5.5 billion preferred.
KBW analyst Christopher Mutascio rates Bank of America a "market perform", sets a price target of $18.50. At JPMorgan, Vivek Juneja expects the stock to "outperform". With a price target of $18.00, he estimates the bank will earn $1.41 per share in 2014, with EPS reaching $1.68.
Bank of America stock has more room to run.
Massive size, progress on cost reductions and discount it's trading at compared to peers in the banking sector, make Bank of America a clear buy and hold.
Disclosure: I have no positions in any stocks mentioned, and no plans to initiate any positions within the next 72 hours. I wrote this article myself, and it expresses my own opinions. I am not receiving compensation for it (other than from Seeking Alpha). I have no business relationship with any company whose stock is mentioned in this article.