General Electric (NYSE:GE) is an interesting stock to follow. This stock has built-up and crashed several times in its history and investors have a tendency to swing between overly-optimistic to overly-pessimistic about this company over the years. Since the Great Recession of 2008, GE's stock price has been recovering and many people have bullish views on the stock as we move ahead. In this article, we will look at GE from a long-term fundamental valuation perspective.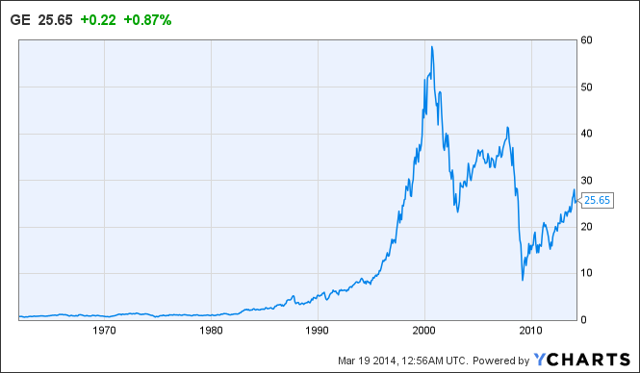 Click to enlarge
General Electric has a long history of growing its revenues year after year, even though the trend started to reverse after peaking towards the end of last decade at $183 billion. GE's current revenue of $146 billion is roughly 20% lower than what the company's revenue was right before it took a hit from the Great Recession. Looking at the long-term trend shows us that GE is not seeing the growth rates it was seeing before even though things are somewhat stabilized and the company still has potential for more growth.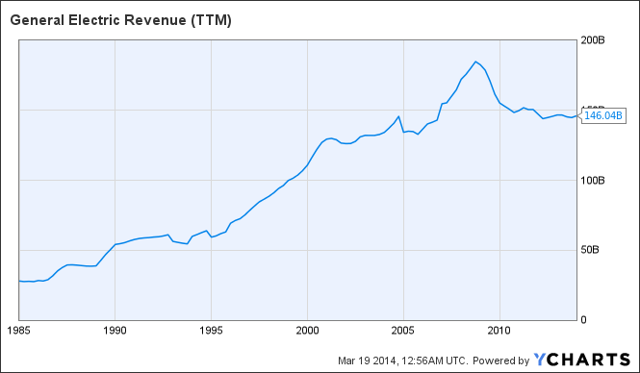 Click to enlarge
If we look at net income, things still look a little tricky. At the peak of its performance, GE was generating north of $2.10 per share which is much higher than today's $1.27 per share. GE's current performance is more in line with the company's performance in the early 2000s and while this indicates a lot of room for improvement, many investors are wondering whether the company will actually occupy that very room.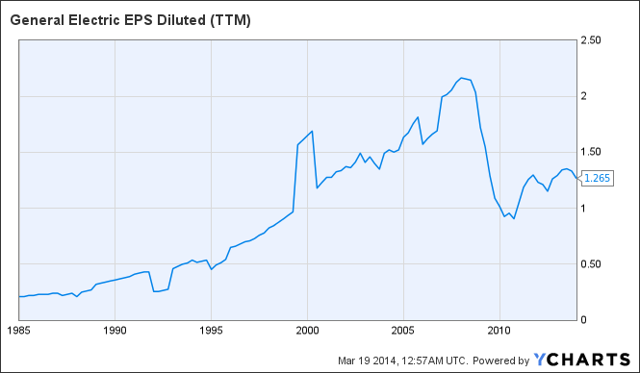 Click to enlarge
Over the years, revenues were not the only thing that disappointed the shareholders. The company has been seeing margin contraction in the recent years. Notice how gross margins fell from north of 60% to below 50% and operating margins fell from nearly 30% to 18% in the last decade. Keep in mind that the margin contractions have been happening over a long period of time (i.e., a decade) so we can't say it's a short-term trend of just a bump on the road. This is something that has been progressing for a long time. Also, keep in mind that we are currently enjoying a time where most corporations are enjoying all-time high margins due to cutting costs and increasing efficiencies after the recession. Many companies learned to do more with fewer resources and it is sad that GE actually saw its margins get worse during this time.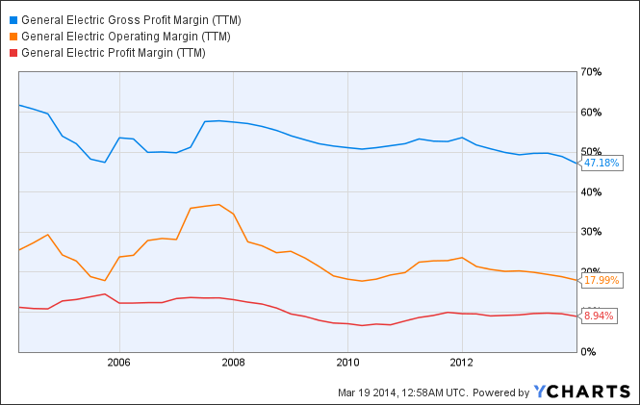 Click to enlarge
Over the years, GE's price to sales ratio moved up and down wildly and this movement resembles a roller coaster. At the peak of the tech bubble, the company's price to sales ratio was as high as 5 and at the bottom of the 2008 recession, this metric fell to values well below 1. The current value of 1.88 is the highest in the last 5 years but still below pre-recession levels.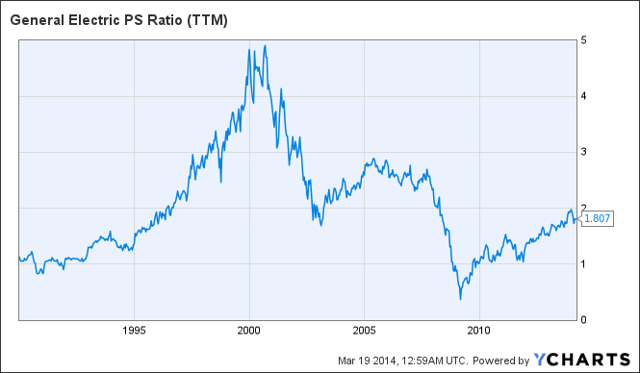 Click to enlarge
When we look at GE's P/E and price to free-cash-flow ratios, we notice that both metrics have been trending down since bottoming at the end of the Great Recession. Currently, the company's earnings and cash flow multiples are closer to where they historically were. In other words, compared to long-term historical trends, GE's current valuation is neither too cheap nor too expensive. During the recession and in the next couple years, these shares were ridiculously cheap and the investors who bought these shares at those valuations made a lot of money but today's valuation is about fair.
Click to enlarge
So far, we looked at the company's valuation trends based on past figures. While past figures are factual, they rarely dictate a stock's price. Many times, prices of stocks are dictated by expectations of future performance. Of course, past performance of a company can guide investors and analysts to make healthy decisions about forecasting their future performances.
Surprisingly, many analysts expect GE to break the trend in the last few years and make a strong comeback. For this year, analysts expect GE to generate as much as $1.69 per share in net income, representing double-digit growth. In next few years, the average analyst targets are $1.82, $1.96 and $2.21 respectively. Basically, the analysts expect GE to grow its earnings consistently in double digits for the next few years. GE's recent performance makes this hard to believe; however, the company has several opportunities ahead.
GE's aviation, oil, gas, power and water businesses are expected to grow their revenues at about 10% in the next couple years. Many countries around the world (particularly the developing nations) are investing heavily into fixing their infrastructures, creating new ways of generating energy and clean water and this will result in higher revenues for General Electric. Furthermore, as the global aviation industry picks up strongly (Boeing says it can't build planes fast enough), GE's aviation business will benefit greatly. GE's margins may increase as a function of higher volume and cutting costs at non-core businesses. We'll have to wait and see how the company actually performs in comparison to analyst estimates but if it is actually able to meet or beat estimates, the shares don't look pricey at all.
If we look at GE's trailing metrics, the company looks fairly priced or a little bit pricey depending on which metric one looks at. If we look at future estimates, the company's current price doesn't look that bad.
Disclosure: I am long BA. I wrote this article myself, and it expresses my own opinions. I am not receiving compensation for it (other than from Seeking Alpha). I have no business relationship with any company whose stock is mentioned in this article.