Michigan-based Kellogg Co. (NYSE:K) continued to increase its revenues year-on-year from $14.1 billion in 2012 to $14.7 billion in 2013 due to increased volumes. Earnings also increased from $0.9 billion in 2012 to $1.8 billion in 2013 due to a shift of focus on higher-value segments.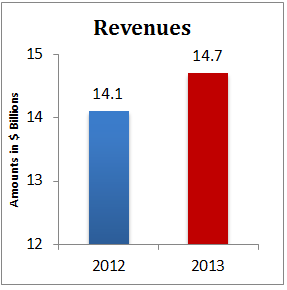 Source: Kellogg Co. Annual Report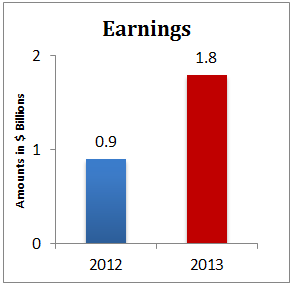 Source: Kellogg Co. Annual Report
However, in Q4 2013, sales remained flat at $3.7 billion compared to the third quarter, and the margins improved slightly, increasing profits by ~1%. Weak performance in North America and Latin America was offset by stronger results in Europe and Asia Pacific. In Latin America, the results were poor owing to the difficult operating environment, particularly in Venezuela, in spite of increasing volumes in the region.
Sales of breakfast cereals in the U.S. fell for three consecutive quarters. One reason for this is the competition from other companies like General Mills Inc. (GIS.N) and the availability of cheaper alternative cereal brands. The morning foods business hence saw a decline of 4% in the fourth quarter, also attributed to the increasing consumption of yogurt, sandwiches, and other breakfast alternatives. All in all, a weaker top line performance was offset by increased savings and lower taxation, which increased earnings in the fourth quarter.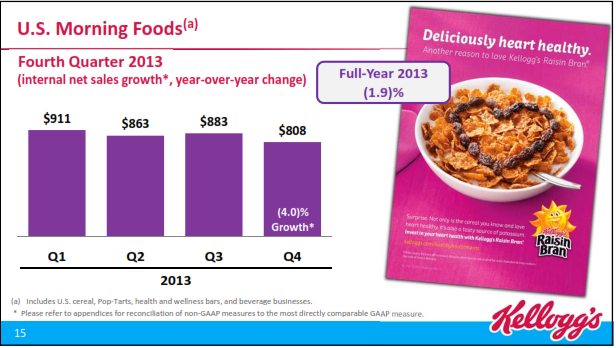 Source: Q4 2013 Earning Release and Conference Call
Outlook for 2014
The sales trend is expected to continue in 2014, and first quarter sales are expected to slightly decrease, incurring flat margins.
The company expects to see improvement in internal sales of ~1%, a stable or marginal increase of 2% in its internal operating profit, and an increase in currency-neutral comparable EPS by 1%-3% to a figure of $3.97-$4.05 per share. The company plans to turn around the sales trend in its favor through improved packaging, shopper programs, and mobile and in-store advertisements.
Further innovativeness would continue to improve growth as new products are introduced that are healthier and cater to the evolving tastes of consumers. Specifically, the company plans to use omega-3 in food items and quinoa grain in cakes, and it believes these could attract more consumers.
Project K Initiative
The company has taken efficiency measures and began a four-year program in November 2013 that will improve margins in the coming period. Under this initiative, the company aims to cut costs by cutting 7% of its employees by 2017.
Additional spending is required to finance this undertaking, with total pre-tax charges of $1.2 billion-$1.4 billion and total non-cash costs of between $275 million-$325 million. Earnings for 2014 would decrease by 60-65 cents per share due to the increased expenditure on Project K. Going forward, the program is expected to save at least $425 million annually by 2018.
Kellogg Company Closing Charlotte Snack Plant
The company plans to reduce costs through the shutdown of another one of its plants in response to the changing tastes of its consumers. The plant is scheduled to close down by the end of 2014, resulting in a layoff of 195 employees. The plant was involved in the production of cookies, including Amos, Austin Sandwich Crème, and Iced Animals.
Two production lines in Cincinnati will also be shut down. Earlier in December, the closure of plants in Australia and Canada was announced and is expected by the end of 2014. The company is also building a plant in Thailand in early 2015 and another snack factory in Malaysia to augment its Pringles production. The plant is expected to be completed by mid-2015.
Share Repurchase Plan To Mitigate Issues
Underperformance has forced many companies in the consumer sector to take measures to keep shareholders' interest in their stocks. Kellogg has announced a share repurchase program of $1.5 billion, showing its commitment to shareholders.
Reasons for Weaker Consumer Staple Performance
The consumer staple companies were faced with a difficult environment in 2013 compared to 2012. The spending power of the middle class population has been significantly reduced due to rising gas prices and excessive taxation. The difficult operating market in Europe and the slowdown in China have also dented the performance of consumer staple companies. The annual performance was weak compared to the S&P index.
Penetration in the emerging markets, although beneficial, could not outweigh the turmoil and regulatory issues in these regions that have depreciated the domestic currencies against the dollar, lowering gains for U.S.-based companies like Kellogg.
A Few Reasons to Support Kellogg's Case
Kellogg has consistently rewarded its shareholders. It improved its revenues in the last ten years, with an average of 4.4% growth each year. The company also maintains a consistent operating margin of 10% and displays strong earnings. Total earnings stood at $1.8 billion last year, which is enough to pay off its liabilities and distribute dividends to its shareholders.
The Bottom Line
Subdued performance in North America, especially in U.S. snack sales, has somewhat marred Kellogg's stock price. The evolving tastes of its consumers will continue to impact the company's results, which are forcing it to shut down its plants in the near future. The Project K initiative will offer some support, however, substantial positive results should be evident in the mid-term beyond 2018.
Although there are encouraging signs due to expansion in Pringles sales and growth in the emerging markets, weaker staple foods outlook would restrict growth. Investors need to be wary of the issues facing Kellogg, and must remain cautious, especially in the near term.
Disclosure: I have no positions in any stocks mentioned, and no plans to initiate any positions within the next 72 hours.
Business relationship disclosure: The article has been written by a Blackstone Equity Research research analyst. Blackstone Equity Research is not receiving compensation for it (other than from Seeking Alpha). Blackstone Equity Research has no business relationship with any company whose stock is mentioned in this article.