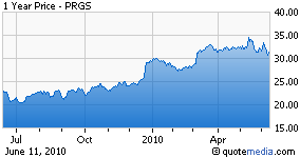 Click to enlargeWhen is a layoff not a layoff?
When it is "a further series of strategic initiatives to better position the company for long-term growth..."
On June 10th, Progress (NASDAQ:PRGS) joined a growing number of enterprise software companies making employment and expense cuts despite the fact that many enterprise software pundits believe the market is in the beginning of a rebound. Investors should not believe the "we've turned the corner" hype from the enterprise software spin machines.
Software was immune to overall economic issues in the 1991 downturn. Software basically caused the 2000-2001 downturn (the dot.com fiasco). Now entperprise software is just plain too tightly tied to the overall economy to move in any other direction than the rest of the world. And with debt crisises emerging in the former European Union and elsewhere, no job growth in the US except for the government hiring people to count other people, the about-to-explode cost of crude, and a long litany of other problems, the rest of the world is about to dance the double dip. And so goes software.
Progress' issues are not entirely macro. The company is really made up of multiple unrelated acquisitions of distressed and/or second-tier software companies, one self-created spinout/spin-in (Sonic), and its heritage 4GL-plus products. This amalgamation has led to both operational and product-development irrationalities that needed to be sorted out at some point. The company had taken the tack throughout its acquisition spree that it could prosper with multiple brands supported by separate marketing and development and no clear Progress image.
Unfortunately it succeeded in this mini-General-Motors-circa-1960 strategy. There was never any way it could succeed in this approach in a market where the leaders -- IBM (NYSE:IBM), Microsoft (NASDAQ:MSFT), Oracle (NASDAQ:ORCL) and SAP (NYSE:SAP) in alphabetical order -- control over 50% of the spend. There may be an investor play here however. Three of the top four might be interested in acquiring a slimmed down Progress.
Disclosure: No positions