By David Urani
The World Cup has officially kicked off, and what a spectacle it's going to be. The world could use this next month of competition to relax and take its mind off from some of the malarkey in the economic world over the past couple of months. In particular, Europe's debt problems have taken center stage. Not only have the prospects of big government budget cuts around the world hurt outlooks for growth, but dwindling faith in the euro (and currencies in general for that matter) currently have investors running away from debt and equity and into safe, tangible assets.
And that has got me thinking; as it turns out, the World Cup host nation South Africa has one of the world's most massive reserves of precious metals. It's estimated that South Africa, ranked 25th in national GDP, holds 40% of the world's gold reserves and a whopping 80% of the world's platinum. Until around 2007, South Africa was the world's largest exporter of gold, which accounts for 37% of its total export revenue, and it remains the largest exporter of platinum.
Euro Slump Shoots Gold Into the Top Corner
The global recession which, fingers crossed, recently ended has left behind a wake of problems, the biggest of which has been world governments crippled with huge debts. The problem hit danger levels when we all found out that Greece was likely to default without extreme preventative measures, including big budget cuts and a helping hand from some of its neighbors. Since then, questions have arisen over the state of the likes of Spain, Portugal, and Hungary among others. The problems have brought concern for the legitimacy of world currencies (after all, our own debts here in the US are nothing to sneeze at either). A flight to safety ensued and gold was possibly the biggest winner, recently reaching new highs above $1,250 an ounce.
Platinum's Role
However, it's platinum that really catches my eye. It still has the "personality" of gold in terms of a valued commodity and a hedge against currency, and it often moves in tandem with gold in connection with the above reasons. That being said, it also has industrial applications, particularly in the automotive market, which accounts for 70% of the commodity's demand through catalytic converters. Consequentially, the latest market fears for global economic growth have weighed on platinum prices as gold has been somewhat unfazed.
It seems clear to us, however, that platinum's drop has been overdone. Global economic fear has been too hysteric, and while not totally unwarranted, there is evidence of a brighter future. Positive reports include China's exports increasing approximately 50% YOY in May, and ongoing improvement in the US manufacturing sector, according to a number of sources. And for platinum's case in particular, auto sales in May exceeded expectations. As you can see in the chart below, platinum's drop in May leaves it uncharacteristically undervalued compared to gold.
(Black: Platinum, Green: Gold)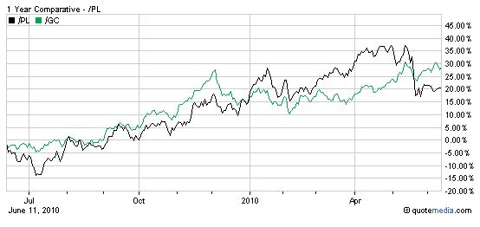 In addition to the two aforementioned drivers of platinum prices, the South Africa World Cup carries a bonus incentive to own platinum. As we already said, South Africa holds about 80% of the world's platinum and that means we all rely on its mines. In 2007, the whole country found out that there was a general lack of electrical generating infrastructure. The failure of a nuclear power plant and increasing demand caused blackouts across the nation, including across the many minerals miners in the area which really saw the effects in early 2008.
Platinum prices increased almost 40% to $2,200 an ounce ($1,536 currently) in a matter of a couple of months. Ever since, although the power issues have been fixed, electricity capacity is still low compared to demand. That brings rise to the question of whether or not South Africa has the ability to accommodate the world's biggest sporting event and the hundreds of thousands of visitors it brings – as well as its mines.
Keep an eye on Stillwater Mining Co. (NYSE:SWC) and North American Palladium, Ltd. (NYSEMKT:PAL). Both are American platinum miners that can reap the benefits of higher platinum prices without running the risk of losing power as the World Cup carries on.
Disclosure: No positions