This is an update to the latest rankings for the 25 BDCs that I cover and a follow up to "BDC Rankings: February 2014" taking into account the latest reported financial results as well as updated pricing and valuations, revised analyst EPS estimates and recommendations as well as the new analyses from my most recent BDC reports.
These are the five general criteria I use to evaluate BDCs:
Profitability (dividend coverage, fees, NAV and EPS growth)
Risk (portfolio quality and vintage, rate sensitivity, diversification, volatility)
Return (sustainable, consistent, growing)
Analyst Opinions (outlook, recommendations, price targets)
Valuation (NAV, P/E, growth rates, total return)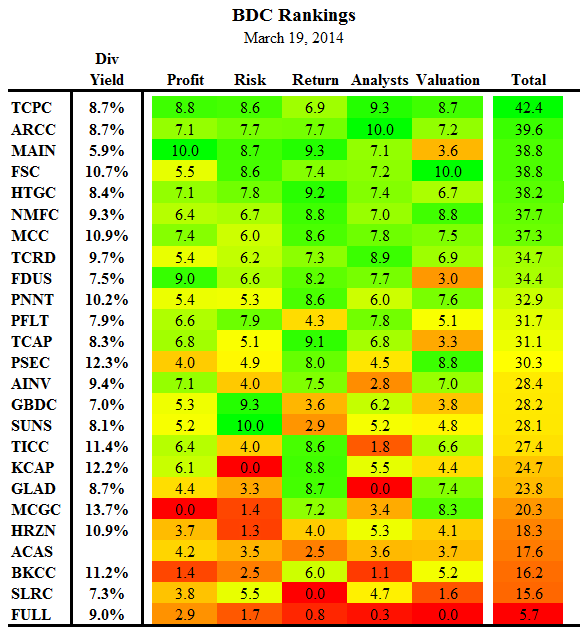 Changes since the February 2014 rankings:
I have upgraded the risk profile for Hercules Technology Growth Capital (NASDAQ:HTGC) for many reasons as discussed in "HTGC March 2014 Report" including the willingness of management to make long-term decisions in the best interest of the shareholders instead of trying to increase net investment income ("NII") by quickly growing the portfolio and potentially sacrificing credit quality and/or portfolio yields.
The return ranking for Prospect Capital (NASDAQ:PSEC) has improved due to its poor share price performance over the last few weeks increasing its dividend yield to 12.3% giving it much higher than average returns as discussed in my latest "PSEC: February 2014 Report".
I have reduced the return expectations for American Capital (NASDAQ:ACAS) due to potential impairment issues in the ACAM (REIT related) and private finance portions of its portfolio and its overall downtrend in quarterly net asset value ("NAV") per share growth over the last two years.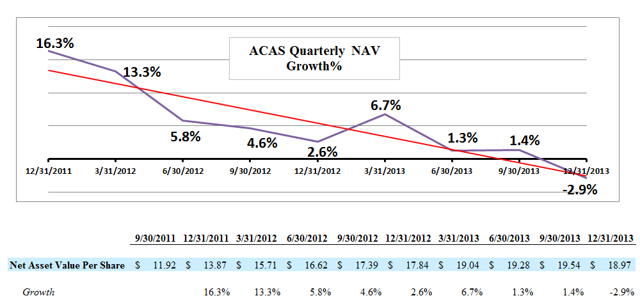 Due to the improved risk rankings (less risky) for Apollo Investment (NASDAQ:AINV) as discussed in "AINV: February 2014 Report" and "Apollo Investment: Should It Be Upgraded?" I have revised my pricing targets giving it a higher valuation rank.
My profit ranking for Ares Capital (NASDAQ:ARCC) was reduced slightly due to missing my projected EPS of $0.42. Please read "Ares Capital: Q4 2013 Update" for details regarding the difference between my projections and actual results.
I have upgraded PennantPark Investment (NASDAQ:PNNT) to a 'Buy' and added it to my 'higher total return' BDC portfolio for reasons discussed in my "PNNT Update" including its higher than average dividend yield and NAV per share growth. I have also increased my EPS projections for the upcoming quarters giving it a higher profit ranking with an increased likelihood of covering dividends.
Fidus Investment (NASDAQ:FDUS) has recently had stronger than average price performance, is part of my suggested 'total return' portfolio and I have increased its projected EPS and overall returns to shareholders in my "FDUS: February 2014" analysis.
THL Credit (NASDAQ:TCRD) missed EPS projections partly due to reclassifications of $810,000 of dividend income to realized gains and against cost related to Surgery and Yellow Pages proceeds earlier in the year due to changes in tax estimates provided by the company over the course of the year.
Main Street Capital (NYSE:MAIN) reported results with EPS of $0.57 and above analysts (of $0.54) and even my estimate of $0.56 from "Main Street Capital: The Best BDC?" maintaining its high profit ranking of 10 out of 10.
Triangle Capital (NYSE:TCAP) also reported results but missed EPS estimates of $0.50 partly due to continued early repayments as predicted in "Triangle Capital Suffers From Repayments: But Is It An Opportunity?" so I have lowered its profit ranking to 6.8.
TICC Capital (NASDAQ:TICC) was one of the last BDCs to report earnings and beat both mine and analysts' EPS estimates, finally covering dividends so its profit ranking improved from 3.0 to 6.4. Last week TICC announced an equity offering of 6 million shares for $10.14 as predicted in my "TICC: January 2014 Report".
BlackRock Kelso Capital (NASDAQ:BKCC) missed even the reduced projected EPS estimates and continues to have issues meeting expectations and covering dividends.
Undervalued BDCs: Currently there are many BDCs that undervalued due to the recent announcement of being dropped from certain indices. At this point I believe PSEC, PNNT, Fifth Street Finance (NYSE:FSC), New Mountain Finance (NYSE:NMFC), Medley Capital (NYSE:MCC) and TCP Capital (NASDAQ:TCPC) are all undervalued by at least 10% and considered a 'Buy'. Other BDCs that are undervalued but considered either a 'Hold' or a 'Sell' are Gladstone Capital (NASDAQ:GLAD) and MCG Capital (NASDAQ:MCGC). Updates to recommendations and pricing can be found in my weekly newsletter.
Overvalued BDCs: I still consider Solar Capital (NASDAQ:SLRC) to be one of the most overpriced BDCs and have recently added Full Circle Capital (FULL) to this list. FULL has benefited from projected NAV increases as discussed in "BDC Results For 2013". There could be considerable upside potential for this company and as the end to the lockup period for its investment in Advanced Cannabis Solutions (OTCQB:CANN) gets closer I will have updated pricing and projections.
Investors should only use this information as a starting point for due diligence. See the following for more information:
Disclosure: I am long HTGC, MAIN, TCPC, FSC, ARCC, FDUS, TCRD, PSEC, NMFC. I wrote this article myself, and it expresses my own opinions. I am not receiving compensation for it (other than from Seeking Alpha). I have no business relationship with any company whose stock is mentioned in this article.
Editor's Note: This article covers one or more stocks trading at less than $1 per share and/or with less than a $100 million market cap. Please be aware of the risks associated with these stocks.