Google Inc. (NASDAQ:GOOG) is an American multinational corporation specializing in internet-related services and products. These include search, cloud computing, software, and online advertising technologies. AdWords, an online advertising service, has evolved into a primary source of revenue for Google. Google holds a strong history of growth, and the company has delivered better-than-expected results. During the recent fourth quarter of 2013, the company successfully generated $16.86 billion in revenues, with an increase of 17% year-over-year. If the Motorola Mobile segment's results are excluded, Google's revenues grew by an increased rate of 22% to $15.70 billion. The successful execution of the enhanced campaign in the third quarter improved the ad volumes. However, the cost per click continues to decline as advertisers shift their ad budgets to mobile devices and competitors. Google's mobile ads SDK services may offset this declining effect by attracting more advertisers.
The Internet Advertisement Industry Outlook
Despite the economic problems, the global internet advertising continues to grow in terms of both volume and market share. Internet advertisement will reach $187 billion by the end of 2017, and it will constitute 29% of the world's total advertisement.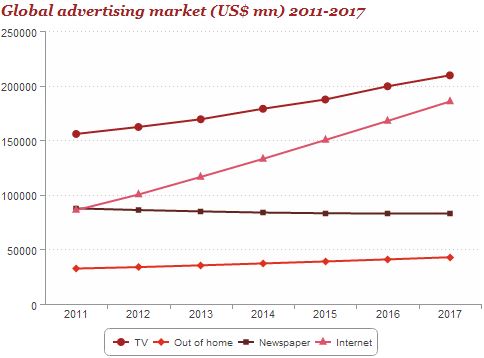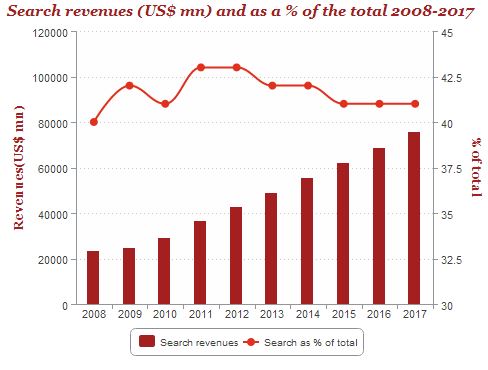 Source: PwC
According to research by PwC, search will remain the dominating form of online advertising globally, despite the fact that its share dropped by two percentage points to 41% in 2017 due to the shift towards mobile advertising. Google leads the search market, with a 67.7% market share. Google will definitely take advantage of search market growth potential from its market leadership.
The smartphone industry has grown rapidly over the past few years, and continues to grow at a faster pace. The amount of time users spend on smartphones is increasing, and the mobile advertising industry is also growing at a faster pace than the traditional advertisement mediums. According to a research report by Gartner, the global mobile advertisement market will reach $18 billion in 2014 from an estimated $13.1 billion in 2013, and with the huge increase, this market will surpass $41.9 billion at a CAGR of 34% by the end of 2017. In the fourth quarter of 2013, devices using Google's operating system accounted for nearly 36% of advertising impressions on the Opera Mediaworks network, in contrast to iPhone impressions that stood at just under 29% of the network.
The Android platform that now runs on billions of devices will continue its lead as the preferred mobile device platform. According to Gartner, by the end of 2017, the Android's smartphone market share will be 68.3% and the Android tablet market share will be 58.8%. The dominance of the Android platform will increase the number of aggregate paid clicks for Google, and this can offset the decline in cost per click to some extent going forward. The advertisement industry's prospects are in favor of mobile advertisement, and it can be argued that mobile ads are key to Google's revenues over the long term. Considering the fact that advertisers are increasingly advertising on mobile devices, the bundling of ad campaigns proved to be a good move. This new program that automatically bundles desktop, tablet, and cellphone ads for all campaigns was instrumental in increasing the aggregate paid clicks, and this mirrors the number of ads sold by 31% during the quarter. It is expected that this increasing trend will continue as more advertisers switch to enhanced campaigns in the future.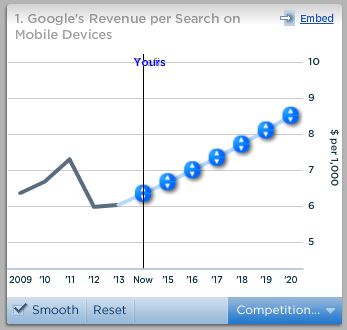 Source: Trefis
Google's Acquisition of Nest Labs
Recently, Google entered into an agreement to buy Nest Labs Inc. for $3.2 billion in cash. Nest Labs is a home automation company that designs and manufactures sensor-driven, Wi-Fi-enabled, self-learning programmable thermostats and smoke detectors. This acquisition is quite interesting, and Google wants a home operating system, so this could be the possible reason behind the acquisition. The Nest Lab thermostat is built around an operating system that allows the interaction with the thermostat via spinning and clicking its control wheel, and this brings up the option for menus that allow switching from heating to cooling, access to the device settings, energy history, and scheduling. The operating system of the thermostat will be connected to the internet, and the company can track the record of energy management and will also be able to push the automatic updates when connected to Wi-Fi to fix the bugs. Currently, the operating system that is being used is not Android-based, but in the near future, Google might introduce its own operating system in the shape of smart-thermostats, and this will definitely gain success. Nest Labs is currently selling thermostats in the U.S., Canada, and the U.K., and in the last year, the company was selling between 40,000 and 50,000 thermostats per month. The sales are expected to reach 100,000 thermostats per month, with the selling price of $250, and this would result in revenues of $300 million. Google must have planned the next ten years of growth prospects. Nest Labs is a good start-up as the home energy management market starts accelerating demand, and it can be expected that Nest Labs will significantly ramp up revenues over time.
Although this acquisition has very little impact on Google's revenues, it is a good bet for the next ten years. According to a report from the Energy Information Administration (EIA), only 37% of residences host programmable thermostats for central heating and 29% have programmable thermostats for central cooling. The home energy management market is valued at $1.5 billion annually, with only 1.5% to 2.5% penetration in most of the states, however, the home energy management market is poised for significant growth and expected to surpass $4 billion by the end of 2017 in the U.S.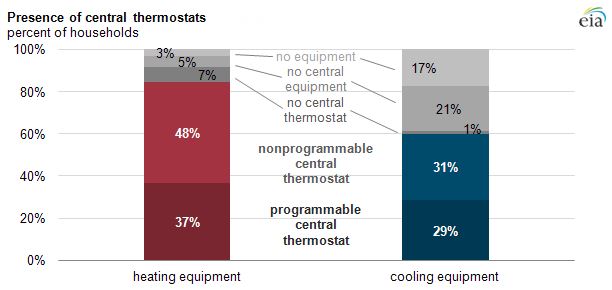 Source: Energy Information Administration
Expansion of Google Fiber in 34 new Cities
Google Fiber sounds like a major shift from the company's core operations, but it might be the future of internet. Billions of people are now trying to get access to bandwidth-intensive data, like images, music, and high-definition videos at the same time. As the demand for high-speed internet services increases to grab market share, Google is expanding its Google Fiber services in 34 new cities with its increasingly popular 1Gbps speed. Google's disruptive service has been expanding and getting a lot of consumer attention.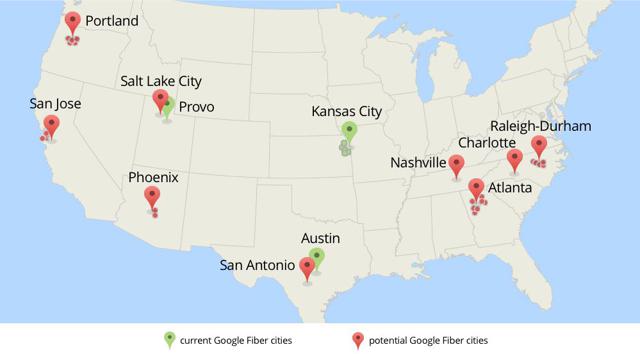 Source: Google Fiber
Google Fiber's launch is also meant to spur the growth of competitive platforms from other providers. The company's fast expansion is making Google a bigger competitive force than before. Google first introduced its fiber services in Kansas, charging a fee of $70 per month for 1Gbps of broadband internet. Customers also have the choice of an add-on in the package, and using that offer, they can pay an extra $50 per month to enjoy access to Google's TV service. Google Fiber has two advantages over its rivals: first, it offers ultra-fast speed internet, and second, it is priced comparatively lower than its competitors. On the other hand, analysts believe that the ultra-fast internet services would indirectly increase the demand for core products, including Google Search and YouTube. The market expects the company to generate higher revenues through advertisements moving forward, and is attributing its expectation on faster internet service to induce demand. In the long run, I believe that Google Fiber will outdo traditional broadband service providers.
The estimate by Trefis shows that YouTube contributes approximately 9% to Google's total value. According to comScore, Google is the market leader in the online video content industry, with nearly 157.6 million unique viewers as of January 2014. The tremendous growth in the online video ad spend will make YouTube one of the key growth drivers for Google.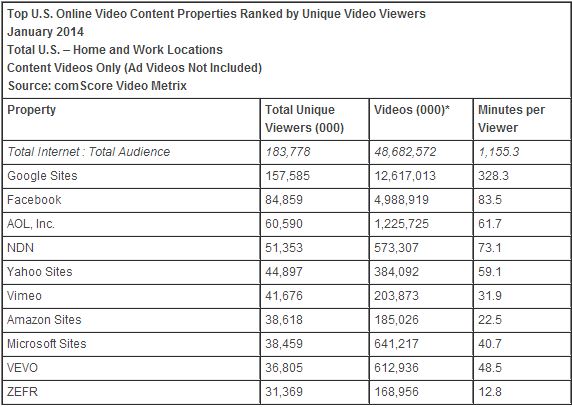 Source: comScore
Conclusion
The stock has traded at a 5-year average P/E of 25.4X. Currently, Google is trading at a P/E of 33.6X compared to the industry average P/E of 43.3X, which results into a discount of around 22%. The forward P/E is 20X, with a 5-year forecasted growth rate of 15.1%. Google is considered to be the second-most successful start-up, and the company is growing larger and larger. Since its IPO back in 2004, Google's stock has strengthened its position, and the over past 5 years, the stock was up by 277%. Google is strategically positioned to grow in several directions with its diversified portfolio. It is still valued fairly cheaply, and I give this stock a buy rating.
Disclosure: I have no positions in any stocks mentioned, and no plans to initiate any positions within the next 72 hours.
Business relationship disclosure: The article has been written by a Blackstone Equity Research research analyst. Blackstone Equity Research is not receiving compensation for it (other than from Seeking Alpha). Blackstone Equity Research has no business relationship with any company whose stock is mentioned in this article