A Ranking system sorts stocks from best to worst based on a set of weighted factors. Portfolio123 has a powerful ranking system which allows the user to create complex formulas according to many different criteria. They also have highly useful several groups of pre-built ranking systems; I used one of them the "All-Stars: O'Neil" in this article. The ranking system is based on investing principles of the well-known investor William O'Neil.
The "All-Stars: O'Neil" ranking system is quite complex, and it is taking into account many factors like EPS Growth, Sales Growth, Industry Growth, Market conditions and Margins, as shown in the Portfolio123's chart below.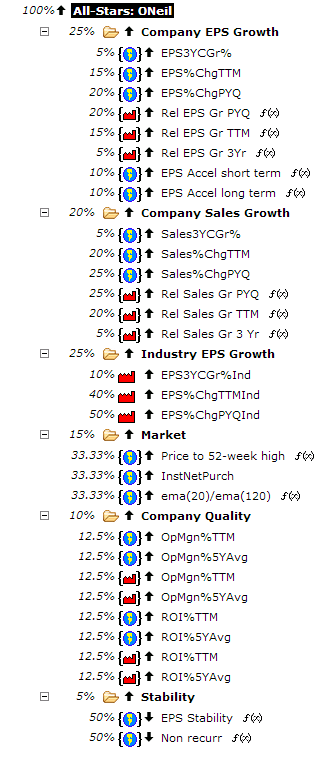 In order to find out how such a ranking formula would have performed during the last 15 years, I ran a back-test, which is available by the Portfolio123's screener. For the back-test, I took all the 7,014 stocks in Portfolio123's database.
The back-test results are shown in the chart below. For the back-test, I divided the 7,014 companies into fifty groups according to their ranking. The chart clearly shows that the average annual return has a very significant positive correlation to the "All-Stars: O'Neil" rank. This brings me to the conclusion that the ranking system is useful.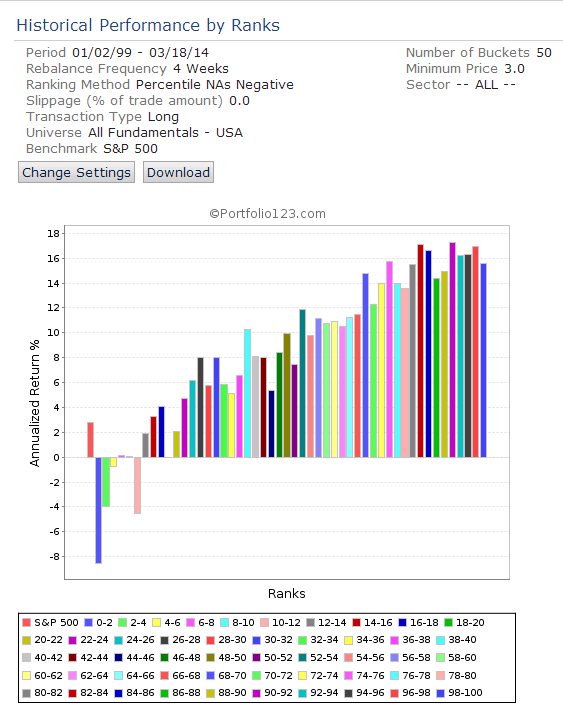 After running the "All-Stars: O'Neil" ranking system on the companies which are included in the S&P 500 index and pay a dividend with a higher than 1% yield, on March 18, I discovered the twenty best dividend stocks, which are shown in the table below. In this article, I describe the first stock of the list, Honeywell International Inc. (NYSE:HON).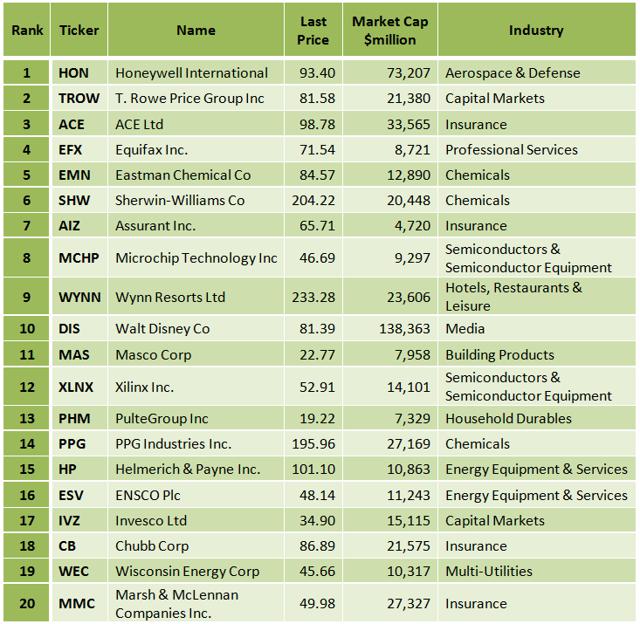 Source: Portfolio123
Honeywell International Inc.
The Company
Honeywell International Inc. is a diversified technology and manufacturing company, serving customers worldwide with aerospace products and services, control, sensing and security technologies for buildings, homes and industry, turbochargers, automotive products, specialty chemicals, electronic and advanced materials, process technology for refining and petrochemicals, and energy efficient products and solutions for homes, business and transportation. Honeywell was incorporated in Delaware in 1985.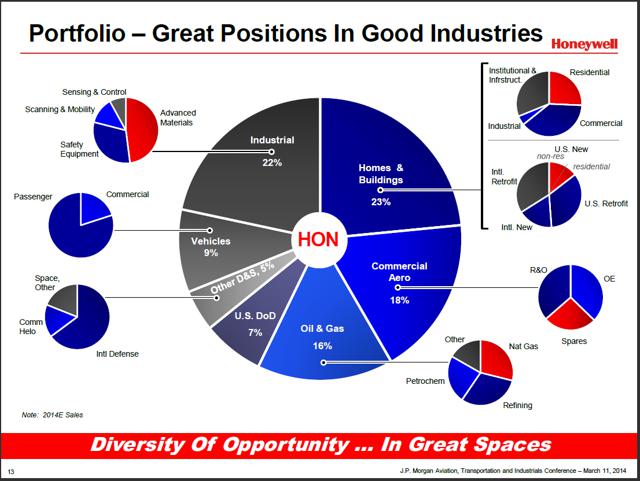 Source: JPMorgan Aviation Transportation and Industrials Conference Presentation
Valuation Metrics
The table below presents the valuation metrics of HON, the data were taken from Yahoo Finance and finviz.com.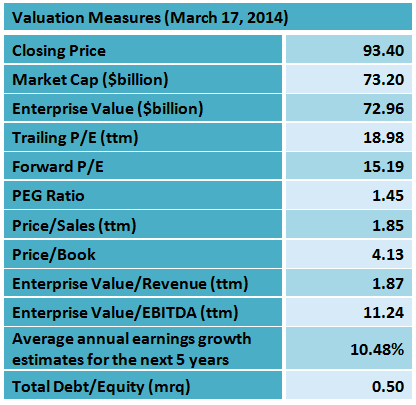 Honeywell's valuation metrics are quite good; the enterprise value-to-revenue ratio is at 1.87 and the enterprise value-to-EBITDA ratio is quite low at 11.24. According to Yahoo Finance, HON's next financial year forward P/E is at 15.19, and the average annual earnings growth estimates for the next five years is quite high at 10.48%. These give a relatively low PEG ratio of 1.45.
Latest Quarter Results
On January 24, Honeywell reported its fourth-quarter and full-year 2013 financial results, which beat EPS expectations by $0.03 (2.50%).
Fourth-Quarter Highlights
4Q13 - 5% Organic Sales Growth; Proforma EPS $1.24, Up 13%, On Stronger Operations
4Q13 Reported EPS $1.19, Includes ($0.05) Pension MTM Related To International Plans
$0.16 EPS Gain Funds Proactive Restructuring And Other Actions - Including Friction Sale
Reaffirming 2014 Proforma EPS Guidance of $5.35 - $5.55, Up 8-12%
In the report, Honeywell Chairman and CEO Dave Cote said:
Honeywell had a very strong fourth quarter, capping off a terrific year across the board with record sales, margins, and earnings. Even in a continued slow-growth environment, our 2013 sales grew 4% and proforma earnings were up 11%, above our guidance, exiting the year with better than expected sales in every business. We generated strong margin expansion driven by excellent execution, with benefits from continued traction on our key process and productivity initiatives across the portfolio. We sustained our 'seed planting' investments for the future including innovating new products and technologies, and expanding geographically. We've also proactively funded new repositioning projects by smartly redeploying non-operating gains. Our short-cycle businesses accelerated as we ended the year and our long-cycle order backlog stood at an impressive $15.5 billion. While we think it's prudent to remain cautious on the global economy at this time, we're increasingly confident in our 2014 outlook based on the momentum from the fourth quarter. And, the benefits from smart gain deployment actions position the Company for strong earnings growth and outperformance over the next 5 years.
Next Quarter Results
Honeywell will report its first-quarter 2014 financial results on April 14. HON is expected to post a profit of $1.26 a share, a $0.05 rise from the company's actual earnings for the same quarter a year ago.
Dividend
Honeywell has been paying uninterrupted dividends since 1970. The forward annual dividend yield is at 1.93% and the payout ratio only 34%. The annual rate of dividend growth over the past three years was quite high at 11.36%, over the past five years was at 8.77%, and over the past ten years was also high at 8.40%. I consider that besides dividend yield, the consistency and the rate of raising dividend payments are the most crucial factors for dividend-seeking investors, and HON's performance has been very good in this respect.
HON's dividend is paid every quarter, as shown in the charts below.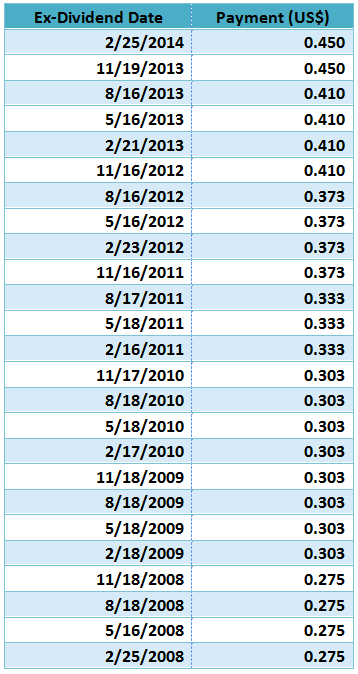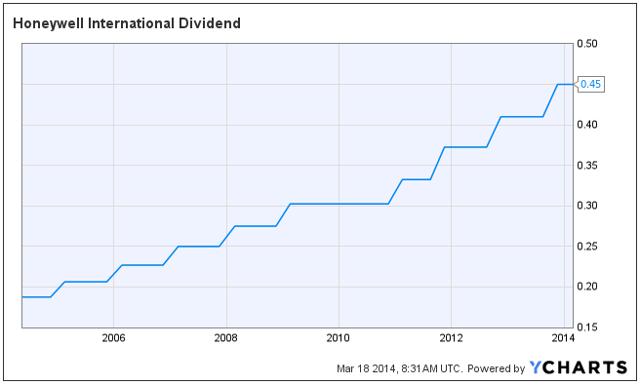 Competitors and Group Comparison
A comparison of key fundamental data between HON and its main competitors is shown in the table below.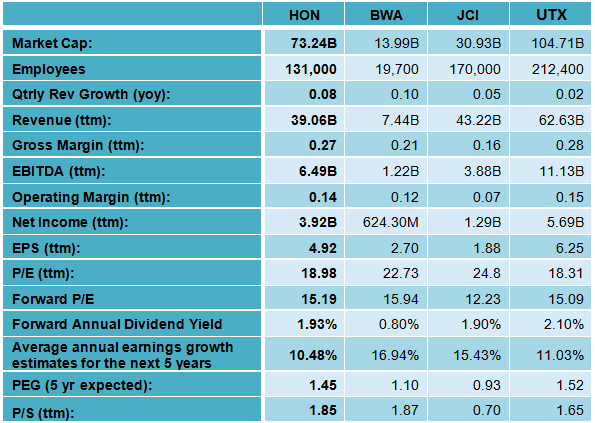 Source: Yahoo Finance
HON's valuation metrics are a bit worse than those of its main competitors. HON has a PEG ratio of 1.45 while BorgWarner (NYSE:BWA) and Johnson Controls (NYSE:JCI) have a lower PEG ratio of 1.10 and 0.93.
HON's return on capital parameters have been much better than its industry median, its sector median and the S&P 500 median, as shown in the table below.

Source: Portfolio123
Technical Analysis
Personally, I am using only fundamental analysis for my investment decisions. After many years of experience, and after having tried all kinds of decision making including technical analysis, I have reached the conclusion that relying on fundamental information is giving me the highest return. Nevertheless, some investors are successfully using technical analysis to find the proper moment to start an investment (I am not talking about traders; my analysis is only for investors). The charts below give some technical analysis information.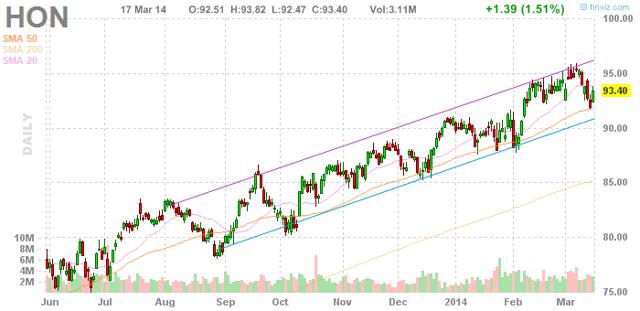 Chart: finviz.com
The HON stock price is 0.54% below its 20-day simple moving average, 1.79% above its 50-day simple moving average and 9.65% above its 200-day simple moving average. That indicates a short-term downtrend, and a mid-term and a long-term uptrend.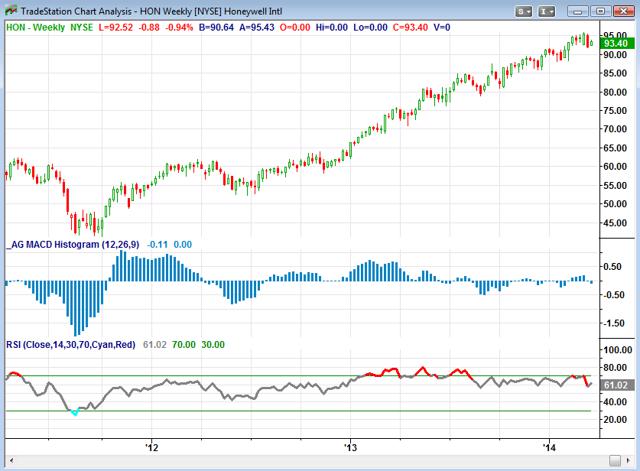 Chart: TradeStation Group, Inc.
The weekly MACD histogram, a particularly valuable indicator by technicians, is negative at 0.11 and descending, which is a bearish signal (a rising MACD histogram and crossing the zero line from below is considered an extremely bullish signal). The RSI oscillator is at 61.02 which do not indicate oversold or overbought conditions.
Analyst Opinion
Analyst opinion is divided, but most analysts recommend the stock. Among the twenty four analysts covering the stock, six rate it as a strong buy, eleven rate it as a buy and seven rate it as a hold.
Christopher Glynn, an analyst at Oppenheimer (A four star rated analyst according to TipRanks) recommended the stock with a buy rating.
Discussion
The year of 2013 had been remarkably successful for Honeywell; it exited 2013 on a strong note with 5% organic growth in 4Q13. Productivity and a balanced portfolio offset the impact of a slow growth macro environment for the company. On March 05, an Analyst Day, Honeywell provided an update to its 5-year targets. HON had put a target of 4%-6% CAGR organic revenue growth until 2018, and 45-75 basis points per year segment margin growth. The company continues to return value to its shareholders through dividend payments and stock buybacks, and it plans to use about half of cash from operations for dividends and to fund enough stock buybacks to keep shares outstanding flat. The other half of cash from operations will fund capital expenditures and acquisitions. In contrast to other diversified Industrial companies whose financial results have fallen victim to weakness in select international end-markets over the last year, Honeywell has succeeded to produce record operating margins and double-digit earnings growth amid difficult macroeconomic conditions.
Risk
According to Honeywell, the operating results of its segments are impacted by general global industry and economic conditions that can cause changes in spending and capital investment patterns, demand for its products and services and the level of its manufacturing and shipping costs. In addition, an increasing percentage of its sales and operations is in non-U.S. jurisdictions and is subject to the economic, political, regulatory and other risks of international operations.
Conclusion
Honeywell has recorded very strong EPS growth, and it has strong earnings growth prospects. Furthermore, the company had put a target of strong organic revenue growth for the next five years. In my opinion, Honeywell will benefit from a strong global trend toward energy efficiency and from the increasing demand for better fuel economy. All these factors lead me to the conclusion that HON stock is a smart investment right now. Furthermore, the rich growing dividend represents a gratifying income.
Disclosure: I have no positions in any stocks mentioned, and no plans to initiate any positions within the next 72 hours. I wrote this article myself, and it expresses my own opinions. I am not receiving compensation for it (other than from Seeking Alpha). I have no business relationship with any company whose stock is mentioned in this article.