The economy remains the key issue. Dining rates dropped over the past two years, and consumers plan to dine out less even in the coming days, based on the latest report from AlixPartners. Still, fast food demand is rising with the youth population, rising urbanization and a change in lifestyle trends.
According to MarketLine, fast food restaurants are growing faster than other restaurant models because of relative cost advantages and an increasing youth population. Consequently, fast food restaurants are expected to grow at a CAGR of 4% in 2014. The growth rate of restaurants is coming down. From 2006 to 2010, the restaurant annual growth rate was at 3.7%, and is expected to decrease further to 3% by the end of 2015. For this article, I picked McDonald's Corp. (NYSE:MCD), a fast food restaurant chain, to see where it stands in these challenging environments. I compared it with YUM! Brands (NYSE:YUM), a fast food restaurant, to gauge which company offers better returns.
Where Does McDonald's Stand?
McDonald's Corp. franchises and operates McDonald's fast food restaurants in the food service industry, boasting 34,923 restaurants in 119 countries.
Its strategy to strengthen the alignment between the company and its franchisees and suppliers has been key to its success. McDonald's business model permits it to deliver locally relevant restaurant experiences to customers. This further facilitates the company's ability to identify and implement innovative ideas to meet customers' changing needs and preferences, which the company has deemed a "Customer-Focused Plan to Win." The plan focuses on the five pillars of marketing: People, Products, Place, Price and Promotion. As per the plan, McDonald's seeks to optimize its menu, modernize and upgrade nearly all aspects of its restaurants from design to service and broaden its accessibility.
Financial Position and the Ability to Sustain Dividends
The business strategy for McDonald's is working in flat-to-declining informal eating-out markets. McDonald's generated 2% growth in sales, while the bottom line was up by 14%. Because of fierce competition and the global market dynamic, I am expecting similar growth for both the top and bottom line, though the company has been investing heavily to increase the number of restaurants, upgrading menus and offering innovative products. It has invested around $3 billion in growth opportunities last year, including the opening of 1,500 new restaurants. Further, it plans to continue a similar investment strategy of opening 1,500 new restaurants, renewing existing restaurants and upgrading menus.
Its cash flow growth also remains soft, with a soft growth in earnings. McDonald's generated $7.1 billion in operating cash flows, invested nearly $2.8 billion in growth opportunities and, consequently, has $4.2 billion in free cash flows. The company wants to return all its cash flows to investors in the form of dividends and buybacks. Its current free cash flows are more than enough to cover its dividend payments. In the last year, its dividend payments were at $3.1 billion, which allows room to increase dividend payments. One red flag the company has is increasing payout ratio based on income. Because of slow growth in earnings, its payout ratio has been increasing each year since 2008, from 43% of income to 56% at present.
Where Does YUM! Brands Stand?
YUM! Brands has a similar business model to the one used by McDonald's. It has almost 40,000 fast food restaurants in approximately 130 countries that operate primarily under the Pizza Hut, KFC and Taco Bell brands.
YUM! Brands is focused on two key strategies. First, its business strategy targets China; nearly 50% of its revenue and operating profit comes from there. YUM! Brands wants to penetrate in every important food category, while building a strong brand. It is investing heavily in China to do this. It is also increasing KFC and Pizza Hut casual dining restaurants, combined with the additional restaurant concepts of Pizza Hut Home Service and East Dawning. Its market share in China is strengthened with acquisitions like Little Sheep. Management spends heavily on marketing campaigns. YUM! Brands hired two Chinese celebrities for video advertisements. The campaign has been working; the company has received over 8 million votes online from this promotional advertisement.
Second, YUM! Brands wants to build strong brands everywhere in the world, including the U.S., France, India, Germany, Russia and Africa. Last year, when it opened 1,200 new restaurants, it was the 14th straight year it opened more than 700 restaurants. Consequently, it generated 12% growth on a compounded annual rate over the past 10 years in its international business.
Financial Position and the Ability to Sustain Returns
YUM! has had a poor 2013 in terms of financial performance. The company generated nearly negative growth throughout the past year. The company, with a higher-than-expected tax rate and slower-than-expected sales recovery at KFC China, has experienced nearly a double-digit decline in earnings per share. Its earnings were negative throughout the year from a poultry supply incident and from avian flu in China. However, it has taken steps to increase product testing and protection. As the negative publicity subsided, the company started to gain momentum in the last quarter. It expects to generate 20% growth in earnings per share in 2014. Even in the challenging current environment, KFC is undeniably the category leader in China, and its Pizza Hut business in China continues to generate strong results, while Taco Bell has produced eight quarters of positive same-store sales growth.
Its cash flows have been impacted by the soft performance. Operating cash flows went down to $2.1 billion from $2.3 billion at the end of 2012. Its capital spending remains high, and the company continues to increase the number of restaurants all over the world. Its capital spending was at $1 billion. The company still has $1 billion left in free cash flows, which is providing cover to dividend payments of $615 million and to increased dividends in the challenging last year. With an expected growth rate, its cash flows should definitely expand in 2014, which would allow it to again make a double-digit increase in dividends.
Which Is a Better Stock to Buy?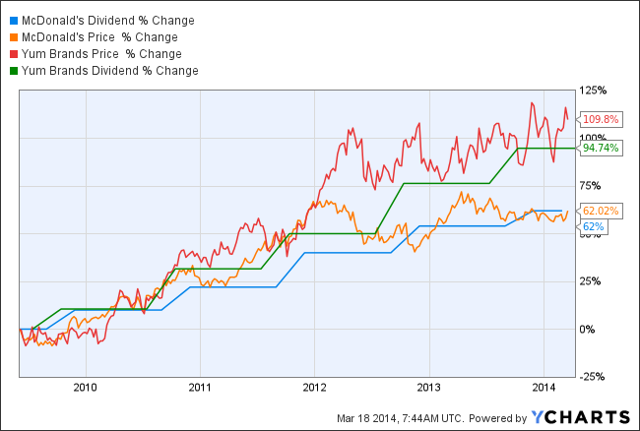 MCD Dividend data by YCharts
| | | | |
| --- | --- | --- | --- |
| | MCD | YUM | Industry Average |
| Price/Earnings TTM | 17.6 | 28.6 | 31.7 |
| Price/Book | 6.0 | 7.1 | 15.4 |
| Price/Sales TTM | 3.5 | 2.5 | 2.6 |
| Rev Growth (3-Yr Avg.) | 5.3 | 7.9 | 4.9 |
| Net Income Growth (3 Yr-Avg.) | 4.1 | 1.6 | -2.0 |
| ROE TTM | 35.7 | 25.9 | 50.5 |
| Debt/Equity | 0.9 | 1.2 | 1.3 |
Source: Morningstar.com
Because they are fast food restaurants, YUM! and McDonald's do not experience all the challenges other sorts of restaurants have been facing. However, they experience some headwinds because of the economic situation and people's sentiment about dining out. As a result, their growth has been soft over the past few years. Still, they performed well by reorganizing their business strategies. McDonald's has been generating steady growth in its top and bottom lines over the past two years, but it has not been as good as was produced before 2011. Consequently, its stock has done nothing special in the full year 2013, being up only 1.36%. Its financial performance seems to be impacting its share price. Further, the company's dividend growth has also been impacted by the slow demand existing in the environment, particularly in the U.S. In 2013, it increased its dividends by only 5.19%. In 2012, dividend growth was at 10%, and in 2011, it was at 14.75%.
McDonald's slow growth in earnings restricts it to make massive increases in dividends. Its payout ratio based on income has also been mounting since 2008 to 56% at present. The payout ratio looks manageable to me, but this restricts the company to grow dividends when it is also generating 4% to 5% growth in earnings.
On the other hand, YUM! is making double-digit growth in its dividends. The company's business has experienced negative returns, but still, it managed to make double-digit growth in dividends this year. It increased dividends by nearly 97% in the past five years, which has been much higher growth than what McDonald's has had. Its share price appreciation is also well above McDonald's, up 110% in the past five years. As shown in the table, its return on equity is very high compared to McDonald's.
In the last year, YUM! has generated negative returns, but still manages to increase stock price by 9%. As a result, with the negative financials but steady stock performance, valuations have risen to a high level. However, the company has been coming out of recent controversies and wants to regain its momentum with increased advertising and product innovations, along with taking additional food safety measures. Aside from China, it is generating strong growth, particularly in emerging markets like India. It is also making investments in its U.S. and global fast food restaurants to generate a consistent growth year-over-year. YUM! looks like a better company to invest in for double-digit dividend growth and steady price appreciation, though the stock is trading at high multiples.
Disclosure: I have no positions in any stocks mentioned, and no plans to initiate any positions within the next 72 hours. I wrote this article myself, and it expresses my own opinions. I am not receiving compensation for it (other than from Seeking Alpha). I have no business relationship with any company whose stock is mentioned in this article.