A few weeks ago another author wrote a Seeking Alpha article in which he compared the various criteria of mREITs Anally Capital Management (NYSE:NLY) and American Capital Agency (NASDAQ:AGNC) with other true dividend champions such as Johnson & Johnson (NYSE:JNJ), Realty Income (NYSE:O), and Pimco Total Return (MUTF:PTTRX).
While most value investors define a "dividend champion" as a company that has built a disciplined approach of paying out dividends on a consistent and reliable basis, the author of the recent article was more focused on articulating the quantity of dividends paid than the overall quality.
I'm not going to argue the characteristics of a dividend champion as it's up to each investor to determine whether or not the security in question is a winner above the others. However, my view of a dividend champion has been consistent and that definition is based upon the premise that company's pattern of dividend payments - its track record - is a valuable indicator of corporate performance and overall strength.
Not to argue the later definition of a dividend champion but I think the best way to explain the concept is to compare a car lease vs. a car purchase.
The above referenced author centers his argument on the notion that a dividend cut is not significant and the best overall indicator is how much income one receives over time. In other words, the author is suggesting that his criteria is more like a car lease in which you make monthly payments and at the end of the lease term the residual value is zero.
Much like a car lease, this type of investor is not as interested in wealth creation (or total return) in so much as obtaining a fixed number of payments (like an annuity). The author states that he is primarily interested in "the best place to park my retirement savings so as to earn a halfway decent income". He summarizes his point as follows:
Although gyration in income can be unsettling, I'll take it if I know that I am consistently beating the competition.
Conversely, my definition of a dividend champion is more like the car owner. Instead of making monthly lease payments, I make P&I payments and at the end of the term, I have built up equity (assuming I bought with a margin of safety). Much like the car lease, I'm interested in the monthly payment (or dividends); however, I also "sleep well at night" knowing that there will be value at the end. Yes, dividends are important but remember the number one rule of investing - protect your principal at ALL costs.
So when describing a "champion" investment, I define a true victor as a stock that has been able to weather a financial punch and provide predictable and reliable income over a period years. That's why I often argue that a dividend increase provides the best possible evidence of dividend safety.
In conclusion, finding an attractive dividend-paying stock is just one part of the puzzle, buying them is another. As most of you know, I have not been a big fan of mREITs due to the price and dividend volatility; however, I am beginning to feel more comfortable with mREIT fundamentals and the likelihood of investing with a margin of safety.
Let's Learn More From An Industry Expert
Last week I decided that I would take one step towards increasingly my confidence with mREITs and I decided to stop by NAREIT's office in Washington, DC. While there, I spent valuable time with Calvin Schnure, Senior Economist at NAREIT. Schnure began his professional career as an economist at the Federal Reserve Board in Washington, DC. He has also worked at JPMorgan Chase in New York, the International Monetary Fund, and Freddie Mac. He has a Bachelor of Arts in Economics from Williams College, a Master's from the Fletcher School of International Relations at Tufts University, and a Ph.D. in Economics from the University of California, Berkeley.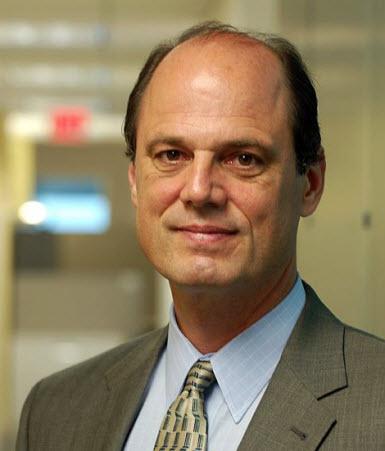 Thomas: Is there a "misconception" that Mortgage REITs are more volatile than Equity REITs? Why?
Schnure: Mortgage REITs aren't that much different in terms of price volatility from any publicly-traded stock. Any public equity--be it a mortgage REIT or equity REIT or any corporate stock--will have short-term price moves due to changes in market liquidity, risk premium and expectations about future interest rates.
Most individual investors should ignore these, for two reasons: (1) It's a big mistake to think you're not exposed to similar risks in products that aren't publicly traded--while you may not observe daily price volatility, you will suffer a large discount if you try to liquidate your position quickly when the public markets are down, if, that is, you can get your money out at all; and (2) the daily noise is just a distraction as most individual investors should look at their returns over the medium- to long-term period when they will need the money. And mortgage REITs have held up pretty well over most medium- to long-term investment horizons.
Thomas: You have been around the sector a number of years, what do you think is different today as opposed to the failures we say in the early 90's?
Schnure: First, let's be clear that there are several different types of mortgage REITs. Some are commercial mREITs that provide financing for commercial real estate; others fund the residential mortgage market. There has been a lot of attention to the Agency mREITs that invest in securities of Fannie Mae and Freddie Mac, and there are also other non-Agency residential mREITs. Across all these types, mREITs tend to be conservatively managed. There is little appetite for credit risk these days, but more importantly, there are good investment opportunities with moderate levels of risk.
Thomas: It seems that the market share of mortgaged-based REITs is small compared to the market share of the Fannie, Freddie, and the Commercial Banks. Do you see this as an opportunity for Mortgage REITs? Why?
Schnure: The Agency mREITs hold 5 percent or less of the Agency MBS market, that is, the mortgage-backed securities that are issued and guaranteed by Fannie and Freddie. There's a need for several hundred billion dollars in coming years to recapitalize the mortgage market as Fannie and Freddie wind down, the Fed tapers its purchases, and the housing market gets back on its feet. The mREIT structure is a proven vehicle for raising capital in public markets and managing the risks.
Thomas: As you know, I'm a more conservative investor and one of the things that cause me concern in the Mortgage REIT sector are dividend cuts. For many investors, a dividend cut can be painful, especially when you are depending on that income. What are your thoughts about the sustainability of Mortgage REIT dividends?
Schnure: Mortgage REITs' dividend yields were pretty high the past few years. For that matter, just about everything related to the interest rate and financing environment was pretty unusual, but no one expected that to last forever. The Fed has begun to taper its purchases of Treasuries and MBS, and the mREIT sector has adjusted. The next challenge is financing the recovery in the housing market and in commercial real estate. This should present lots of opportunities for mREITs at a time when banks' balance sheets are still weak from the crisis and their willingness to lend still low. These opportunities will translate into regular dividend payments.
Thomas: As you now Mortgage REITs out-performed from 2000-2007 and the out-performance of Equity REITs from 2010 until now. What are your thoughts on the current trends and the prospects for Mortgage REITs going forward?
Schnure: Mortgage REITs have performed well through many different economic and interest rate environments over the past 20 years or more. They came under severe stress during the mortgage crisis, of course, but no part of the financial sector was immune--nor, for that matter, were general corporates. And there have been extended periods where mREITs outperformed the market as a whole. The challenges going forward should be much easier to navigate than what they have faced the past five years, and the opportunities much more rewarding.
Thomas: As I see it, the biggest risk in Mortgage REIT investing is credit risk. How have you seen the evolution of credit risk in the Mortgage REIT sector?
Schnure: Agency mREITs have no credit risk in their MBS portfolio, as these securities are guaranteed by Fannie and Freddie with the backing of the U.S. government. Non-agency and commercial mREITs are able these days to invest in soundly-underwritten loans. This is the part of the credit cycle when there are wide spreads on good loans. The risks are much greater later in the cycle, when lots of money competes away the spreads so there is little compensation for risks. That scenario is far in the future, however, and right now lenders are getting good compensation for low to moderate levels of risk.
Thomas: In summary, the Mortgage REITs appear to be filling a void in the capital markets space. How much growth is ahead?
Schnure: The American economy has surprised investors again and again with its resilience. Mortgage REITs are playing an important role in helping provide capital for commercial and residential real estate in the recovery ahead.
How Does an Intelligent Investor Navigate Mortgage REIT Risk?
Whether you're investing like a leased car or like an owned car, intelligent investors must recognize the importance of both controlling risk and generating return. In fact, risk is the most important aspect of the two methods (of investing) and arguably the greatest investors have been able to control risk by owning securities with remarkable records based on years of dividend consistency.
I believe that by paying special attention to dividend safety, a value investor can take advantage of the mis-priced mREIT risk and pursue selective opportunities in the sector. However, one must proceed with caution and consider all of the risks related to these higher yielding options. mREITs are not meant for every investor and regardless of your risk tolerance level, an investor must look for an adequate margin of safety at all times.
Disclaimer: This article is intended to provide information to interested parties. As I have no knowledge of individual investor circumstances, goals, and/or portfolio concentration or diversification, readers are expected to complete their own due diligence before purchasing any stocks mentioned or recommended.
Disclosure: I am long O, DLR, VTR, HTA, STAG, UMH, CSG, GPT, ARCP, ROIC, MPW, HCN, OHI, LXP, KIM. I wrote this article myself, and it expresses my own opinions. I am not receiving compensation for it (other than from Seeking Alpha). I have no business relationship with any company whose stock is mentioned in this article.