Resolving to Create Value
Early this year, while many Americans were still nursing their New Year's Eve hangovers, Phil Falcone set out to fulfill his New Year's resolution to make money for himself and shareholders in his holding companies. His resolution took the form of a quiet yet transformative corporate event of which few took notice. There was no press release, just a 13-D filing. On January 3rd, 2014 Harbinger Group (NYSE:HRG) acquired a 40.5% interest in a liquidating equity, PTGi Holding (NYSE:PTGI), at $4.00/share, buying the stock from an existing shareholder.
At the time of the filing, the stock was trading for $2.99, representing a 34% premium paid by Phil Falcone's permanent capital vehicle. The stock currently trades at $3.70, a 10.5% discount to liquidation value of $4.11 (based on tangible book value, detailed in next section) and a 64% discount to our conservative price target. PTGI presents an opportunity to simultaneously capture the discount to liquidation value, participate in a rights offering at a discount, and most significantly, participate in the huge upside of Harbinger's deal economics.
In conjunction with the purchase, Harbinger requested a) seats on the board; b) that PTGI withdraw a Form 15 that would have allowed it to stop filing with the SEC (a choice intended to save money); and c) that PTGI not declare or pay any dividend or distributions until they could appoint a board member. Phil Falcone was quickly appointed to the board on January 15th. Simultaneously, a number of management changes were enacted, including the appointment of a new CFO, new Chairman, replacement of two board members, and reduction in the size of the board from four to three members (Falcone and two others).
Why would a billionaire like Falcone take control of a tiny public company like this? The answer must be that he plans on using this little company's large NOL to do much bigger things. Harbinger can optimize the return of smart acquisitions by offsetting pre-tax income with the losses. Rights offerings will likely fund deals, enabling him and other shareholders to increase holding pro-rata without jeopardizing the NOLs by violating IRC Section 382's ownership change rules. Intelligent leverage can boost the tax shield even higher.
As we described in the first paragraph, PTGI has three sources of upside, which based on our price target of $7.00 per share indicates a potential total return of 100%:
Discount to liquidation value: 10.5%
Rights offering at discount to share price to raise capital for acquisition: 20%
Applying the NOLs to an acquisition (calculated as the difference between our pro forma price target and liquidation value to avoid double-counting the discount to tangible book value): 70%
Even haircutting the company's (i) available for sale business (ii) cash in escrow from asset sales that have closed (certain cash is being held until certain conditions are satisfied) and (iii) other assets, there is still 79% potential upside to PTGI's current share price, composed of 59% upside from current prices, plus participation in a rights offering at the 20% discount (a rights offering discount in line with recent announced transactions). In this conservative, haircut scenario, downside is limited to liquidation value of $2.93, representing an attractive upside-downside ratio of nearly 4x.
What is PTGI?
PTGi Holding is a liquidating equity of a telecom services company. The company filed for bankruptcy in 2009 and has been in liquidation mode ever since, selling assets piece by piece and distributing the cash to shareholders.
We calculate tangible book value (liquidation value) below, and replicate the exercise applying a 20% haircut to the only remaining business segment (ICS) due to deteriorating operating results within that segment, a 20% haircut to cash in escrow from previous asset sales, and a 10% haircut to other assets in order to be conservative.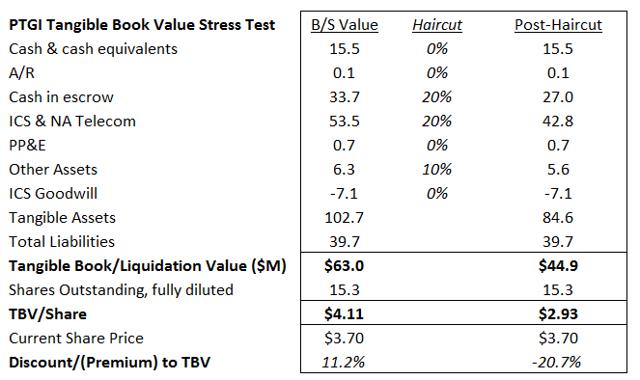 Note that on March 18th, 2014, the 2013 10-K was delayed due to the late start following the withdrawal of the Form 15 filing, which would have allowed PTGI to stop filing financials with the SEC. In that notification of the delay we also learned, without further explanation, that the sole remaining PTGI business segment, International Carrier Services, would be re-classified from an asset held for sale to a continuing operation. This means that the segment may have failed the test for likelihood of an imminent sale or one of the nuances required for discontinued operation classification, but the segment may still be for sale. Alternatively, perhaps the business is being retained as a tax strategy/safeguard, where management feels more confident about its ability to utilize NOLs by keeping an existing business that is related to the business line (telecom services) from which the NOLs originated. We will learn more about ICS when the 10-K is filed, but for now, the plan for this legacy asset remains somewhat cloudy.
As of the last filing that is available, the 10-Q from 9/30/13 (see full balance sheet for detail), the primary remaining assets and liabilities are as follows:
$53.5M of "assets held for sale", including $7.1M of goodwill, or $46.4M of tangible assets within this line item. The $53.5M is composed of $44.8M of International Carrier Service assets ($3.7M of which is goodwill), and $8.7M of North America Telecom remaining assets ($3.4M of which is goodwill). The North American Telecom sale of all assets other than those $8.7M remaining closed on July 31, 2013.
ICS' sales and operating income have been declining significantly on a sequential basis over the last three quarters. Operating income for the first nine months of 2013 was $8.4M, although the bulk of this came in the first quarter, with operating income breakeven in the third quarter.
As recently as the 10-Q for the period ending 9/30/13, the company's auditors assessed fair value versus carrying value and wrote down assets by $0.3M.
Assuming ICS' operating income in Q4 2013 is breakeven, down sequentially from $0.3M in Q3 2013, then on an LTM basis the remaining ICS assets are valued at 6.4x EBIT on the balance sheet.
One of the most significant risks to PTGI is that there may be another write-down either when/if ICS is sold, or before then, potentially putting the liquidation discount at risk. Still, the discount to liquidation value is a small portion of the potential upside for PTGI, as described above in the first section.
$33.7M of "prepaid expenses and other current assets," representing cash held in escrow until PTGI satisfies certain closing conditions from recent sales of its prior business segments. Note again that these are current assets, and thus expected to be converted to cash by end of September 2014.
$15.5M of cash
$7M of other, non-current assets
Liabilities include $31.7M of "liabilities held for sale" that belong to ICS, and $8.0M of other liabilities.
Let's Talk NOLs
Despite this attention to book value, following the 40.5% stake by Harbinger, PTGI is now more than just a liquidating equity-it's an acquisition vehicle for Falcone that has a special attribute, net operating losses. The NOLs will allow the company to avoid paying cash taxes for a long time. A large portion of the NOLs are subject to usage limitations due to change of ownership rules under Section 382 of the Internal Revenue Code.
As of the 2012 10-K, PTGI had U.S. NOLs of $210M and $104M of foreign NOLs. Due to multiple changes in ownership since and including its 2009 emergence from Chapter 11, $134M of the domestic NOLs are subject to Section 382 of the Internal Revenue Code, which limits annual usage. In addition, PTGI had net unrealized built-in losses (NUBIL) of $8M related to certain depreciation and amortization expenses, which are effectively treated as a net operating loss and subject to Section 382 limitations. The cumulative allowed NOL utilization under NOLs subject to Section 382 is $11M per year, which breaks down as follows:
Pre-2009 NOLs: $1.6M
2009-2011 NOLS: $2.2M
2011-presents NOLS: $7.0M
NUBIL of $8M x 3.36% = $0.27M
In addition, PTGI has domestic NOLs of $75.5M and the foreign NOLs of $104M not subject to Section 382 limits. Based on PTGI's latest 10-K, we estimate total potential available NOL utilization is .35(75.5 +104) + 11M = $73.8M per year. However, under assumptions we've made about the kind of deal Falcone should do (see below section "Doing the Deal") unless it's very large deal (say, $500M or more in equity capital at a 3.5x leverage multiple), which we don't think would maximize per share value, the NOL will provide value for years and years to come.
It's Only Natural
The natural issue and reason for Falcone's interest in this vehicle is that there is no pre-tax operating income through which to utilize these NOLs. Harbinger can find a profitable or soon-to-be-profitable target that can make use of the tax shield. When it does, there is a specific way that PTGI can raise capital to finance an acquisition while not compromising the NOLs (a significant ownership change by 5%+ shareholders can trigger a change of control, further restricting NOL utilization). A rights offering (perhaps at a 20% discount to the current share price) combined with using all available cash on the balance sheet is the solution. In this way, Harbinger and its second largest shareholder, DG Capital (7.4% ownership), would avoid dilution and preserve their ownership level (and PTGI's NOLs) through full rights offer participation.
Actual utilization of the $74M in NOLs will depend on factor such as 1) the size of the company acquired, 2) the acquired company's profitability, and 3) where in the world the profits are earned. Going forward, the NOLs must be matched up against the countries in which they earn pre-tax income.
We calculate that with 4x leverage and $74M of annual NOL availability to offset pre-tax income of the same amount (targeting breakeven taxable income) would enable PTGI to buy a company up to $1B in enterprise value without having to pay cash taxes (or EV $775M on an unlevered basis). While it's uncertain what size deal PTGI will do, a smaller deal would be more accretive for shareholders due to the NOL valuation representing a higher percentage of overall pro forma firm value, and thus the greater impact the NOL benefit would add per share within the context of a merger.
Deal Size and NOLs
All things equal, a smaller equity raise maximizes the value per share accretion of the tax savings. In a large deal, particularly with a higher margin company, cash flows can overwhelm the tax savings and make the NOLs much less meaningful. In a smaller deal, ceteris paribus, the full pre-tax income can be shielded and NOLs are deployed more slowly. While not quite a perpetuity (they expire after 20 years), the NOLs do have a long tail. This insight about stretching out NOL usage does not conflict with the conventional (and accurate) NOL wisdom that all things equal, it is better for a company to elect to use NOLs sooner than later due to the time value of money. However, this is a separate topic. To hit the point home again, when considering the specific implications of a rights offering, a smaller deal will add more value per share than a large deal since the value of the NOL position makes up a larger proportionate share of firm value. A larger deal may be possible to achieve with the same effect if its margins are much lower than in a smaller deal, such that the cash flows of the two deals are similar, even though the enterprise values are larger. Alternatively, Harbinger may believe there is so much upside in PTGI while other deal opportunities are limited that they are willing to sacrifice some per share value in order to put more cash to work and do a large, $500M deal. We would much prefer per share value maximization, but that is up to Harbinger.
Doing the Deal
We model a scenario where PTGI funds an acquisition with a combination of its cash on balance sheet as it converts current assets to cash (represented by tangible book value), a rights offering, and unsecured debt. We have made some significant assumptions about leverage (4.0x), EBIT margin (10%), capex spending (5% of sales), cost of debt (5.5%), and other key financial inputs, all included in the table below. We think these assumptions are realistic, and illustrate how the NOLs can add significant value to PTGI.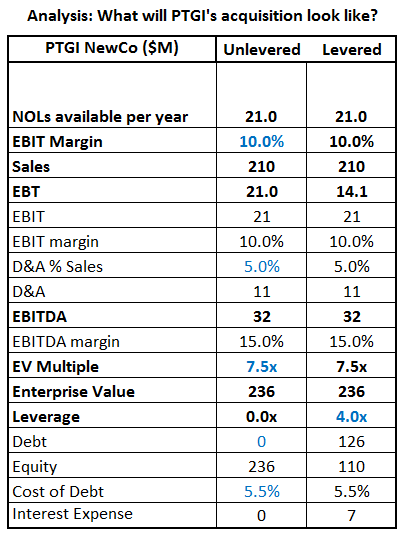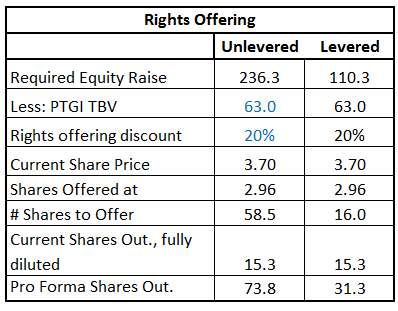 We have then used these reasonable financial assumptions to build an adjusted present value discounted cash flow model to separately value the unlevered cash flows ($258M), interest tax shield ($26M), and NOL benefit ($62M).
Other key assumptions are simple: constant 3% sales growth rate from year 1 and into perpetuity and constant margins relative to our initial assumptions. Terminal value is derived from the dividend discount model, equated to a 7.5x EBITDA multiple (the same multiple paid to acquire the business) by adjusting the beta until they are equal, since a multiple-derived terminal value and DDM-derived terminal value should theoretically be equivalent.
The end output of the analysis is a price target of $7.00, upside that comes in addition to the rights offering discount, and any upside to tangible book value.
Other scenarios considered but not presented in this write-up include (1) a larger deal, which would have less per share upside but allow investors to put more cash to work in the rights offering, as well as (2) HRG lending PTGI 100% of the capital money it needs to make an acquisition such that PTGI does not need to issue any shares, which would entail significant upside to our per share target of $7.00, despite removing the need for (and upside from participating in) a rights offering.
Evaluating HRG
While this write-up is about PTGI, not HRG, since we're banking on Falcone's deal-making abilities, it should be instructive to briefly evaluate HRG value creation and performance. In the recent past, the share price of Harbinger Group came under pressure because of the negative press noise surrounding Phil Falcone, its principal shareholder and Chairman, and the general lack of understanding of what HRG was (a new permanent capital, public vehicle for Falcone), and what it was not (LightSquared). So we thought it would be instructive to break down the assets in HRG as a sneak preview of the type of vehicle that PTGI could become.
Phil Falcone took control of HRG in June 2009 by acquiring control of a shell called Zapata Corp. (is this process starting to sound familiar?) and in 2011, did a stock swap for his hedge fund Harbinger Capital's stake in Spectrum Brand Holdings (NYSE:SPB). Since then, Falcone has done a total of seven acquisitions including its 40% stake in PTGI, all highlighted below. He has compounded NAV at over 20% per year, while the shares have returned 91% annualized since June 30th, 2009. Over time, the discount to NAV has contracted from around 50% to 15%. Today HRG trades at $12.91, but its apparent NAV based on a sum of the parts analysis appears to be north of $15.00 now. Dividends from HRG's holdings more than cover its debt service.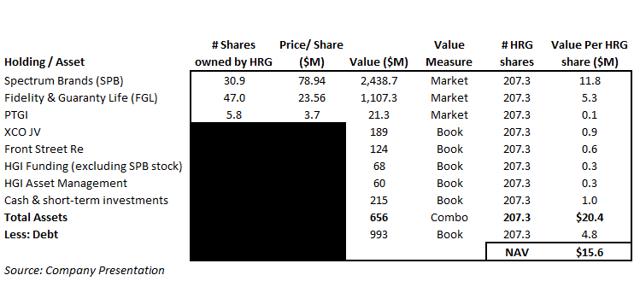 A notable example of Falcone's deal making prowess was his acquisition of Fidelity Guarantee and Life for $350 million from Old Mutual PLC in April of 2011. Recently, HRG spun off 17.2% of FGL into a public offering (NYSE: FGL) resulting in a current valuation of over $1.3 billion, the bulk of which is still owned by HRG.
With Falcone's hedge fund in wind-down mode due to the SEC settlement, he will be spending all of his time on the holding company vehicles. Harbinger owns the majority of PTGI, so interests are fairly aligned.
Final Thoughts
PTGI presents an attractive investment opportunity due to its NOL position, potential to participate in a rights offering, and trading discount to liquidation value. We anticipate upside of over 100%, but think it could be much higher in the near term depending on deal structure, and in the long term based on the quality of deals done. A smaller deal is the key to creating more per share value - PTGI can fund a significant portion of any deal with cash from its ongoing liquidation, rather than distributing that cash to shareholders. PTGI will also benefit from access to capital through its relationship with HRG. We look forward to seeing what type of deals Falcone does in PTGI, and the value created as a result.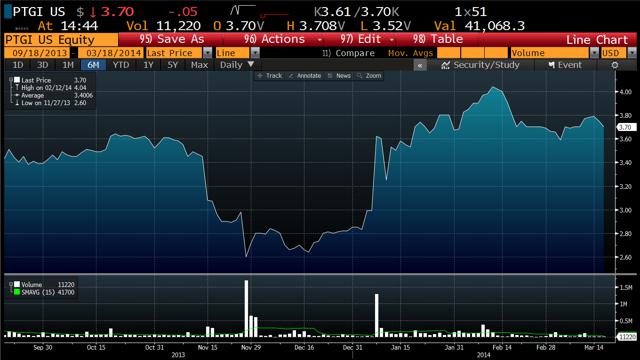 Disclosure: I am long PTGI. I wrote this article myself, and it expresses my own opinions. I am not receiving compensation for it. I have no business relationship with any company whose stock is mentioned in this article.
Additional disclosure: Armored Wolf, LLC holds shares in PTGI on behalf of its various client accounts. In addition, the author holds shares of PTGI in his personal accounts.