NXP Semiconductors (NASDAQ:NXPI), based in the Netherlands, has a large equity capitalization of nearly $15 billion, up from just under $11 billion since my first article about it on December 4th. While it offers several lines of products to customers in different industries, secure and safe connections are emphasized overall. Key business involves payment technologies, including credit cards and also mobile devices; automotive; and cloud security.
In terms of growth, the corporation's focus is on High Performance Mixed Signal ("HPMS") chips, comprising the Automotive, Identification, Industrial & Infrastructure, and Portable & Computing segments. Its Q4 Investor Presentation forecasts HPMS to accelerate at least 50% faster than the market.
One thing that is particularly likable about NXP as an investment opportunity is the diversification of its revenue base. As shown in the chart below, HPMS, accounting for roughly 74%, is well-dispersed across segments (Source: Q4 Results).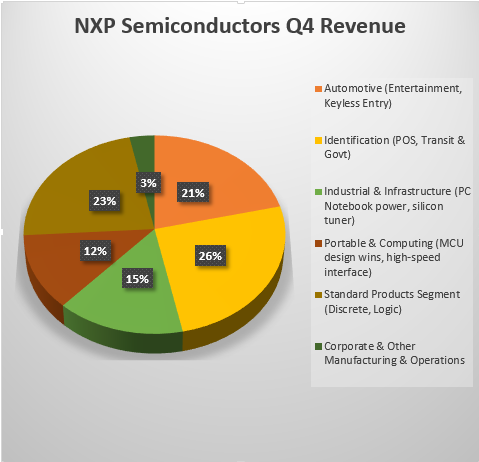 Multiple lines of robust business appear to outweigh concerns about manufacturing losses that are anticipated to get worse, private equity overhang, and the firm's ability to keep up with blistering expectations.
NXP is the leading semiconductor supplier in China, and is currently witnessing disproportionate acceleration of earnings there in combination with developing countries.
The company is credited with inventing near-field communication ("NFC") technology, enabling contactless transactions within a close proximity, and might be most easily identified with it, despite the fact that it is only responsible for a single-digit percentage of revenues. NFC, though not presented as a central reason to invest in NXP, should be continuously helpful to the company and serves as a prelude here.
NFC
Android (NASDAQ:GOOG) devices use NFC, iOS (NASDAQ:AAPL) does not. NXP CEO Richard Clemmer has specified and reiterated that the middle of 2014 and the fall is actually the time for a ramp-up of design wins in the space. Revenues have been declining in the area of operations that the company describes as "Emerging ID," that includes mobile transactions and authentication. However, 90% of all handsets equipped with NFC employ NXP's technology. It is a popular topic. Further, NXP is the world's leading NFC chip supplier.
Pursuant to losing Samsung's Galaxy S4 (OTC:OTC:OTC:SSNLF) to Broadcom (BRCM) last year, new competitive threats have also emerged from Qualcomm (NASDAQ:QCOM) and MediaTek. Despite them, the company has competed aggressively for the S5 and won against Broadcom. Samsung's new flagship device contains NXP's PN547 radio chip in most models.
Per the US Fact Sheet of long-time NXP customer, Gemalto (OTCPK:OTCPK:OTCPK:GTOMY), the number of smartphones that include NFC will continue growing from 35.5 million in 2012 to 250 million in 2017. The Q4 2013 Conference Call Transcript records Gemalto CEO Olivier Piou saying that NFC is the "Technology of choice and there is a strong push [to] contactless." Further, it sees contactless-enabled POS terminals and smartphones increasing 30% this year; and 86% of domestic POS terminals, or 43.4 million, should be NFC-enabled in 2017.
A March 4th, 2014 article from the Nilson Report specifies that there are "…several hundred thousand U.S. locations in which [NFC-enabled] terminals are installed but not functioning because merchants and their processors have not yet activated the devices."
Gemalto also has relevant data about Brazil (Registration required for source material). One-third of the 4.5 million POS terminals there are expected to support NFC this year. Rio Di Janeiro is hosting the Olympic Games in 2016, which should drive NFC infrastructure development. Also, 94% of Brazilian smartphone users are willing to use it for paid transactions. According to the current issue of The Economist, Brazil is one of the top five markets for smartphones in the world, and while Apple's iPhone can be obtained, it is particularly expensive.
NXP's mobile payment technologies include entire systems: NFC radio and a Secure Element ("SE," a secure device on handset and POS terminal handshake). In this interview with the company's VP of Sales and Marketing, Steve Owen, he clarifies that while Broadcom is involved in the technology, it is only on the NFC side of it and does not offer solutions that encompass security and applets.
Pursuant to the launching of Isis Mobile Wallet in November, 2013, Wells Fargo (NYSE:WFC) has recently entered into an agreement with Visa (NYSE:V). Some Coca-Cola (NYSE:KO) vending machines now accept Isis. This mobile wallet runs on an NFC-enabled phone that also has an SE, an important product offering from NXP, to safely house sensitive data.
NXP's Q4 2013 Transcript records Clemmer saying that there is a ramp-up for mobile wallet customers in 2H14. Isis is a likely client.
There is contention that Apple will use Bluetooth Low Energy and "a second interface," which should have the secondary effect of driving NFC overall, as contactless mobile phone transactions are forecast to rise from 3 billion currently to 10 billion in 2018.
NXP has gotten some attention after integrating its controller with the Android 4.4 "KitKat" Operating System used in the Galaxy S5. It "enables Android smartphone owners to use their phones to initiate a wide range of mobile applications, including payments, loyalty programs, card access, transit passes and other customized services." Host Card Emulation ("HCE") has already been implemented in KitKat. Though an SE is not needed for HCE transactions, and the S5 incidentally follows such principles; NFC controllers offer dynamic support for an SE and HCE.
MasterCard (NYSE:MA) is pushing for HCE. Similar to Bluetooth Low Energy, the technology is expected to drive faster adoption of NFC payments. Again, NFC implementation should be helpful to NXP, but is not currently a key catalyst.
Identification Segment
Reportedly, the ID business does not follow typically semiconductor cyclicality and is project-by-project oriented. Some investors view such attributes favorably. The majority of NXP's 2013 revenues (64% ex-Japan) are generated in the Asia-Pacific region, and Greater China represented 45%. Insulation from the Asia-Pacific economy adds stability to expectations for company revenues.
However, NXP also has such an enormous domestic catalyst(s) that it is difficult to imagine. Credit card companies, such as MasterCard and Visa have been moving toward implementation of EMV technology, which by virtually all accounts offers substantial improvement at eliminating fraud when the cardholder is present, in the USA. The mandated timeline for merchants to implement EMV focuses on October, 2015. Approximately 1% of cards in the USA have an embedded chip at this time. According to multiple sources, and as stated in the above-linked Transcript, NXP has 60%-70% of the future US EMV market of 1.2 billion credit cards! Not only that, NXP offers solutions to make the entire systems work, and there are 10 million card readers in the USA.
Returning to the Far East, NXP also has an arrangement with China UnionPay, established by the People's Bank of China ("PBOC") for the purpose of "…upgrading the acceptance environment of bankcards," the largest debit-credit supplier in the world. China UnionPay serves the world's fastest-growing region, with 109% acceleration projected into 2016. Again, these prospects might not be as affected by any adverse macroeconomic change there as other semiconductor businesses.
Vice President of Investor Relations, Jeff Palmer says that, pursuant to a recent review, the company believes it has about 70% of the global banking card market (Source: Q4 Transcript)!
Additionally, NXP's MIFARE is used by over 70% of the world's contactless transport systems. Its market share is closer to 85%. MIFARE products are suitable for businesses as diverse as paid parking, tolls, ticketing, and fuel dispensing. In collaboration with partners, including Gemalto, it is also used to secure university campuses and stadiums. Over 150 companies are signed up to receive its specifications.
According to CFO Peter Kelly, as recorded in the Q4 2013 Transcript, the company projects that the ID segment will have a compound annual growth rate in the mid to high-teens "over the next few years."
Automotive Segment
The automotive segment has long-term prospects. A substantial portion of R&D involves in car gadgets and entertainment and NXP has joined forces with Datang Telecom (SSE: 600198) in China in part to develop such products there.
However, the likelihood of technology being implemented that can reduce traffic and mishaps deserves emphasis. The United States Department of Transportation ("USDOT") is viewed as supporting improved vehicle connectivity. The USDOT believes improved communication can prevent accidents and save lives, as well as reduce commuting times and improve fuel consumption.
NXP is excited about vehicle-to-vehicle communications, and considers it a catalyst after 2014. A Bloomberg article from January of this year provides an overview:
By 2018, one in five cars on the road will be "self-aware" and able to discern and share information on their mechanical health, their global position and status of their surroundings…Ultimately, automakers say all these smart cars on the road will be able to drive themselves, regulations permitting, leading to less road congestion and increased traffic safety. Already, many cars offer collision warnings and even automatically steer cars back into a lane when they veer off…the number of people connected from their car will grow sixfold in 2020.
Within vehicles, NXP is active in at least three types of communication networks: Controller Area Network-Local Interconnect Network ("CAN-LIN"), FlexRay, and Ethernet.
CAN-LIN has been around since the 1990s development of LIN, and used in vehicles since approximately 2002. CAN complements the LIN bus network, and is relatively inexpensive. Its transceivers are used in sensors and actuators to operate things such as windows, locks, and headlamps. CAN-LIN systems do not require as much data, nor do they have the bandwidth to support cameras or parking assist features. NXP, a corporation since 2006, is not a member of its founding consortium.
FlexRay is a key to safe in-vehicle networking, and NXP is one of the core members of its consortium. It is faster, more reliable, and more expensive than CAN-LIN. It transmits at 10 Mbps, and is used for braking- and steering-by-wire, among other technologies.
Ethernet connectivity, which the industry is moving toward, is used as a backbone, and supports diagnostics, electronic control units, driver safety, and infotainment. NXP is one of automotive industry leaders partnering in the OPEN Alliance. Ethernet is also the technology that is believed to support future car-to-car communications. It tends to be the costliest. Delphi (NYSE:DLPH), a key OEM customer, is active in Ethernet and reports that its speeds reach 100 Mbps.
NXP has a design win earned 1.5 years ago on keyless entry with the world's second-largest automobile manufacturer (Probably Volkswagen (OTCQX:OTCQX:OTCPK:VLKAY)), and leads market share.
Additionally, NXP has won 27 of 28 mid- and high-end car radio platforms overall! It is first in the car radio market.
Another opportunity the company is researching is automotive solid state lighting (Source: Form 20-F).
Industrial & Infrastructure Segment
Pertaining to secure and fast credit card transactions, the infrastructure market share is 75% to 80%. One of the company's strengths is in cryptology and software, which lies outside of semiconductors.
In the past quarter, the corporation's High Performance Radio Frequency ("HPRF") business for base stations enjoyed modest sequential improvement. Very strong growth is expected. Other drivers include energy-efficient lighting and mobile charging.
There has been a concurrent decline in the non-core silicon tuners business. Yet, the company retains the first overall position in the market.
It also leads in Light-Emitting Diode ("LED") lighting.
The corporation has ongoing dialogue with Google about a method of safely accessing their cloud at the enterprise level. The means is a physical device that must be plugged into a USB port. NXP believes it can play a significant role in the security of access to the cloud overall in the future. It is another potential growth driver.
Portable & Computing Segment
In the Q4 2013 Conference Call Transcript the company reports a 17% sequential increase in Portable & Computing revenue, "as key wins in the high-end smartphones and tablet market continued to ramp throughout the year."
Specifically, Apple's M7 motion co-processor has gotten attention. It is a remarkable device that allows tracking of movement through input of sensors, including a gyroscope, accelerometer, and compass. There are questions about whether or not NXP has designed and manufactured the chip, or if it is merely the latter. Management says that "During the quarter, we experienced substantial growth in microcontrollers ("MCUs") related to key design wins at a strategic smartphone and tablet customer…" Given that the company had lost the Samsung S4, it sounds to me like the MCU discussed would be the M7; though it is not guaranteed.
Per its Q4 Investor Presentation, NXP occupies 11th place in market share of 32-bit ARM MCUs. The M7 uses an ARM Cortex M3, and is probably a reason.
We know that Apple has been a customer in the past. Our concern is about the segment's viability in the future. NXP leads the market in multi-protocol interface products, however, and should benefit from the emergence of wireless charging. Further, in response to a question, Clemmer adds that the P&C business clearly should continue to grow in the mid-teens.
Standard Products Segment
The market for standard products is expected to grow at a 2% CAGR through 2015. NXP is first overall within it.
Profitability has been increasing. There is a focus on improving, with an objective of at least 18% operating income levels. As such, controlling costs and expenses are the central part of the story. One reason it seems feasible is that underutilized capacity capitalized in the past had been affecting gross profit.
Corporate and Other
The remaining commercial activities are categorized under Corporate and Other. Manufacturing, including the company's foundries, fit in here: NXP has facilities in Europe and Asia that produce chips. One notable arrangement is the company's 61% ownership of a Front-End operation in Singapore through a partnership with Taiwan Semiconductor (NYSE:TSM). The rest are 100%-owned.
Some dilutive sales of products at cost to divested manufacturing businesses are attributed to declining gross profits. Revenues have been lowering, as some divested businesses no longer use facilities. It is forecast to continue in the future. Fortunately, the smallest reported portion of the company is the only probable loser across segments in the future.
A recognized loss, such as the $444 million impairment on a Taiwanese manufacturing facility recorded in Qualcomm's recent Form 10-Q, cannot be ruled out.
Growth Fundamentals
Continued growth is anticipated throughout HPMS. The following graphic shows the diversified results that NXP has been enjoying. Emerging ID, which includes a recent intellectual property ("IP") licensing deal, mobile transactions, and authentication, is not a segment and falls within Identification (Source: Q4 Results).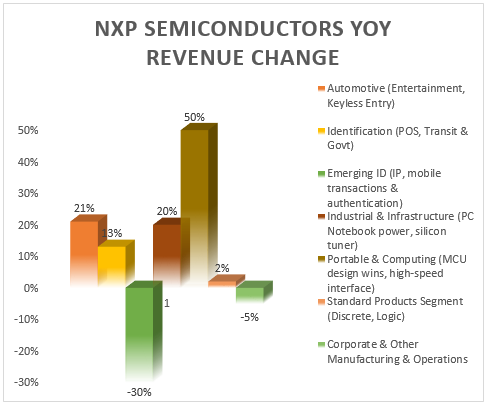 There are also other lawsuits alleging patent infringement, and the company's IP monetization program is forecast to add 1% to the corporation's annual profitability. Despite its 30% drop YoY even with the IP deal, the identification segment itself has continued to grow. EMV should increase its proportionate size.
The most obvious questions involve NFC. There are a number of different possibilities, including any potential implementation at Apple. Some feel that it is unlikely. Others highlight IP activity, indicating that the possibility is at least being considered. Even without Apple, there are mobile wallet customers.
The Standard Products segment could be near its bottom, and is not a probable source of growth, while Corporate and Other should decrease. The remaining 74% of revenues currently within HPMS should enjoy robust growth. According to the company's annual report, of 3,272 employees in Research and Development, 2,974 (91%) support HPMS, compared to 298 for Standard Products.
Downside Risk
Private equity firms owned 14.82% of shares on December 31st, and are likely to exert downward pressure on the stock price in the future. The company has a repurchase plan in effect, and has gained the firepower to offset redemptions somewhat. KKR, which owned 14,059,882, should still be the largest pursuant to a 5M share buyback, with an estimated 9,059,882.
If another round of institutional selling is announced in the future, it could mark a buying opportunity for the stock, as the P/E firms tend to need below-market prices in order to unload. It is notable that as long as KKR and Bain continue to hold at least 2.5% each is entitled to designate two members of the Board of Directors.
Liquidation of private equity holdings is unlikely to result in a double-digit percent decline in share price. However, the most concentrated effect would occur in the improbable event that all the sales occur at once.
There are numerous international risks, including changing currency valuations.
Valuation
Several metrics can be utilized to show that NXP is undervalued in comparison to its competitors.
The most commonly cited include 2014E EPS and 2014E FCF/Share.
In response to questioning about willingness to repurchase shares, Clemmer has referenced EPS and growth rates. Further, as NXP is a large cap multinational with several lines of business, a consensus of analyst estimates is appropriate. Of the 16 polled by Thomson/First Call, their average projection for December of 2014 is $4.18 per share in earnings. (Many are looking ahead to 2015E EPS; however, while simultaneously considering a five-year growth rate, long-term uncertainties already are implicit). The stock has closed at $57.35 on March 13th. Here is a table summarizing other chip makers that overlap in some areas; though diversification from automotive to portable to identification is not easy to match:
Chipmaker Valuation Metrics, March 13th, 2014

 

NXPI

AVGO

SWKS

TXN

ONNN

BRCM

FSL

Average

P/2014E EPS

13.76

18.3x

14.3x

22x

12.4x

12.3x

16.35x

15.63x

5-Year Growth

35.85%

15%

16.23%

10.8%

18.1%

8.6%

15%

17.08%
Skyworks Solutions (NASDAQ:SWKS), Broadcom, and ON Semiconductor Corp. (ONNN) are close or better on P/E, but forecast to grow substantially slower over the next five years. The latter is the only other to trade at a lower multiple and have a higher growth rate than the average. The domestic Skyworks might also merit consideration. NXP is the bargain from this group.
Worldwide implementation of EMV is probably the most palpable catalyst. It is difficult for some companies to keep up with an exceptionally high five-year growth rate. Though 30% can probably be accomplished under capable management.
Ongoing and timely buybacks, prior to ramp-ups and increased earnings, could help with multiple expansion. It would be increasingly likely once the company gets past the overhang.
At 15.6x the consensus 2014 estimate, shares are worth $65.20, prior to the next 10 months of domestic EMV implementation. The stock is not far off its 52-week high, so there could be some profit-taking. However, it is difficult to foresee substantial depreciation unless there is an unpredictable occurrence(s).
Conclusion
NXP Semiconductors has diversified revenue streams, and most of them have fundamentally sound drivers for earnings growth. While EMV is the biggest catalyst, automotive and infrastructure should realize strong future possibilities. Even as the company enjoys wins against competition, it trades at a discount to it.
Disclosure: The author is long NXPI, AAPL, QCOM. The author wrote this article themselves, and it expresses their own opinions. The author is not receiving compensation for it (other than from Seeking Alpha). The author has no business relationship with any company whose stock is mentioned in this article.