While Cupertino has a strict policy of radio silence, recent details on Apple's (NASDAQ:AAPL) product may have tipped its hands just enough to get us a basic idea on what Apple's next product category is going to be.
Apple's next major category is likely to be a watch
There's high conviction on Wall Street that Apple's next product is in fact going to be an iWatch:
The best evidence that Apple has an iWatch for a 2014 launch is its recent rampant hiring of employees related to wearable devices. A Feb. 10 in-depth report from MobiHealthNews on Apple's plans for its iWatch said the team at Apple working on the iWatch has now grown to 200.
I'm pretty sure the iWatch is under development as a team of200 employees, has a high amount of upkeep. I'm not sure what the individual developers are being paid, but assuming this is Apple's upcoming product, only the most qualified and talented would be put to work on this new product category (the original Macintosh took a team of 30 engineers). From a cost perspective, 200 employees doesn't sound like a whole lot, but considering Apple's corporate culture with R&D, 200 employees on a single project is a pretty big deal.
There's other evidence indicating that Apple is working on an iWatch as Apple is overhauling Siri to be more capable in different mobile environments:
The report points out how the Siri of today can't do things like book a car rental or make a hotel reservation, or use a messaging app other than Messages to send a text. The improvements to Siri would potentially enable those types of things, enabling third-party integrations that don't require a one-to-one business arrangement between Apple and the external company.

Apple's Siri improvements in development also include tech that would allow it to intelligently select what to display on a device with constrained screen space, so that a running app might be brought to the fore when a user starts jogging, for instance.
Siri is an essential ingredient to creating a successful wearable device. The wearable device is different from other web capable devices. The product design of the iWatch will take-on a more passive role and offer information based on the context of the environment. That way, users are able to access pertinent information without needing to access their smartphone device. The practicality of this approach is to differentiate a wearable device just enough so that it offers marginal utility. The difference here is that the iWatch will retrieve information without user input. Smartphones can only retrieve information upon touch command. Many speculate that wearable computing is about assisting the user to do things better. Hence the term "virtual assistant" is being thrown around.
But, here's where it gets really interesting:
The patent, titled "Wrist Pedometer Step Detection," describes how sensors inside a fitness tracker would interpret motion and process algorithms to accurately represent its wearer's activity. This would ideally prevent the device from misinterpreting movement and accurately count its wearer's steps. According to the patent, Apple's wearable gadget would gather step frequency data to determine whether or not the user is actually taking steps or just swinging his or her arm.
But there's more. There's evidence of this from the U.S. Patent and Trademark Office. The patent is titled: wrist pedometer step detection. Need I say more? This is a device strapped around a wrist with similar functionality to the Galaxy Gear Fit, but done with a stronger emphasis on technology. Thankfully, the device will be an improved upon version of other devices by offering information that will allow the device to determine the movement of the user. Remember, sensor data like this is highly valuable to application developers as it allows for further verticals, making the wearable computer able to address a more horizontal market. Making a device capable of targeting horizontal markets will require application developers to come up with creative uses for all this new technology. Thankfully, there are plenty of application developers willing to design applications for iOS.
Pricing and projections
I'm going to work with Morgan Stanley's figure on pricing at about $300. Any lower and you work against Apple's premium brand. However if the product is priced too high, consumers would buy the iPad Mini, which would defer to the theory of compliments and substitutes.
Using the $300 price point, I will make a projection on first year sales based on trends from Apple's unit shipments of Apple's previous first generation product launches.
Also, this forecast method is different from the one I had used to project the total U.S. market for smart watches in my article published on March 7th. The reasoning, for why I'm more optimistic on iWatch sales has to do with Apple's historic success of unlocking market verticals. Apple has a way of making niche products have significant mainstream appeal.
This forecast assumes that Apple will be able to sustain its historic trend of successive product category success. It's different from my other forecast, which assumes market saturation of different demographics as it progresses to lower pricing and higher ramp-up of volume.
Apple's historical pattern is different from other OEMs in that it retains higher ASP, sustained but slowing growth and a strong launch. The keyword is strong launch (the starting point of my other forecast is different from this forecast). Even if people find no practical use for the iWatch, it's likely that Apple's well-established customer base having high discretionary income will buy the device anyway.
My other forecast addresses the United States only. However, my Apple forecast addresses both domestic and international launches. Historic product launches includes the impact from international sales. So, this outlook is based purely on historical patterns, pertaining strictly to Apple, so it's not going to offer much predictive value for other OEMs like Google (NASDAQ:GOOG) and Samsung (OTC:SSNLF).

Note: information on iPad mini shipment figures approximated based on historical data from IHS.
I used the historical growth of first generation products to determine the assumed sales of Apple's next first generation product. I think 42.43 million in unit shipments is an attainable figure. The line of fit is F(x) = 11.3525(x) - 14.325. The correlation coefficient is .92. I used the line to estimate the sales of Apple's next product category which will be the starting point for our iWatch sales forecast.
I base my five year forecast on $300 ASP and an 18% compound growth rate. I expect growth rates to be similar to the smartphone over the next five years.

I expect a pretty significant contribution to topline sales and gradual improvement to topline over the next five years. This closely corresponds to Apple's historical data from new product categories.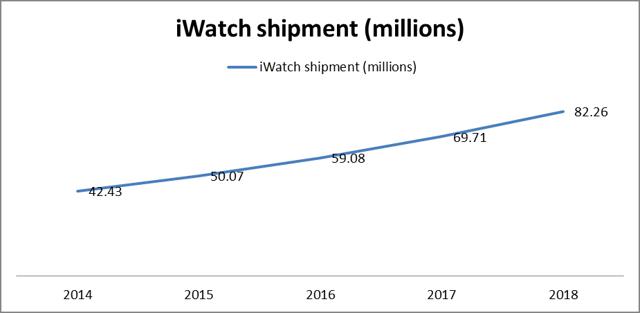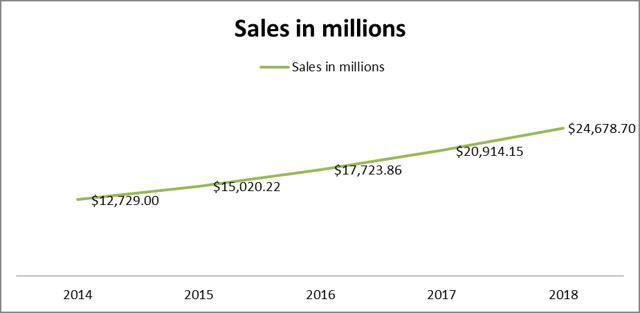 I'm willing to estimate that the segment will generate 10%-20% net profit margins, similar to the consolidated results of Apple's operations at the present moment.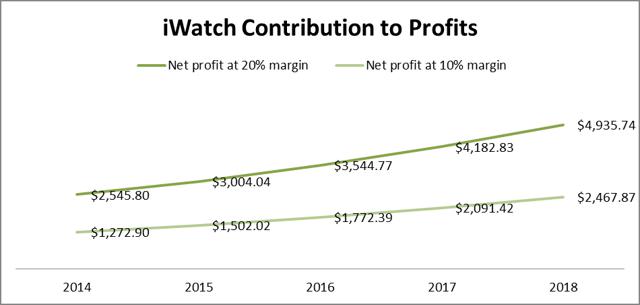 Therefore, I expect Apple's iWatch to generate $2.5 to $5 billion in net profit by 2018. This was based on historical run-rates of Apple's product launches and industry projections for mobile. While the future may not exactly turn out like this, I couldn't imagine Apple losing money from its upcoming product category.
Downside considerations
Samsung's first generation Galaxy Gear only generated 800,000 in unit sales for the first two months of launch. This indicates that the watch category is large enough for Samsung to at least breakeven on the device. But with the way Samsung has designed the device, it didn't generate the type of success Apple tends to create with its own first generation products. Also, 800,000 units for the first two months is a far cry from the 42 million units I expect for Apple's first year.
What this indicates is that Apple has to innovate in order to drive sales that would reach the figures that I had mentioned. It also means that Apple won't ignore the wearable watch category as Samsung has been able to at least break-even on the device. On the other hand, Apple isn't the kind of company that rushes a product launch either. So it's likely that by the time Apple presents a product, Apple will feel confident that it can reach its own internally generated sales goal, which will be a substantially larger sales figure than what Samsung currently generates.
Also, it's unlikely that Apple will estimate the demand for its upcoming device correctly upon launch. Without knowing what future demand is going to be, Apple will most likely under-produce the device and adjust the supply chain to meet demand. This will cause sales figures to slowly trend higher, which will misrepresent the actual success of the product in the first year. This factor alone could diminish the accuracy of my forecast significantly.
Conclusion
This isn't meant to be an exact study on how the iWatch will perform. But it gives us a basic idea on how the bottom line will be affected over the next five years, assuming a reasonable scenario.
Beyond just a watch, Apple needs to launch more product categories to have any meaningful impact on the bottom line. Top-line results have to resume double digit growth for markets to price Apple any higher. The consensus analyst estimate for Apple's revenue growth for fiscal year 2014 is 5.9%. The amount in terms of dollars is approximately $15 billion, so even if the iWatch generated $12 billion in sales for the first year the contribution to revenue won't be as meaningful when combined with Apple's other segments. To address this, Apple will pursue other opportunities at the same time, which may involve the entertainment system market for cars and the payment processing business for smartphones. The real key here is how well Apple can implement its creative problem solving to pre-existing ecosystems.
Earlier in the month, someone on Seeking Alpha speculated that the credit processing business could result in earnings multiple expansion. Also, others have speculated that Apple's foray into car entertainment systems will build a stronger moat around Apple's product ecosystem. From a qualitative standpoint this is good, but at the present moment no one has bothered to quantify the opportunities, so it's hard to determine the cumulative impact of two new products and one additional service, paired with organic revenue growth from tablets, mobile and PC. In other words, the future is a little hazy, and if anything, that's what's keeping Apple's stock price at bargain bin levels.
The iWatch will be a symbolic message as to whether innovation exists at Apple. Personally, I wouldn't mind if first year sales were 0 or ten billion, so as long as the upcoming product upholds Apple's legacy of exciting inventions. After all, what makes a tech company valuable isn't the amount of money sitting on its balance sheet but rather the ingenuity the people within that organization have.
Disclosure: I have no positions in any stocks mentioned, and no plans to initiate any positions within the next 72 hours. I wrote this article myself, and it expresses my own opinions. I am not receiving compensation for it (other than from Seeking Alpha). I have no business relationship with any company whose stock is mentioned in this article.