By: Konstantinos Venetis, Fathom Consulting
Absent any concrete progress on structural reforms, the so-called 'third arrow' of Abenomics, the Bank of Japan's policies remain the only game in town when it comes to maintaining positive sentiment. In this regard, neither the soft nor the hard data have been particularly encouraging of late. Last week, the Bank explicitly acknowledged the lackluster trend in Japanese exports for the first time, although Governor Kuroda was quick to downplay it as temporary in nature.
Instead, he pointed to the continued improvement in capital spending, corporate profits and industrial production growth as evidence that the 'virtuous cycle' between production, income and spending remained intact. We are skeptical - as indeed are Japanese consumers according to the latest surveys. So long as Mr Abe's plan does not go beyond what essentially is 'Kurodanomics', this cycle will ultimately prove unsustainable.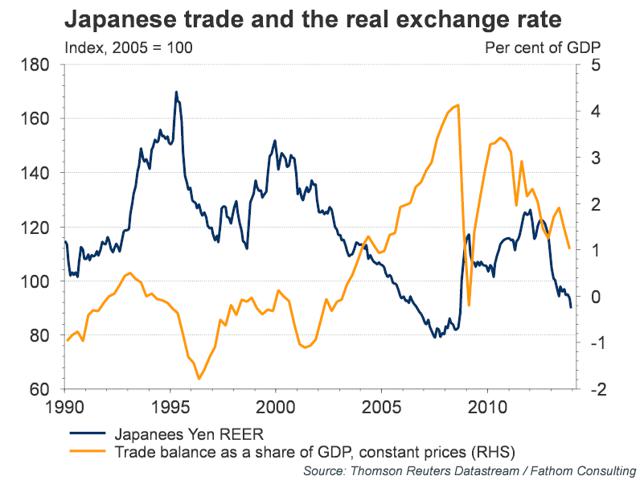 It is not just exports that have been on the back foot. Annualized GDP growth in Q4 was revised 0.3 percentage points lower to 0.7%, as weaker consumption and capital spending outweighed a slight upward revision to inventories. While it is a welcome development that the contribution to growth from domestic demand has been rising, this should be viewed in the light of the dramatic slowdown in GDP growth experienced in the latter part of 2013: average annualised growth of 4.3% in H1 gave way to a mere 0.8% rate in H2.
At the same time, net exports have failed to provide a buffer. Japan's current account shortfall hit a record ¥1,589.0 billion in January, driven by a widening trade deficit. While the J-curve effect from the depreciating yen is partly to blame, this is likely not telling the whole story. By looking at the constant price trade balance, rather than the current price current account balance, one can essentially strip out the J-curve effect. Historically, there has been a reasonably close inverse relationship between the real effective exchange rate and the trade balance as a share of GDP, in line with economic theory, as our first chart illustrates.
Japan's trade balance improved steadily over the 2000-2008 period as the currency fell. Looking through the dip - a consequence of the collapse in world trade that occurred alongside the financial crisis - it then deteriorated steadily post 2008 as the yen appreciated.
The all-important question now is whether the old pattern will reassert itself. There is no evidence yet, after stripping out price effects, that the trade balance is starting to improve; but might it be about to turn a corner?
In this regard, we suspect the worsening in Japan's trade dynamics may involve a structural element. For example, the country's considerable reliance on energy imports is not going to go away any time soon. In addition, Japanese exporters have shifted production abroad; after decades of 'hollowing out', there is a much smaller manufacturing base in Japan to benefit from the weaker yen. Further, exporters will probably need to see evidence of a sustainable recovery before starting to think about moving production back onshore - a manifestation of the time-inconsistency problem at the heart of Abenomics.
Accordingly, these companies have also not meaningfully reduced their foreign export prices, despite a sharply weaker currency: while corporate profits have boomed, export volume growth has remained lackluster.
Unless Mr Abe proceeds with structural reforms, he and Mr Kuroda will soon need to ramp up the degree of stimulus in order to keep investors on board. However, not only would this strategy ultimately prove insufficient to turn the country's fortunes around, it would exacerbate still further Japan's economic imbalances. At some point the third arrow will have to be launched; and the longer this moment gets postponed, the harder it will be to hit the target.
Disclosure: I have no positions in any stocks mentioned, and no plans to initiate any positions within the next 72 hours. I wrote this article myself, and it expresses my own opinions. I am not receiving compensation for it. I have no business relationship with any company whose stock is mentioned in this article.