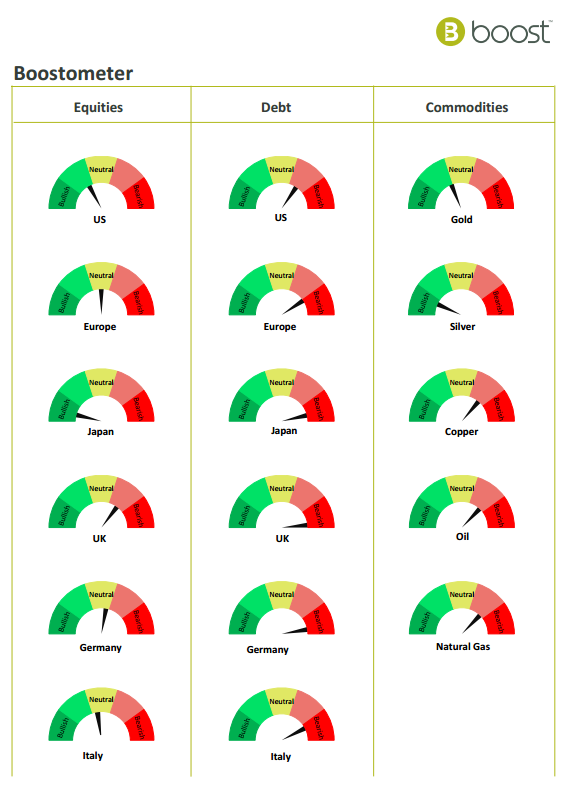 The Boostometer', a gauge for reading sentiment in major asset classes in the ETF/ETP industry. Based on AUM and adjusted for leverage factors, the Boostometer measures the extent to which S&L investors are bullishly or bearishly positioned for the month ahead. A tendency to be bullishly positioned means S&L investors are holding more long than short ETPs, while a tendency to be bearishly positioned means S&L investors are holding more short than long ETPs.
Global Assets Under Management
· The total global AUM of Short & Leveraged (S&L) ETPs at the end of February 2014 is a record $61.3 billion, up 6% YTD.
· 48% of AUM is held in short products with leverage factors ranging between -1x to -3x. However the leverage factor with the most assets is +2x, with 38% of AUM.
· In terms of S&L asset allocation, equity ETPs are the most popular with 65% of AUM, followed by debt with 22% and commodities with 7%. The remaining 6% is allocated between currency and alternative ETPs.
· The largest individual S&L ETPs are short US treasuries ($4.3bn) and leveraged US treasuries ($3bn).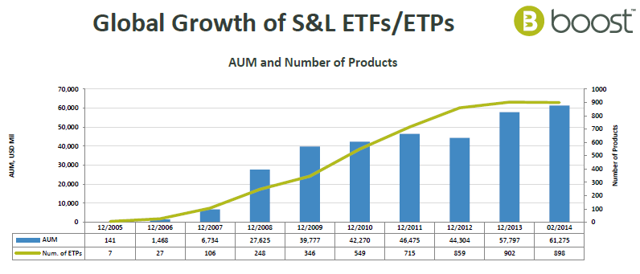 Short & Leverage Equities: Global
Currently there is $39.8 billion of AUM held in S&L equity ETPs of which 55% is held in long ETPs.
S&L equity ETPs have seen $2.7 billion of net outflows in February, a marked reversal from the $2.7 billion of net inflows in January. Leading the outflows were US equity ETPs with $3.2 billion of net outflows.
Outside the US, the most notable flows were seen in Japan, with $463 million of net inflows, $452 million of which went into long Japan ETPs.
AUM in S&L US equity ETPs as at the end of February was $20.4 billion, a 10% decline from $22.7 billion in January.
Short & Leverage Equities: Europe
Currently there is $5.6 billion of AUM held in S&L equity ETPs tracking Europe (as a region) or European countries of which 56% is held in long ETPs and 44% is held in short ETPs.
European net outflows of $61 paled in comparison to the large outflows seen in US equities.
Bearish positioning was evident in Italy, France and Sweden where outflows from long equity ETPs coincided with inflows into short equity ETPs. While UK equity ETPs saw inflows into short ETPs, European region focused equity ETPs saw some inflows into long equity ETPs.
In contrast to the overall bearish sentiment underpinning European equities, German equity ETPs saw $73 million short positions being sold, the largest unwinding of shorts seen across ETPs tracking Europe.
Short & Leverage Debt: Global
Currently there is $13.7 billion of AUM in S&L debt ETPs, an increase of 25% (from $10.9 billion of AUM in (January). Out of the $13.7 billion in S&L debt ETPs, $12.3 billion are in government debt, $1bn is in corporate debt, and an additional $349 million are in S&L total market bond ETPs.
The total AUM in US government debt ETPs at the end of February was $10.5 billion. As a result of large inflows of $2.9 billion into long US debt ETPs in February, the share of bullish positions in US debt ETPs has risen to 29%, a significant increase from 1.4% in January.
With $87 million of inflows into short German debt ETPs, the bearish positioning in German debt by S&L investors for March has risen.
Against the backdrop of the Fed's commitment to withdraw monetary stimulus, confirmed by the release of the latest FOMC minutes, S&L investors have remained overwhelmingly bearishly positioned in government debt.
Short & Leverage Commodities: Global
The AUM of S&L commodity ETPs for the end of February is $4.2 billion, an increase of 11% (from January's AUM of 3.7 billion). 48% is currently held in long commodity ETPs, compared to 50% in January.
S&L commodity ETPs are dominated by gold, silver, oil and natural gas, representing 90% of total AUM. With over $1 billion in AUM silver is the largest commodity ETP for the second month running, followed closely by natural gas which has overtaken gold as the second largest commodity ETP.
The strong rise in AUM in natural gas to $1 billion has been driven by $311 million of inflows in February, the largest seen across commodity S&L ETPs. The bulk of the inflows were in short ETPs, as the strong rise in Henry Hub natural gas prices during US's cold snap may have provoked contrarian bearish positioning for March.
Read the Boost ETP independent Short & Leverage ETF/ETP Global Flows Report from Feb. 28, 2014, here.
Disclosure: I have no positions in any stocks mentioned, and no plans to initiate any positions within the next 72 hours.
Business relationship disclosure: Boost ETP is an independent ETP issuer. This article was written by Viktor Nossek, Head of Research. We did not receive compensation for this article (other than from Seeking Alpha), and we have no business relationship with any company whose stock is mentioned in this article. This communication has been provided by Boost ETP LLP, which is an appointed representative of Mirabella Financial Services LLP which is authorised and regulated by the Financial Conduct Authority.