I'd be willing to bet so.
I'm just salty that I didn't buy into Microsoft (NASDAQ:MSFT) as I watched it over the past year. Like the case of Tesla (NASDAQ:TSLA), it just got away from me - a stock I was bullish on, but never caught my entry point. Too bad, although I am happy for those long the stock.
When new CEO Satya Nadella first spoke publicly, we weren't really privy to what was going on in his mind with regards to Microsoft. his comments were diluted, and few and far between.
Microsoft stock rocketed yesterday, fueled by speculation of an iPad version of Office being released. The stock has been up nearly 40% in the last twelve months alone, sans dividend payouts.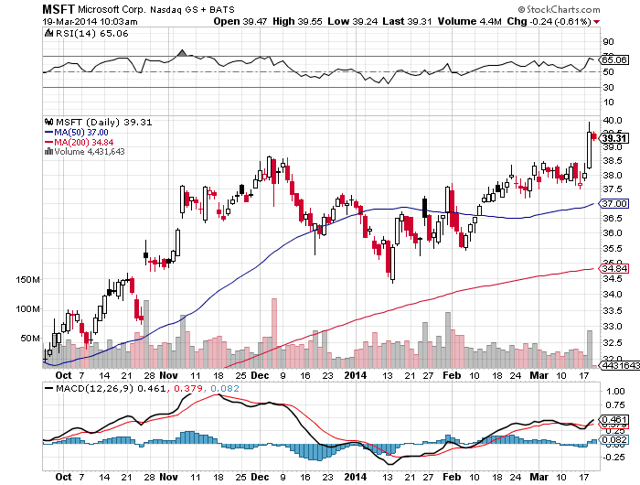 Office remains one of the major reasons why some people stick to Windows PC's - it's used almost exclusively by all businesses, everywhere, for everything. If you work in any type of serious corporate world - litigation, communication, finance - Microsoft products continue to rule the realm. While Apple (NASDAQ:AAPL) has tried to get on the map with iWork, Office is still the front runner by far.
Rather than risk Office being dethroned, Microsoft is doing what would years ago be considered "the unthinkable" and talking about releasing it for iPad.
c|net reported:
ZDNet, Reuters, and others reported on Monday that Microsoft has scheduled a March 27 press briefing in San Francisco where Microsoft's new CEO Satya Nadella will introduce the Microsoft Office for iPad suite of applications.

"We estimate that if 10 percent of the iPad install base were to subscribe to Office then this could add 15 million subscribers and generate $1.1 billion to $1.5 billion in consumer Office subscription revenue per year," Bernstein Research analyst Mark Moerdler said in a research note on Tuesday, as reported by Reuters.

The suite for the iPad is rumored to include Word, Excel, PowerPoint, and OneNote but no other Office client apps, according to ZDNet. It is expected to be a download on the Apple Store and may require a Microsoft Office 365 subscription, similar to the way Office Mobile for iPhone works, ZDNet said.

But to attribute the share price spike solely to Office is missing the bigger picture, according to said Bob O'Donnell, principal analyst at Technalysis Research, which follows Microsoft.

"iPad for Office is certainly a big deal should it come to pass," he said in a phone interview. "But they're also addressing emerging market needs [offering Windows Phone for free in India] and then don't forget what they're doing with the Nokia X phone," he said, referring to the Nokia phone that runs Android. (Note that the Nokia X phone was reported as getting one million pre-orders in China but that claim was later called into question.)
Similar to the way Microsoft stepped in and helped Apple years ago, this could be the time where Nadella realizes the importance of pairing with Apple. Mac sales have bucked the trend over the last few years, while PC sales have declined and (hopefully) finally bottomed.
The Ballmer-era guys probably weren't super excited on the idea of trying to cross-platform integrate a bit more, but the truth is that it'll be good for Microsoft. They need to embrace and respect Apple, who continues to grow like a juggernaut, if they want to be successful. Additionally, Google is also to be feared and respected.
This implementation for iPad could not only be the start of monetiziation routes for Microsoft, but could allude to the way that Nadella is thinking about his company and how they do business.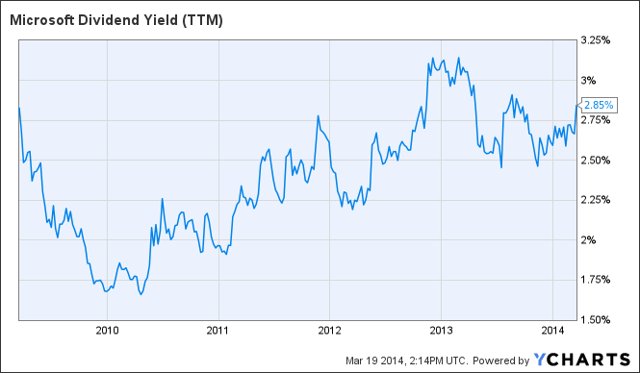 MSFT Dividend Yield (TTM) data by YCharts
Though I'm disappointed with Microsoft's Sync recently being booted from vehicles in favor of BlackBerry's (NASDAQ:BBRY) QNX, I do think that Microsoft will continue to expand as part of the personal ecosystem.
My investment thesis continues to be bullish for Microsoft. I like the dividend that the company pays, I like they're push towards home ecosystem integration, and I'm in Nadella's corner until he gives me a reason not to be.
I'm not one to chase an investment, however, and unless MSFT pulls back and gives me an opportunity, I'll likely not be initiating a position in the company anytime soon.
Best of luck to all investors.
Disclosure: I am long BBRY. I wrote this article myself, and it expresses my own opinions. I am not receiving compensation for it (other than from Seeking Alpha). I have no business relationship with any company whose stock is mentioned in this article.