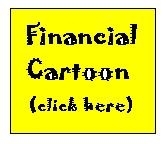 Outlook: The DJIA ended the week up 2.8% and the S&P climbed 2.5%. Had you been paying close attention to mix of economic, financial and political news, you would have at best called for a draw.
Maybe it's the official start of summer, the World Cup or a relief rally from a three week losing streak, but the low grade volume doesn't offer any sense of conviction.
Equity Driver: What ultimately drives stock prices are earnings prospects in relation to current valuation. While there are grave uncertainties regarding global fiscal and monetary stability which can radically change those earnings estimates, the current S&P 500 earnings yield seems to be flashing "Buy".
Highest Earnings Yield: The graph below illustrates the year-end earnings yield from 1994. The 2010 earnings yield is based on current Standard and Poor's Outlook (6/9/10) estimated EPS of ($81.79) and June the 7th's close (1,051). Currently, the S&P 500's earnings yield is the highest it's been since 1994 which was another cyclical stock market trough year.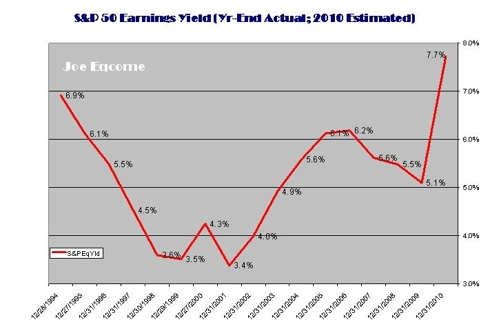 Click to enlargeWhat's Up? So, either the EPS estimates will be adjusted downwards significantly in the coming months or the S&P will adjust upwards.
Recommendations: I would continue to buy large cap dividend-oriented ETFs.
The three largest trading equity-income ETFs in my database are: iShares Dow Jones Select Dividend Index (DVY; Yield; 3.7%), Vanguard Dividend Appreciation ETF (VIG; Yield: 2.0%) and SPDR S&P Dividend ETF (SDY; Yield: 3.5%). I also recommend cost averaging just in case there is an increase in stock market volatility. (See: Is the S&P 500 Earnings Yield Flashing "Buy"[1] (6/11/10))
CEF Weekly Review: The 13 closed-end fund (CEF) types on average posted a 1.1% increase for the week ending 6/11/10. The high-low spread was +2.7% vs. -1.8% the previous week. On an aggregate, unweighted basis the weekly average price change for the 500 plus CEFs was up 0.9%.
The PowerShares CEF Income Composite (NYSEARCA:PCEF), an ETF that invests in taxable income CEFs, increased 2.5% for the week. The S&P 500 advanced 2.5% for the week and is off 2.1% YTD. (Click here [2] for YTD CEF Performance. The table is based on a smaller CEF sample size as all the data fields are not available for the CEF universe.)
The Eqcome CEF Fear Index eased for the week. The average price increase was 0.9% versus a 0.1% increase in the NAV. The CBOE Volatility Index (VIX), which typically moves inversely with the stock market—but is mostly a measurement of volatility based on stock options' premiums—dropped 19% breaking through the psychological barrier of 30 to 28.79.
The S&P 500 average daily trading volume remains anemic at 5.368 billion shares, flat with the previous week. Trading volume trailed off to 4.1 billion on Friday.
CEF Weekly Fund Type Performance: CEF fund type performance shifted back to an equity orientation with WrldEqFnds and SpecEqFnds both advancing 2.6%.
The PrcNAVSprds[*] typically move in the direction of stock prices. However, this week there were two minor exceptions with SpecEqFnds' and GenEqFnds' NAVs advancing greater than prices. On the other side of the spectrum, both LoanPartFnds and HiYldBndFnds saw price advance while NAV declined.
Weekly CEF Winners and Losers: With the exception of illiquid CEFs (see RAA, "Significant CEF Corporate Events" below), one of the CEFs with the greatest positive spread was one with the greatest negative PrcNAVSprd last week: DWS RREEF Real Estate II (SRO). SRO's price advanced 5.7% with no movement in its NAV. The CEF is scheduled for liquidation and is trading at 0.8% discount.
The CEF having one of the greatest negative PrcNAVSprd for the week was Gabelli Global Utility & Income (NYSEMKT:GLU). GLU's price declined 3.8% while its NAV increased 2.9% generating a negative PrcNAVSprd of 6.7%. GLU trades at a discount of 2.1% and at a quarterly annualized yield of 6.6%.
Why GLU is trading at a discount and its cousin utility CEF, Gabelli Utility Trust (NYSE:GUT), is trading at a 72% premium strikes me as odd. I think GUT is overvalued, but CEF investors have been known to be irrational.
Economic & Earnings Outlook: (Click here [3] for next week's economic calendar; click here [4] for earnings announcements and estimates.)
ETFs: For a more detailed EFT performance by sectors, click here [5].
Insider Trading: The Horejsi Group (Horejsi) has been a significant inside buyer this month of First Opportunity Fund (FOFI.PK), a pink sheet company where an affiliate of Horejsi recently became its investment advisor. Horejsi acquired an additional 103,185 shares during June at an average price per share of $6.26 for a total capital expenditure of $642,619. Horejsi owns approximately 15% of the FOFI.PK.
Horejsi, through a related party, Susan Ciciora, continued its buying of both Boulder Total Return Fund (BTF) and Boulder Growth & Income Fund (NYSE:BIF) the second week in June. Horejsi purchased 2,955 shares of BTR for a total of $64,143 and 43,577 shares of BIF for a total outlay of $208,750. Horejsi owns 34.2% and 33.1% of the outstanding shares, respectively.
Vincent Giordano, an officer of TS&W/Claymore Tax-Advantaged Balance Fund (NYSE:TYN), filed with the SEC in June for the acquisition of approximately 45,000 shares. Based on third party insider trading records, he also disposed of approximately 44,000 shares. (See, "CEF Focus Stock for the Week")
There were two insiders (the CFO and a Director) buying shares in Apollo Investment Management (NASDAQ:AINV) aggregating $119,830. Gifford R. Zimmerman was an insider seller of Nuveen Premium Income Muni Fund (NPI) unloading 1,500 shares at a price of $13.79 per share. Counterbalancing the selling was Terence Toth, an insider who purchased 2,200 shares of NPI.
(Click here for a hyperlink to the Joe Eqcome's CEF Weekly Insider Report.)
CEF Distribution Announcements This Week: The following is a link to a table of CEF distribution announcements this week as well as the previous week's with yet expired ex-dividend dates. The list is not intended to be inclusive. (Click here for Joe Eqcome's Weekly CEF Distribution Announcements.)
Significant CEF Corporate Events: Rivus Bond Fund (BDF) announced at a special meeting of shareholders held on June 4, 2010, that BDF approved the issuance of additional shares to facilitate the proposed acquisition and merger of The Hartford Income Shares Fund (HSF) into BDF expected to close in July.
The BlackRock California Investment Quality Municipal Trust, Inc. (RAA) announced its Board has approved submitting a Plan of Liquidation and Dissolution (the "Plan") to the Fund's shareholders at the Fund's annual meeting of shareholders anticipated to be held on September 2, 2010. Its stock advanced 10% for the week.
Equus Total Return (EQS) announced effective immediately, John Hardy has been appointed as its Executive Chairman and Robert L. Knauss has been appointed as Non-Executive Chairman. EQS has been the subject of a failed dissident proxy contest to remove the current management. The dissident slate garnered 39% of shareholders' support.
CEF Focus Stock for the Week: TS&W/Claymore Tax-Advantaged Balance Fund (TYN) is an object of curiosity and warrants further dialogue.
As mentioned in the "Insider Trading" section, an officer of the CEF acquired and disposed of approximately 44,000 shares.

Western Investment LLC has taken a 4.4% stake in TYW earlier in the year and appears to have advanced a shareholders' proposal to declassify the Board. This would be a preliminary step in advancing its own directors' slate. The Shareholders' Meeting is to be held on July 19th, 2010.
On June 8th, the management issued a press release entitled "TYW Secondary Market Opportunity

[6]

" which advances its case of why it represents an attractive investment.
TYW invests in municipal and equity securities with $274 million in total net assets. It currently trades at a 7% discount. TYW has paid a quarterly distribution of $.18 per share for a nominal annualized yield of 7.1% (ex-dividend, this Friday, June 11, 2010).
The press release claims that based on its 2009 distribution tax status, its effective annualized after-tax distribution rate would be 10.5%. TYW does support hefty leverage at 38% through the employment of auction market preferred shares.
TYW may deserve further study.

---
[*] All things being equal, price and NAV should move in tandem. A price movement greater than the NAV generates a positive PrcNAVSprd and may be interpreted as negative on a near-term basis and indicate that the stock is overvalued relative to its NAV which in theory is the stock's intrinsic value. The opposite would be true for a negative PrcNAVSprd.
---
Disclosure: Author owns a diversified portfolio of CEFs and has positions in DVY, SDY and BIF