Ford Motor Co. (NYSE:F) announced disappointing results for its new car sales for the month of February, as it experienced a 6% decline year-over-year. However, other auto-manufacturers like General Motors (NYSE:GM) and Toyota Motors (NYSE:TM) also came up with negative sales growth y-o-y, but the decline in the case of Ford was a sharp one. On the other hand, Ford did better than Honda and Volkswagen. Other than Nissan and Chrysler, almost all of the big auto manufacturers saw a sales plunge and the critical weather conditions during the month of February, and they were regarded as the main culprit for this decline. The percentage decline in February has shrunk 1% from January's level of decline, as indicated in the graph below.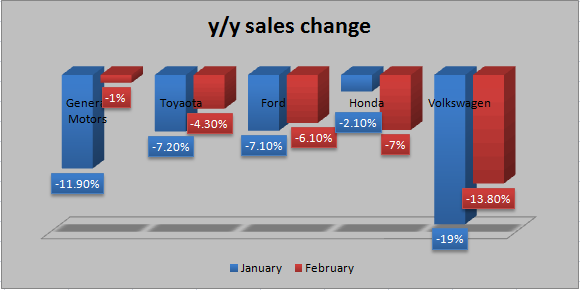 Source: IBTimes
Ford's retail sales plunged by 4%, with 125,919 vehicles sold during the month. Despite the negative growth sales, some aspects were enough to provide bright spots, such as the F-Series and Lincoln brand. These two vehicles showed strong gains, as this February, the F-Series had the best monthly sales in 8 years. On the other hand, the Lincoln brand sales skyrocketed by 36%, leveraging on the robust performance of the MKZ and MKX. The MKX crossover sales rose by 8.4% to 2,041 units, while the MKZ Luxury Sedan sales jumped 222% to 3,044 units. The enormous growth of the MKZ was partially contributed by production delays last year. Overcoming the production bottlenecks this year brought impressive sales growth for the luxury car.
According to Ford's Vice President, John Felice, car sales inhibited a growth momentum during the last week of February, however, it could not outpace the slow start for the month. Entering into March, the company hopes for the growth momentum to continue with the steady level of shoppers' demand.
Ford is a Top Performer In the UK
According to SMMT (Society of Motor Manufacturers and Traders), for the month of February, 3% more auto sales took place in the UK than in January, marking this month as the 24th consecutive month of increasing sales.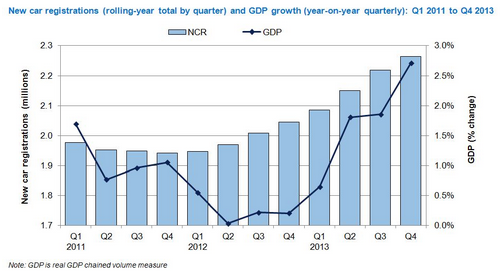 Source: SMMT
The Ford Fiesta was the top seller in the region, with 4,415 units, up from 3655 units in 2013, while the Ford Focus secured 4th place, with 2,566 units. In total, Ford sold 9,935 cars in the UK this February. With increasing car sales, Ford is gradually grabbing more market share in the UK. The retail car sales share grew by 1.6% y/y to 15.3%, while commercial vehicle sales share was up by 1.5% y/y to 23.3%. According to company representatives, the growth in the UK is the result of the company's continued investment in innovative products and technologies, accompanied with a strong dealer network in the UK. According to SMMT, a steady growth is anticipated in new car sales over the coming months, as indicated by the increasing consumer confidence. Consumers have regained confidence in the stability of their income levels and the economy after this metric faced its lowest levels in 2012, reaching negative 31. But now, confidence is being boosted, and that will allow the auto market to flourish in the region.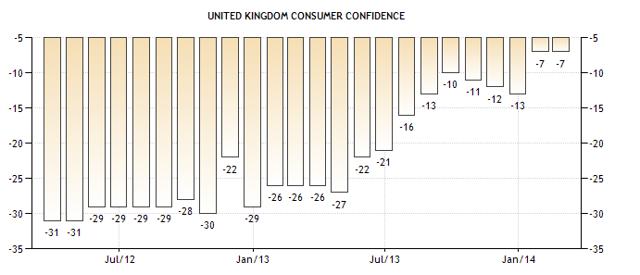 Source: Trading Economics
With the stabilizing European auto market, Ford will soon reach breakeven point, and in the coming years, it may start earning a positive margin in its sales in the continent. This scenario makes it an attractive stock in the long term.
Ford Heading Towards Its Target In China
Ford's sales in China surged by 67% during February, with 73,040 wholesales, driven by strong demand for the Ford Focus and Ford Mondeo. Both brands experienced sales increases of 13% and 123% respectively. This was the third month in line with strong sales growth in China.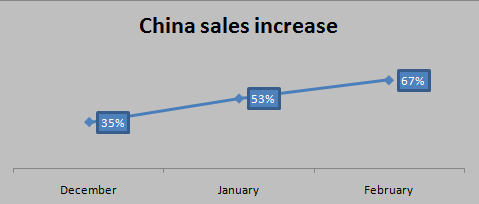 Source: Reuters
Ford's passenger car joint venture, Changan Ford Automobile (CAF) managed to sell 81% more vehicles, while its commercial vehicle Investment, Jiangling Motors Corporation (JMC) increased its sales by 22%. The respective y/y performance of these two investments is illustrated below.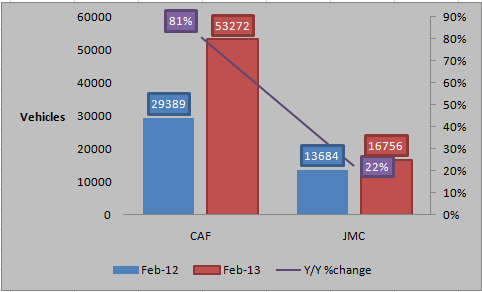 Source: Ford Press Release
China is the largest auto market in the world, and its population is quadruple to that of the US. China's auto market is expected to grow at a rate of 8%-10% during 2014, and that makes it a key market for auto makers. Ford has already two production facilities that will start work in 2014, and two more are on their way in 2015. Moreover, Ford is going to bolster its R&D facility in China to increase its headcount in its Nanjing R&D center to 2,000 by 2018. Ford has a target to attain a 5% market share in the country, and its outstanding performance last month makes us believe that Ford will succeed in attaining market share beyond its set target. Moreover, February's results show that local automakers in China saw their market share decline this month (the 6th consecutive monthly decline), so this is another fact in Ford's favor. Sooner or later, Ford will be able to gain a greater market share than the local brands. Moreover, geographic diversification will benefit Ford in the long term, even if the US auto market slows down.
The Road Ahead: Ford is Moving Uphill
Other than global expansion, another bright spot for Ford is its robust product pipeline. Twenty-three new models will be launched in 2014 and 2015. Currently, the company has high inventories, and to sell them out, it needs to offer discounts. That will be a drag on its revenues, but as it launches its new models, we will see premium prices charged, and that will bolster its top line once again and will end up improving its margins. However, Ford had an incentive to spend $3,305 per vehicle in February, that is $101 more than that of General Motors, and this is a relatively smaller incentive spent. It caused General Motors to see its full-size truck sales drop by several points to less than 35%. Ford has increased its incentive spend y/y by 16%, and it is anticipated that the discounting will be extended to March as well, but this will not cause its margins to shrink by a lot. The following graph illustrates that Ford has managed to grow its net income, despite a slight fall in revenues over the previous year. Its net profit margin has improved impressively to 8% from a little more than 4% in December 2012. This highlights the company's operational efficiency that led the company to grow its profits and margins despite the revenue plunge.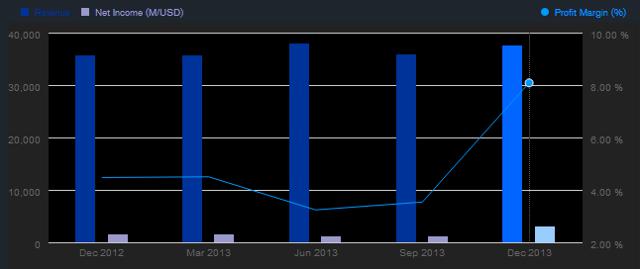 Source: Bloomberg
Despite the company's efforts to attain operating efficiencies, Ford has not neglected the need to innovate at a continued pace. Ford's upcoming F-150 truck with an aluminum body has proved expensive for the company compared to steel, but the company expects to attain efficiency with the passage of time. Aluminum is the next move for automakers, as it allows many attractive features, such as light weight, quick stop, quick acceleration, more towing and hauling capability. As the economy is moving towards a more fuel-conservative stream, aluminum comes as the best-possible alternative. Ford is not alone in the aluminum body initiative; General Motors is also entering the stream, proving that aluminum can have some fruitful results for auto giants, otherwise it would not have been used for their upcoming pickup models. A robust product pipeline with innovative features added to the products is what is going to propel Ford into the future.
Final Word
Ford seems to have met with new horizons to grow, especially in China, the UK, and other Asian geographies. Getting the best out of the UK market and strengthening its foothold in China are some great moves for the auto giant. The current price of Ford in this scenario seems undervalued. There is a lot more potential in the stock that has yet to be unlocked and will undoubtedly be seen with the company's continued expansion in China. However, the market has responded very little to Ford's extravagant performance, but I believe time is an investor's best friend, especially in the long run. Therefore, I believe the current depressed stock price is an attractive opportunity to add this stock to one's long-term portfolio. Ignoring the current stock views, investors should consider investing in this stock because of its iconic brand, better performance, and diversified geographic reach.
Disclosure: I have no positions in any stocks mentioned, and no plans to initiate any positions within the next 72 hours.
Business relationship disclosure: The article has been written by a Blackstone Equity Research research analyst. Blackstone Equity Research is not receiving compensation for it (other than from Seeking Alpha). Blackstone Equity Research has no business relationship with any company whose stock is mentioned in this article.