Knowles Corporation (NYSE:KN), after the spin off, offers an opportunity as the business seems to have been underappreciated, overlooked and underinvested as part of the Dover Corporation (NYSE:DOV), which can create decent value for shareholders, catching up to the underperformance of the last few years.
Amid a number of recent spin-offs, Knowles stands out as a fundamentally sound business with high quality brand, dominant market share in its respective markets, decent cash flows and growing end-markets. There are plenty of opportunities, operationally and strategically, where the company can add value for shareholders. Business, with a market leading position in acoustics, is well positioned to monetize fast growing product categories - wearable electronics and smartphones.
The stock should benefit as the street anticipates and validates the efficiencies possible after the spin off. Some of the easily measurable ones are manufacturing facilities consolidation and operating cost improvements, but other medium term opportunities, which are not being well discussed at present, include improving capital expenditure productivity and rightsizing the product portfolio.
A well diversified profitable business with decent and consistent growth
Knowles has a dominant leadership position providing acoustics solutions for the consumer electronics and hearing health markets. Some of the products where the company has a global leadership position are:
MEMs microphones, speakers and receivers for the mobile and tablet markets
Transducers for the hearing health sector
Oscillator and Capacitor components for the telecommunication infrastructure, military/space and industrial markets
The current business comprises of 18 manufacturing facilities, 10,000 employees and more than half a dozen acquisitions. The company has a large fragmented set of competitors like AAC Technologies (OTCPK:AACAY), Goertek (listed in China) and Sonion (Denmark).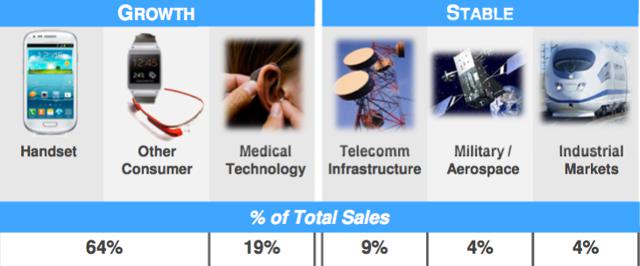 Source: Knowles 2014 Analyst day presentation
Revenues and customers are equally diversified. Both the major product divisions, Mobile Consumer Electronics (MCE) and Specialty Components (NYSE:SC), are handsomely profitable with EBITDA margins of more than 20%. Knowles is benefiting from mobile/tablet manufacturers moving toward higher end microphones, speakers and receivers.
On a standalone basis Knowles can now fully exploit its revenue growth potential
Even though the company has been consistently growing revenues, the organic revenue growth rate (approx. 10% CAGR) has been far from impressive, especially compared to competitors. Operating in markets, where constant innovation, quick time to market and aggressive product growth strategy is the name of the game, Knowles as a standalone company would no longer have to compete for capital or go through a long decision making process to act on the opportunities it deems value enhancing.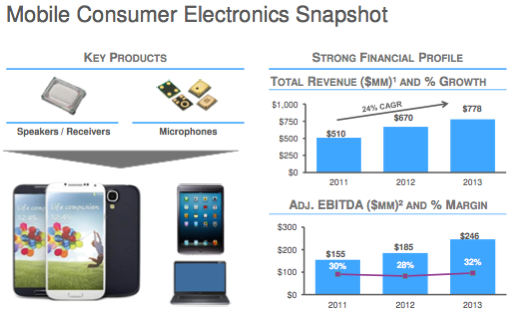 Source: Knowles Corp.
Growth for the MCE division has been impressive compared to the 15% volume growth in the smartphones and tablet market, but the company has an opportunity to continue to outgrow the market by:
Providing higher end integrated solutions carrying higher ASPs, like solutions with microphones and an antenna in a plastic module
Providing new technology solutions like speech recognition and sensing
Increasing addressable acoustic content per handset from $2-3 in 2012 to $3-5 per handset
New product offerings like N'Bass, where the company is combining its unique offering of acoustic knowledge, proprietary design knowledge and proprietary manufacturing process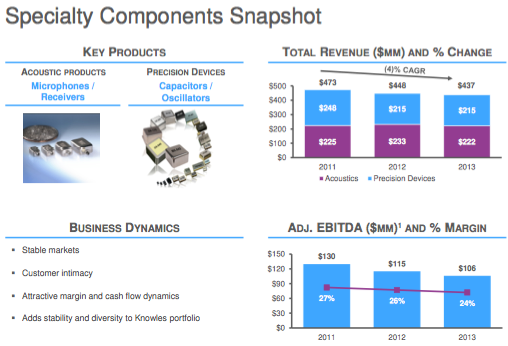 Source: Knowles 2014 Analyst day presentation
The Specialty Components business has been suffering on a relative as well as absolute basis. Revenues for the division have been declining while the market for both hearing devices, growing at a low single digit percentage, and precision devices market are growing. Some of the organic revenue growth opportunities for the division are
Demographics helping the hearing health market as the average age rises
MEMS microphones, where the company has won design wins at 3/6 top hearing aid OEMs
Besides the organic revenue growth opportunities, the public listing should give the company another currency to grow inorganically, which holds special significance in a fragmented market.
There is considerable room for operational and earnings improvement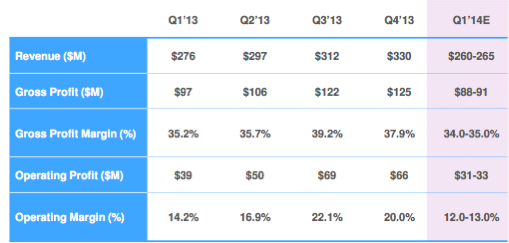 Source: Knowles 2014 Analyst day presentation
Even though Knowles is handsomely profitable, there is considerable room for improvement on the operations front benefiting margins and earnings. Even as part of the Dover Corp., Knowles managed to achieve operating margins of close to 20% and EBITDA margins of 26% in 2010 so there should be little doubt over the standalone company achieving the same in the near term.
Operationally, some of the easy improvement opportunities are:
Consolidating manufacturing facilities from 18 to 11
Realigning manufacturing facilities by moving products from relatively higher cost geographies like U.K and Sozhou (NASDAQ:CHINA) to lower cost facilities in Cebu (Philippines)
Material outsourcing
Consolidating back offices from its presence in 14 countries currently
These initiatives alone are expected to save $40-50 million in annual costs and restructuring is already in place at four facilities.
Strategically, margins and earnings should benefit as,
The company moves to high-end microphones. By next year, microphones will have more than 50% digital and high-performance analog content vs. less than 15% in 2011.
Aggressive push toward integrated solutions from standalone components to help the ASPs and gross margins
Accretive acquisitions
Value in the new spin off
Post spinoff, there are approximately 85.0 million shares of Knowles' common stock and $360 million of net debt (terms), which works out to approximately $2.6 billion of market cap and $3 billion of enterprise value. Whether one values the business on an earnings basis or on an EBITDA basis, there is considerable value on offer.
| | | | | |
| --- | --- | --- | --- | --- |
| EBITDA 2013 | 276 | | Valuing on EV/EBITDA basis | |
| | | | Share count (NYSE:M) | 85 |
| Savings operational improvements | 50 | | | |
| EBITDA Growth 2014 | 25 | | EBITDA potential | $381 |
| EBITDA Growth 2015 | 30 | | EV/ EBITDA Multiple | 11 |
| | | | Enterprise value (NYSE:EV) | $4,191 |
| Potential EBITDA 2015 | 381 | | Net Debt | $360 |
| | | | Stock potential | $45 |
Based on regular EBITDA growth and savings from operational improvements, as discussed earlier, there seems to be 35-40% upside from the current levels.
| | |
| --- | --- |
| IF target achieved | 2014 |
| Revenue Growth | 10% |
| Revenue | $1,335 |
| Gross Margins | 39% |
| Operating Margins | 22% |
| Net margins | 14% |
| Share count | 85.0 |
| | |
| EPS | $2.25 |
| Stock price | $32.00 |
| P/E | 14 |
A back of the envelope calculation should lead to similar value on offer, based on earnings as well. The case can be made for 35-40% upside based on 18-20 times earnings using 2014 estimates, as the worksheet above suggests.
Conclusion:
Knowles is a recent spin off with a room for operational and strategic improvements and almost no street coverage. Even without the improvement related financial upside, Knowles is a good business in growing end-markets with decent cash flows at a good price, which may fancy the value conscious investor in the current market environment. Target of $40-45 is based on 18-20x this year's earnings
Disclosure: I have no positions in any stocks mentioned, and no plans to initiate any positions within the next 72 hours. I wrote this article myself, and it expresses my own opinions. I am not receiving compensation for it (other than from Seeking Alpha). I have no business relationship with any company whose stock is mentioned in this article.