For those of you that haven't been following the Citron vs. Questcor (QCOR) story over the last two years, this is where we are today. Citron was last to come out and make allegations against Questcor - allegations that the company's sole drug, H.P. Acthar Gel isn't what is stated on the label, and (more importantly) isn't offered at the concentration that's on the label.
Here's a small update to get you up to speed.
Questcor's response did little to bring a ton of confidence back to the stock, as it's now trading around the levels it was at after Citron's report released on 2/27. Yesterday, the stock ran with the markets and was up over 5%. Even at current levels, the stock has provided a 90%+ return for investors in the last twelve months.
Lucrative, no doubt. If legit, Questcor will likely continue to be a gold mine for investors and insiders. But, they've got some questions to sort out first.
In this piece, I'd like to address the importance of just one of Citron's claims, and look at where I think the company would have an obligation to say something.
As of 5AM CST on Tuesday morning, we have yet to hear from Quesctor regarding Citron's latest allegations. Perhaps they're simply taking their time in preparing something. Perhaps they don't plan on making a statement at all - that's fine.
The statement that I spent the better part of the weekend and yesterday thinking about and discussing with a University biochemistry professor, a noted fund manager, and a former 30+ year expert in the pharmaceutical industry was the statement that questions the amount of the active ingredient in Acthar. All three concluded that, if true, it could be enormous. If the company is knowingly selling a diluted drug, it would certainly be actionable.
So, let's take all of the chemistry questions aside - all the amino acid sequencing questions that don't add up, all the potential labeling issues that come with selling a product called Highly Purified ACTHar that doesn't have any "ACTH" in it. Take all of those lingering questions and toss them aside for a second.
Let's just focus on this one allegation: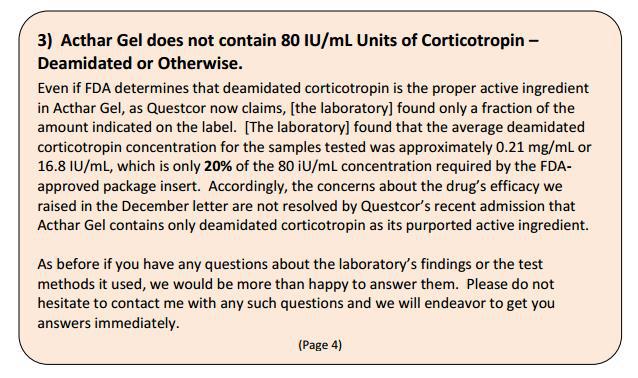 All three people in that constituency of references all came to the same, simple conclusion. If there's some way to prove that the company has been issuing diluted drug - let alone if they've done it willingly - there is the potential for major problems.
So, forgive me for going into Tuesday, the second trading day after the company and the public have had time to digest Citron's latest claims, and expecting to hear what the company had to say with regards to this allegation.
Now, some of you may be claiming, "why should Questcor even bother with this pesky short seller?".
Good question. Here's the answer: when someone makes a claim such as Citron has done - a claim so bold and so massive that it has potential to seriously materially effect the stock and shareholders, you have a have both a corporate strategy responsibility to come out and say something; but also a duty to shareholders to come out and clear the air. If you were a major institutional investor in Questcor, wouldn't you want to know the company's answer - and have them clear the air as quick as possible?
Instead, what did those following QCOR get on Monday? A big fat Form 4 showing another of Don Bailey's planned stock sales for his family trust - roughly $2.4 million worth.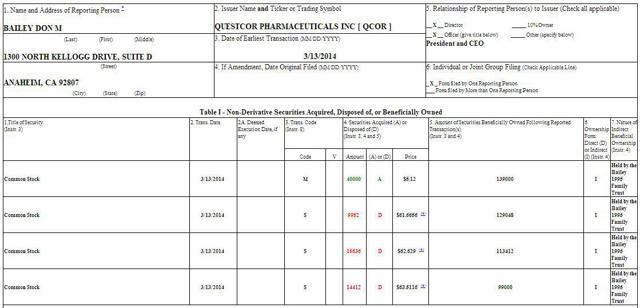 Alright, that's an interesting strategy - to let that be the first thing the public sees when someone is basically alleging massive wrongdoing by the company. Additional stock sales followed on Tuesday.
But, in the interest of trying to look at both sides, let's assume best case scenario for Questcor. Is there any road here that doesn't lead to the FDA doing a substantial investigation into whether or not these claims have merit? Perhaps there's a technicality that the chemistry of the drug can slip by on - bulls have been tossing around arguments like "it's a highly sterile preparation", and "it's analogue" - but, can the FDA really ignore claims of diluted concentrated ingredient?
Again, your upside here is that QCOR comes out of this unscathed and goes back to $80+ - roughly a 20% upside. Downside benefit? Depending on the how Questcor combats Citron's claims, it could be much more.
Do you understand now why, if I had one question to ask Questcor, it would be: what is your response to claims that Acthar Gel does not contain 80 USP units/mL of it's active ingredient, as it states on both the bottle and the label? Is there a special conversion rule between USP/IU for Acthar that explains it? Something we're all missing? Flawed lab results? What gives, Questcor?


The ball, again, is in Questcor's court, and I'm waiting with bated breath to hear what they think.
Disclosure: I am short QCOR. I wrote this article myself, and it expresses my own opinions. I am not receiving compensation for it (other than from Seeking Alpha). I have no business relationship with any company whose stock is mentioned in this article.
Additional disclosure: I own QCOR puts and reserve the right to add to, change, or close my position at any time without notice.