Based in Canonsburg, Pennsylvania, Rice Energy (NYSE:RICE) is an independent oil and natural gas exploration and development company. The company was founded in 2007 by former BlackRock Energy portfolio manager, Daniel J. Rice III, and began leasing in the southwestern core of the Marcellus Shale in 2008. RICE's key operating areas are in the Marcellus Shale in southwest Pennsylvania and the Utica Shale in Ohio. The company has significant positions in core areas of the dry gas windows in the Marcellus (43,000 net acres) and Utica (46,000 net acres) in addition to longer-term potential in the Upper Devonian. All of the company's 2014 production mix is expected to be natural gas.
Enviable Position
RICE has built a strong position in two of the key future shale plays in North America. The company's Marcellus Shale position should allow it to continue to post industry leading returns and production growth for many years to come. In addition, the company has a meaningful position in the dry-gas window of the Utica Shale in Ohio. Even at lower gas prices, RICE's prolific wells in the Marcellus Shale and potentially in the Utica support attractive economics and production growth. According to company estimates, Marcellus wells generate ~60%-160% rates of return at $3.50-$4.50/MMBtu, while returns in the Utica are estimated to be in the range of ~70-120% based on current type curves. These high return assets should allow the company to grow both production and cash flow over time.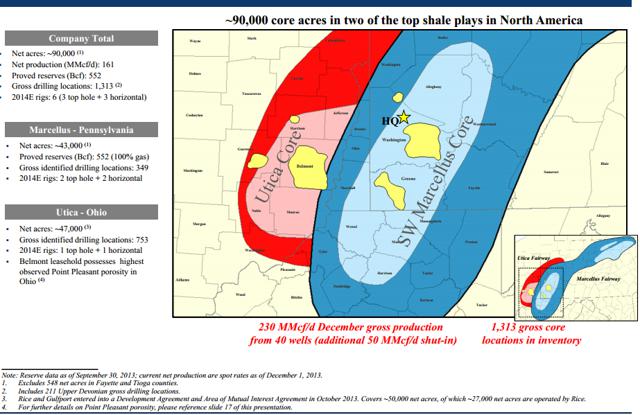 Source: Company Documents
Pure-Play Exposure
RICE offers investors a pure-play exposure to core areas within the dry gas windows of the Marcellus and Utica Shale plays. The company provides investors with a strong and growing inventory of high returns gas drilling inventory in the Marcellus and emerging Utica Shale play. The company's relatively low-risk Marcellus program offers a good foundation for future production and cash flow growth. RICE has an estimated 43,000 net acres position in the southwestern core of the Marcellus Shale, which provides an estimated 7 year drilling inventory with upside through additional leasing. In addition, the company's acreage in the eastern Washington County and southwestern Greene County is the foundation asset where dry-gas Marcellus well results have been very encouraging. Moreover, well control from the company's peers operating in the region including Range Resources (NYSE:RRC), EQT Corporation (NYSE:EQT), and Chesapeake Energy (NYSE:CHK) should give investors strong confidence in RICE's results going forward.
In the Utica Shale, Rice Energy has about 49,000 net acres, predominantly in Belmont County, Ohio in the dry- gas window of the play. RICE entered Ohio in November 2012 and subsequently executed a joint venture agreement with peer Gulfport Energy (NASDAQ:GPOR), which holds approx. 150,000 net acres in the play. The company's first horizontal Utica well just finished drilling without any operational issues and completion operations are set to commence in the next 2-3 weeks. Although this program is in the early stages, RICE's exposure to this emerging gas play is looking very promising, as Utica is among the most economic dry gas plays in the United States.
Industry Leading Drilling and Completion Methods
RICE drilled its first Marcellus well in October 2010, and since then has employed drilling and completion methods that have become the industry standard. Measured by cumulative production over the first 3-18 months, RICE has drilled some of the best performing wells in the play. The company was an early adopter of tighter frac densities of between 150 to 250 feet in its completions and longer laterals. Along the way, the company has also realized significant efficiency gains through reduced drilling times and completion costs. Average drilling times fell from 13.3 days in 2011 to 5.8 days in 2013 while average lateral lengths increased to 6,400 feet from 3,400 feet. Average drilling and completion costs per lateral foot fell to $1,100 in 4Q13 from $2,300 in 1Q11. The company has successfully established a positive track record that testifies to its operational capabilities.

Source: Company Documents
Strong Production Growth Outlook
RICE is boasting a strong production growth outlook. The company has delivered strong well results in the Marcellus by optimizing lateral placement in a targeted zone within the Marcellus formation that is the most brittle and most gas rich. The company has also been a pioneer in its frac design. While other Marcellus operators have moved more slowly to reduced frac stage lengths, Rice Energy, since 2010, has been using shorter frac stage lengths of 150-250 feet per stage.
The company has not only reported strong well results but has also successfully translated these strong results into an impressive track record of growth, ramping up gross operated production from zero at the time of its first horizontal well in October 2010 to 206 MMcfe/d during November, last year. Driven by a backlog of uncompleted wells in the Marcellus waiting to be turned to sale, initial well completions from a second rig in the Marcellus added in 2Q13 and with the contribution from a first rig in the Utica, the company is expected to more than double its production in 2014. The production is expected to average 310 MMcf/d (the high end of the guidance) in 2014, representing solid organic Y/Y growth of 148%. As mentioned earlier the Marcellus program is set to drive most of the growth in 2014, though the Utica should also contribute modestly as the company begins its appraisal program there. With both strong production and cash flow growth, it would not be a surprise if management evaluates the opportunity to put additional rigs to work in both the Marcellus and Utica.
First Utica Well Drilled
The company has completed drilling operations on the Bigfoot 9H in the Utica Shale and plans to bring in a frac crew later this month. RICE should be able to release initial production data before the Q2 earnings call. Despite encountering the same amount of gas as seen at the Bigfoot 7H, the 6,500-feet lateral well was drilled without any operational issues, which indicates the operational design changes have been effective. Interestingly, after analyzing additional data from the 9H and 7H, the company determined that there is no faulting in the area and that the strong un-stimulated gas flow is a product of the highly permeable and porous Point Pleasant formation in this area. This is positive indicator for the potential of the Utica/Point Pleasant formation across the company's acreage.
Potential Equity Issuance
The Canonsburg, Pennsylvania based company plans to spend $1.23 billion (excluding acquisitions) in capital spending this year, with $580 million allocated to drilling and completion of 39 wells in the Marcellus and 21 wells in the Utica. RICE has allocated $265 million for its midstream build out. The company recently announced a $110 million acquisition of gathering pipelines, spent $100 million on the Alpha JV purchase, and plans to spend $385 million to acquire acreage. While the company, along with production, is also expected to more than double its cash flow generation Y/Y, the company might still need to fill a funding gap (Citi estimates ~600 million) after using a cash balance of $335 million from the recent IPO. RICE could either borrow under the company's revolving credit facility or use external sources of funding. In either case the company would end the year with higher net-debt/EBITDA, which raises the possibility of RICE returning to the equity markets either later this year or early 2015. However, strong cash flow generation should improve the balance sheet in 2015 and the company should not need to issue further equity.
Conclusion
Relative to its peers, RICE has a superior resource life, stronger production and cash flow growth outlooks, and generates better cash-on-cash returns. The company provides investors a pure-play exposure to core areas within the dry gas windows of the Marcellus and Utica Shale plays, which provide the company with a long resource life and a solid outlook for growth. The company has delivered strong results to date from its Marcellus position and going forward the Utica is also expected to delivery strong cash flow growth through 2016. The company offers investors a very attractive asset base among U.S. onshore SMID E&Ps, particularly when compared to many other gas-levered stocks.
According to Barclays analysts, the company is estimated to generate balance sheet adjusted production growth of 86% in 2014 and 48% in 2015, which puts it at the high end of the Marcellus peers group. The company is trading at a discount compared to its peers. It has a forward P/E of 11.8, compared to 17.6, 27.8, and 23.8 of Cabot Oil & Gas (NYSE:COG), Antero Resources (NYSE:AR), and EQT respectively. RICE is capable of generating attractive gas growth from the Marcellus and Utica Shales over the next several years and drilling results that de-risk the company's acreage in the Utica Shale and provide more visibility around future growth should narrow the valuation gap.
You can visit http://riceenergy.com/ for more information on the company including assets overview, latest earnings call, and SEC filings.
Disclosure: I have no positions in any stocks mentioned, and no plans to initiate any positions within the next 72 hours. I wrote this article myself, and it expresses my own opinions. I am not receiving compensation for it (other than from Seeking Alpha). I have no business relationship with any company whose stock is mentioned in this article.