Intel (NASDAQ:INTC) is perking up slightly today, finally crossing the $25 mark for the first time since early January 2014. As you can see, the company has basically been trading sideways and coiling. Hopefully, this move sets the 50DMA has a support level and allows Intel to break out a bit to the upside once again.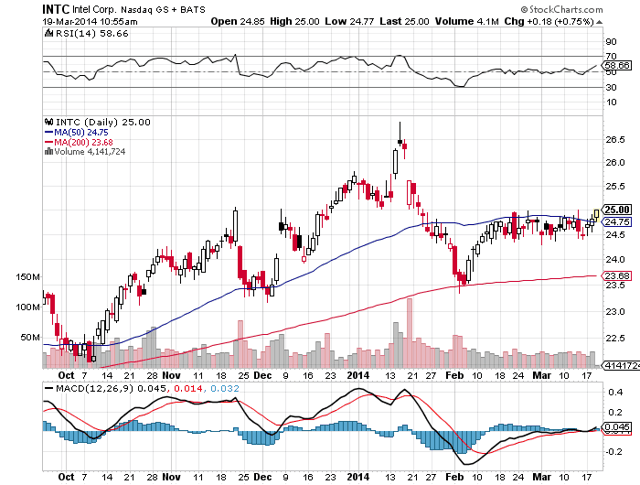 Click to enlarge
So, we might have a little bit of a technical rally brewing.
But this article isn't about a technical rally or a short-term spike. It's about a potential massive opportunity that Intel needs to get out in front of.
And, those of you that have been Intel longs like myself are sure to know that the company is still trying to make up for lost ground in the mobile and tablet markets. The company can't afford to fall behind on a new trend.
My last article about Intel was noting on the news that the smartphone business has been slowing down, but still growing. My contention was that it was typical for Intel, who is trying desperately get at the front of the adoption curve with smartphones, even though that bus has already passed.
I recently wrote about Intel working to "steal Apple's mojo" by being its sole provider for upcoming biometric and smartwatch products that the company is likely to start producing.
The chance that Intel has is going to be in the coming smartwatch market. I immediately thought of Intel yesterday when news of Google (NASDAQ:GOOG) starting to delve into the emerging niche of the technology sector.
As reported yesterday, by CNN:
Google is ready to try its hand at smartwatches with its "Android Wear" initiative.

Partnering with manufacturers, chip makers, and fashion brands, Google (GOOG,Fortune 500) is planning a full scale roll-out of smartwatches in the near future. Google built a version of its Android operating system specifically for watches, with the hope that it will achieve success similar to Android for smartphones.
Conceptually, the Android Wear software looks like an extension of the software that Google built for Glass, Google's smart glasses released a year ago.
Android Wear will deliver notifications to the watch without you having to dig around too much for them. It will also respond to voice commands. Both are things Google is already pretty good at.
But Android Wear promises to take things one step further when it comes to contextual awareness: It won't just alert you to texts and emails or navigate you in the right direction, which some wearables already do. A conceptual video made by Google shows and Android Wear watch providing a woman with her airline boarding pass when she arrives at the gate and a jellyfish warning for surfers just before they get their boards out of a truck.
Essentially, it will be Google Now -- Google's contextual information service -- on your wrist.
With Google spearheading the headlines after Samsung's (OTC:SSNLF) relatively quiet foray into watches, we can expect Apple to come next - likely with the superior product.
All of these watches are going to need processors to power them.
So, it's good time for Intel to expand their Quark family of processors - and that's exactly what they're doing:
Intel is expanding its range of SoC solutions that are first used in the preparation of various supporting gadgets like smart watches, bracelets, etc. The newest members of the Quark family are Quark X1010 and Quark X1020D SoCs.

Both SoCs come with support for ECC memory, also have the same clock speed of 400 MHz, 16 KB L1 cache, 512 KB SRAM, and Float Point Unit. New Intel Quarks support up to 2GB of DDR3 (800 MHz) memory, PCI Express 2.0, USB 2.0 and 10/100 MB Ethernet, all with a maximum TDP of 2.2 W. In comparison with the common characteristics of the X1010 model, Quark X1020D is additionally equipped with Secure Boot technology.

As intended by the manufacturers of wearable gadgets and prices are favorable, as though ordered in large quantities, so interested companies can get X1010 for $10.17, or a bit more advanced X10120D for $10.70.
As an investment, Intel remains still fairly priced compared to others in the semiconductor and technology hardware sector.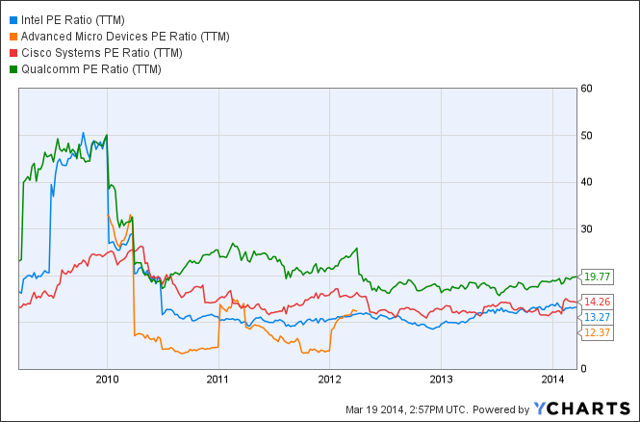 Click to enlarge
INTC PE Ratio (TTM) data by YCharts
As I stated in my last article, I firmly believe that Intel - even without this opportunity - is likely to be a good long-term buy for dividend investors and those looking for long-term growth. The company has plenty of cash to do its business with and its fundamentals are sound - Intel isn't going anywhere anytime soon.
However, with this new niche of products opening up, Intel could see a catalyst for growth coming in the next couple of years - if they can time it, the opportunity is going to be massive.
I remain long on Intel for the long-term, and continue to reinvest the dividends.
Best of luck to all investors.
Disclosure: I am long INTC. I wrote this article myself, and it expresses my own opinions. I am not receiving compensation for it (other than from Seeking Alpha). I have no business relationship with any company whose stock is mentioned in this article.