I will be honest, I typically only invest into European and North American companies with some rare exceptions (such as Japan); however, I almost never buy Chinese companies due to trust issues. Earlier this year, Kandi Technologies (NASDAQ:KNDI) attracted my attention when several people mentioned the company while discussing Tesla. At first, I was highly skeptical but I decided to put some money in the company while protecting my small position by issuing covered calls. To my surprise, the company continues to perform greatly and the stock price continues to go up in response. While I missed out on some great profits due to my covered call, I continue to be optimistic in this company.
On Monday, Kandi announced its results for the fourth quarter and the full-year of 2013. The results were nothing short of impressive and the company continues to deliver on its promises. In the fourth quarter of 2013, Kandi was able to grow its electric vehicles sales volume by 194% while growing its quarterly revenues by 92% and annual revenues by 47%. The chart below shows the impressive revenue growth by Kandi in the recent years.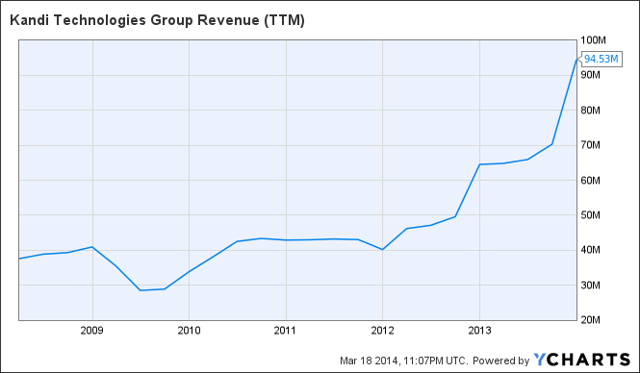 For the full-year of 2013, Kandi generated $94.54 million in revenues (up from $64.51 million in 2012), $21.74 million in gross profits (up from $12.90 million in 2012), while the company's operating income fell from $5.31 million to $1.56 million. The fall is due to some heavy investment towards future growth. For example, the company increased its research and development spending from $2.88 million to $3.73 million and the general, administrative and sales costs jumped from $4.25 million to $16.06 million.
The company ended the year with $204.30 million in total assets, up from $160.28 million last year. During the year, Kandi generated $14.69 million from operating activities (cash from operations), up sharply from a negative $10.72 million in the previous year. The chart below demonstrates the growth in Kandi's cash from operations.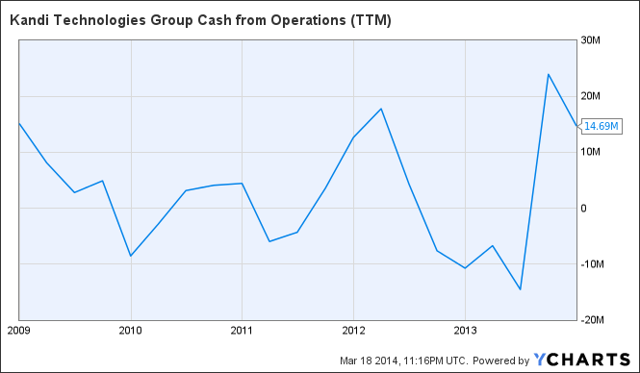 Starting this year, China will be increasing the subsidies it offers for electric cars. For those that don't know, Kandi has a very unique business model where it allows people to rent electric cars it produced by hour and its rental centers work like a vending machine (similar to movie rental machines of Coinstar). Currently, the company is investing heavily in order to build as many towers as possible in order to grow as fast as it can. In the beginning, there were many doubters since China's subsidy programs for clean energy have failed miserably several times in the past; however, things are working out differently now, evidenced by the recent growth of this company. Of course, renting out electric vehicles is just part of Kandi's business model as the company also engages in selling these vehicles.
It is difficult to value Kandi properly at the moment since the company is still working on becoming more profitable. If we go by "price to cash flow from operations" we get a multiple of 55. If we look at price to sales ratios, we are looking at 7.7 (as shown in the chart below) which is an all-time high for the company. This may look very high; however, keep in mind the company's revenue growth rate it also at an all-time high. If Kandi continues to grow at the current rate, its price to sales ratio will fall to about 3 by the end of this year and we will be looking at a forward price to sales ratio of less than 2 for 2015 (of course this assumes that the share price will stay the same). While this ratio is still a little higher than most car mature companies, it is cheaper than Kandi's peers, such as Tesla.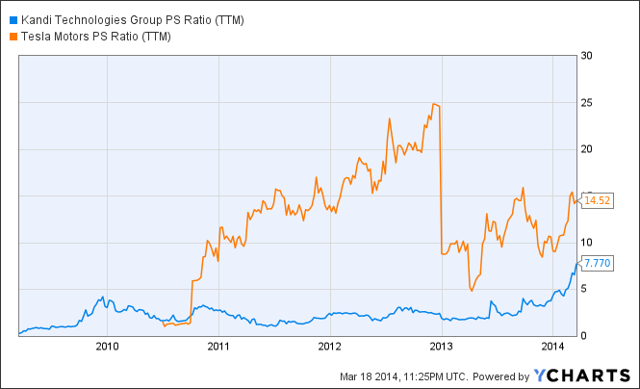 While I own some shares of KNDI, the shares will get called away this weekend as the company's share price will end the week well ahead of my strike price even if we see a correction of 10% (my strike price was $15 compared to the current price above $20; I bought the shares at around $13 and made about $2 on covered call premiums, so I can't really complain about missed-out profits). I am tempted to close my covered call position and keep the shares and I will be thinking about that all week. Even if my shares get called away, I am sure I will be buying shares of this company sometime in the future.
I suggest everyone to read this article for further information on the company's business model as the article does a great job in explaining how Kandi works (it even has some pictures of the "car vending machine" towers).
Disclosure: I am long KNDI. I wrote this article myself, and it expresses my own opinions. I am not receiving compensation for it (other than from Seeking Alpha). I have no business relationship with any company whose stock is mentioned in this article. My shares might get called away or assigned this weekend but I might buy new shares to initiate another position.