The share price of JPMorgan (NYSE:JPM) has experienced flat performance year to date, presenting an opportunity for long-term investors to accumulate shares. Looking forward, I believe JPM's current cheap valuation, solid long-term growth prospects, and greater potential for capital return to shareholders should offer investors great value.
The stock now trades at 9.1x 2015 estimated EPS, 1.09x book value, and 1.45x tangible book value, all of which are at discount (23% to 35%) to its banking peers. The valuation discounts are substantial despite the fact that JPM's consensus long-term EPS growth estimate of 9.0% is fairly in line with peer average at 9.3% and the stock offers an above-average dividend yield at 2.6%. After factoring in the long-term earnings growth potential, JPM trades at just 1.01x PEG, compared to peer average at 1.37x. It is noted that S&P 500 Index now trades at 16.0x 2015 estimated average EPS with a consensus long-term earnings growth estimate of 10% and just 1.9%, suggesting a PEG ratio of 1.6x, which is significantly above JPM's (see chart below).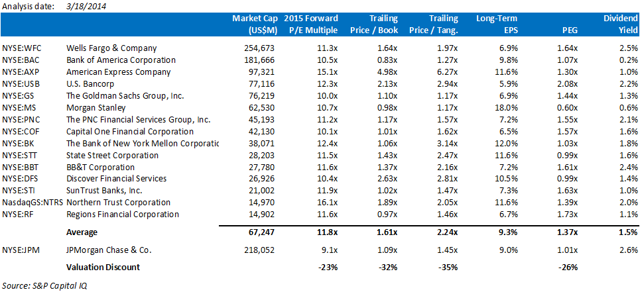 At the company's recent Investor Day, management indicated that year-to-date ("YTD") revenue from capital markets and trading businesses has gone down by 15% year-on-year and YTD mortgage originations were also lower than expected. Management also expects net interest margin to remain flat throughout 2014. Given JPM's discounted valuation despite the bank's solid longer-term fundamentals relative to its peers (discussed later), I believe the share price has baked in most of near-term headwinds.
As the bank navigates through 2014 and heads into 2015, I believe the stock's valuation should experience an expansionary trend given the following developments/prospects:
At the Investor Day, management provided a long-term earnings guidance of $27B in 4 to 5 years, compared to $23B actual earnings in 2013. Although this figure is a bit disappointed as it is lower than the guidance of $27.5B announced on 2013 Investor Day, investors should be aware that the current guidance does not account for any organic growth (e.g. loan or fee growth) in the next few years, when the economy would continue to recover. By factoring in the organic growth, the target could exceed $30B. If JPM is able to reduce its share count, the contribution to EPS growth would be very meaningful.
Management has been increasingly focusing on driving efficiency. Given that 1) JPM's litigation costs continue to trend lower, 2) its various business lines (e.g. mortgage banking) becomes more streamlined; and 3) the bank also expects to reduce additional $2B cost in its Consumer and Community Banking segment by 2016, which, it is believed that management's long-term efficiency target of at around mid-50% is achievable. It is noted that the ratio was already at 59% in 2013 and core expense for 2014 is expected to fall below the reported level ($59B) in 2014.
The bank aims to achieve 10% Basel III Tier 1 common ratio by the end of 2014, implying a modest capital requirement. This along with the bank's strong earnings potential and management's expectation that the bank's capital target is able to withstand stress scenarios should set the stage for greater share buyback beyond 2014.
Management considers the current stock valuation to be attractive because repurchasing the shares at prices that are higher than the current level still remains accretive based on their own regression analysis based on Price/Tangible Book Value per Share and return on tangible common equity.
In summary, JPM's current discounted valuation has factored in most of the negativity while it has yet to fully reflect what the bank can achieve over a longer term. Before the valuation multiples pick up as the bank delivers solid results down the road, investors are recommended to buy the shares now so as to enjoy a decent margin of safety.
All charts are created by the author, and data used in the article and the charts is sourced from S&P Capital IQ, unless otherwise specified.
Disclosure: I am long JPM. I wrote this article myself, and it expresses my own opinions. I am not receiving compensation for it (other than from Seeking Alpha). I have no business relationship with any company whose stock is mentioned in this article.