Petrobras (NYSE:PBR) was created in 1953, and it is one of the largest oil companies in the world. About 35% of this company is owned by foreigners, around 19% is owned by investors in Brazil, and about 46% is owned by the Brazilian Government.
Petrobras shares have been making new 52-week lows recently in what appears to be a perfect storm of negative sentiment. Investors have been dumping emerging market stocks, and in particular, Brazilian stocks over concerns about Federal Reserve tapering. Investors have also been selling stocks that are in the cross hairs of the "slowing" economy in China. Since China is a major consumer of commodities and oil, and because Brazil is a leading producer of these types of natural resources, this has pushed down many Brazilian stocks, including Petrobras. Take a look at the chart below to see how much the market has punished this stock in recent weeks: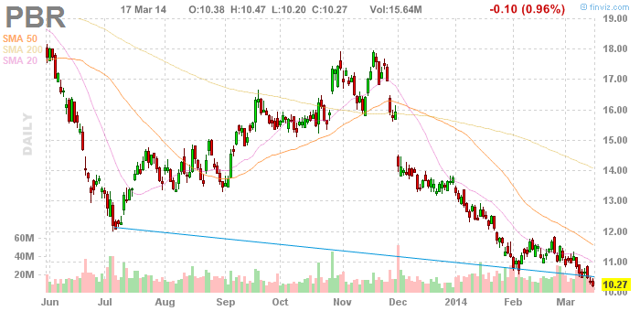 Petrobras is clearly in the cross hairs of extremely negative sentiment towards Brazil, emerging markets, and China (consumption concerns). However, this is creating an amazing buying opportunity for contrarian and longer-term investors. This wave of negative thinking is creating bargains in the stock market and investors who can think beyond the "herd" mentality, could be in for major long-term gains. Psychology plays a huge part in stock investing and you have to have a strong mind in order to avoid buying hot stocks at the euphoric highs and selling bargain priced stocks which are trading at the lows. About a year or two ago, French oil giant Total (NYSE:TOT) was in the cross hairs of extremely negative sentiment towards Europe. This took the share price down to about $40 and it gave contrarian investors a great buying opportunity since the stock now trades for about $64. Right now, the "herd" is busy chasing momentum stocks like Plug Power, Inc (NASDAQ:PLUG), an alternative energy company. Plug Power shares have surged from a 52-week low of about 15 cents and recently traded for about $11 per share, which is more than what Petrobras trades at. Never mind that Plug power has posted losses and has limited revenues of about $25 million for last year, it is a hot stock and investors want this "winner".
Meanwhile, investors are practically scrambling to get out of "loser" stocks like Petrobras even though it is solidly profitable, and expected to earn around $1.80 per share in 2014. Earnings are expected to jump to $2.35 per share in 2015, and then to $2.65 per share in 2016. Petrobras currently has annual revenues of about $140 billion, and with many new projects planned in the next couple of years, it is easy to see why revenues and earnings are expected to rise. This stock is already super-cheap at just around 6 times earnings. However, if things go according to plan, the shares are trading for less than 5 times estimates for 2015 and at about 4 times earnings estimates for 2016. That is a lot cheaper than the other major oil stocks, since Chevron (NYSE:CVX) and Exxon Mobil (NYSE:XOM) currently trade for about 12 times earnings. A close evaluation of some information available at Petrobras.com makes it easy to see why production is expected to rise in the coming years.
According to the Petrobras "2013-2017 Business And Management Plan", the company expects to have 25 new production units starting between 2013-2017, and 38 new production units are expected by 2020. The company is currently producing about 2 million barrels of oil per day or "BPD", and it has plans to increase that to 2.75 million BPD, by 2017, which would be a increase of about 40%. By 2020, it expects production to reach 4.2 million BPD, which would be an increase of about 110%, over current levels.
It's clear that Petrobras has a market sentiment issue and that many investors have a negative psychological issue with the stock because at just around 6 times earnings, the shares are dirt cheap. By looking at the share price, it is easy to see the negative bias against emerging market stocks, Brazilian stocks, and many commodity and oil companies that supply China. If you read some other Seeking Alpha articles and view the comments left by some investors, it is also easy to see major negativity. Many of the comments are the type of extremely pessimistic views that often coincide with a bottom. It's easy to find negative remarks which include statements like Brazil is a socialist country, or that Petrobras has government ownership and a fair amount of debt.
I am not unaware of the challenges or the negative outlook that some investors have on this stock. However, these concerns appear very overblown and I think even greatly flawed. The reason for this is because you could have said many of these same negative remarks a year ago when Petrobras was trading for about double the current share price. You also could have made these same negative arguments back in 2008, when Petrobras was trading for about $70 per share. A "socialist" political system, major ownership by the Brazilian Government and a significant debt load did not stop this stock from rising to about $70 in 2008, and that tells me that these types of "image" issues won't stop it from rising significantly in the future.
The point is that investor psychology towards this stock appears deeply flawed right now and that is creating what might be a once in a lifetime buying opportunity. Most people know that stocks tend to go far beyond fair value when investors are euphoric and stocks rise with strong upside momentum. We also know that stocks often go far below fair value when investors are overly negative. This often causes downside momentum that can lead to margin call selling and irrational fear-based selling. That appears to be the case with Petrobras right now as it trades for a ridiculously low price to earnings ratio. Just over a year ago, investors were participating in irrational selling of Hewlett Packard (NYSE:HPQ) which took that stock well below fair value, as it traded for about $11 per share. Common sense and a contrarian viewpoint caused some investors to buy Hewlett Packard when investors were overly bearish and that led to huge gains in a short time frame. In hindsight, investors who were selling Hewlett Packard shares at those lows were making a terrible mistake and showed the judgment of weak-minded investors, as they bought into the negativity. Hewlett Packard was solidly profitable even when it traded for about $11 per share, so the fundamentals were not the issue, it was an "image" problem and overly negative investor sentiment, more than anything. Petrobras appears to be having the same type of negative investor sentiment now, which is why investors can buy this stock at dirt cheap levels.
YPF S.A. (NYSE:YPF) is an oil company located in Argentina and it was trading for just about $12 per share in the past year. Today, it trades for around $27 per share which shows once again, that it can be very rewarding to buy stocks when other investors are selling at or near 52-week lows. It also shows how quickly negative sentiment can shift and allow for a big move to the upside. YPF is expected to earn about $2.52 per share in 2014, so it is trading for about 11 times earnings. YPF is a much smaller company as it has nearly 1/10th of the revenues enjoyed by Petrobras. I want to point out that Argentina is not considered to be big on capitalism, and that the Government of Argentina has a stake in YPF. That did not stop the stock from more than doubling off the 52-week lows in the past year. I don't believe that these issues will hold Petrobras shares (in the long-run) from a major rebound as well. With Petrobras being one of the largest companies in Brazil and in Latin America, it is often one of the first for short sellers to target in the midst of all the anti-emerging markets sentiment. In the coming months, the fervor against emerging market and Brazilian stocks is likely to fade because it is just plain overdone. History has taught us that buying stocks when sentiment is negative (like it was with Hewlett Packard, or Total about a year or two ago), can be the best thing to do. However, history also repeats with investors often dumping shares near 52-week lows, which is sometimes the perfect buying opportunity. I believe that opportunity is here now for Petrobras and it seems that some analysts are starting to recognize how cheap this stock is today. Analysts at Credit Suisse recently upgraded shares of Petrobras and set a $14 price target. That price target seems way too low, but it's a start.
As Gurufocus.com points out, a number of top value investors have bought Petrobras shares and some have recently added to their positions. A recent article states:
"Ray Dalio owns 761,800 shares as of 12/31/2013, an increase of 49.55% from the previous quarter. This position accounts for 0.084% of the $12.46 billion portfolio of Bridgewater Associates. David Dreman owns 347,128 shares as of 12/31/2013, an increase of 11.95% from the previous quarter. This position accounts for 0.53% of the $1.32 billion portfolio of Dreman Value Management."
Here are some of the potential downside risks for investors to consider: A sharp drop in oil and gas prices could lower profits and put pressure on the stock. Petrobras has about $114.3 billion in debt on the balance sheet. However, it also has nearly $20 billion in cash which acts as an offset. It also has over $140 billion in revenues, which is ample for servicing the debt, especially since it is solidly profitable. The other reason why I am not concerned with the debt is because much of the recently added debt is being used to increase the capex budget which will allow the company to increase production in the coming years. Fluctuations in foreign exchanges rates could also impact profits either positively or negatively, so that is one more potential downside risk to consider.
In summary, Petrobras is a very cheap oil stock that is worth accumulating now. Profits are expected to rise significantly in the coming years and that could turn this stock into a multi-bagger. When oil surges again someday either due to geopolitical issues, or due to global economic strength or both, the overblown concerns by some investors will fade away. Brazil is an oil rich country and more major oil field discoveries are likely to be made in the future by Petrobras. If the company executes its plans to more than double production by 2020, profits could also more than double to about $4 to $5 per share. Put a price to earnings multiple of 10 on those numbers and you could conservatively have a $40 to $50 share price in about 6 years. If we see a super spike in oil prices due to inflation and global growth, profits could also surge and push the share price much higher. I don't see any other major oil company with that type of upside potential, and that is why investors should go contrarian and buy Petrobras now.
Here are some key points for Petrobras:
Current share price: $10.38
The 52 week range is $10.30 to $19.65
Earnings estimates for 2014: $1.79 per share
Earnings estimates for 2015: $2.35 per share
Annual dividend: Petrobras does pay a dividend and in 2013, it made two payments to shareholders. On June 4, 2013, it paid a dividend of about 13 cents, and on September 6, 2013, it paid around 11.5 cents to shareholders. Investors can probably expect similar amounts to be paid out in 2014, depending on exchange rates and other factors.
Data is sourced from Yahoo Finance. No guarantees or representations
are made. Hawkinvest is not a registered investment advisor and does
not provide specific investment advice. The information is for
informational purposes only. You should always consult a financial
advisor.
Disclosure: I am long PBR. I wrote this article myself, and it expresses my own opinions. I am not receiving compensation for it (other than from Seeking Alpha). I have no business relationship with any company whose stock is mentioned in this article.