Last week looked at first like it was going to be a wash out for the bulls with the market continuing the plunge that began Friday June 4. Indeed, even the bounce that kicked off mid-day on the 8th rolled over rapidly on June 9th, as though we had more "down work" to do before a real bounce could start.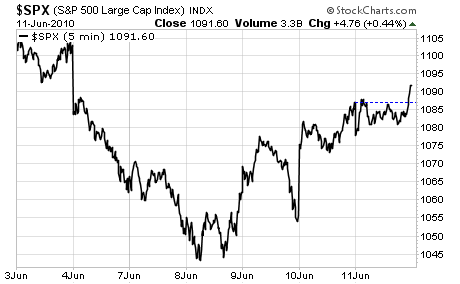 However, someone came in and bought a load of S&P 500 futures contracts Thursday morning and the market exploded higher. At first this seemed like a simple ramp job that would fail just like its predecessors did in the preceding two weeks. The first sign that this might be the beginning of something sustainable was when the market bounced off the previous day's highs mid-Thursday. However, even this looked like it could have a been a head-fake when the futures nose-dived Friday morning. And that's when the market went completely stupid.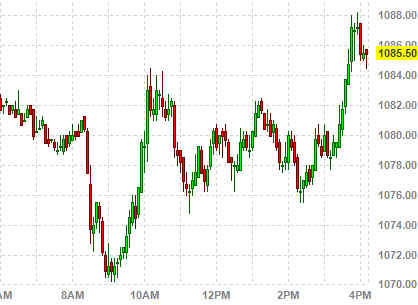 What you see here is a 12-point collapse and reversal within the span of two hours Friday morning. In plain terms, the market lost and regained a little over 1% during breakfast. This kind of action is proof positive that the stock market is no longer even remotely related to "investing" but is instead a giant joke dominated by computer programs.
What was the culprit? Volatility from the Euro/ Japanese Yen carry trade I referred to last week. The below chart shows that the S&P 500 continues to follow this trade literally tick-for-tick, presenting yet more evidence that the market has NOTHING, I repeat, NOTHING to do with human beings investing, and EVERYTHING to do with a bunch of computer algorithms chasing whatever the momentum trade du jour is.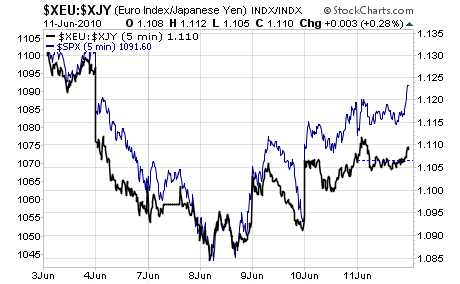 So the bulls finally managed to kick off a bounce. The issue now is: what's next?
The simple answer is that we're likely to see a test of the 200-DMA (1,107 on the S&P 500). We've already tested this level twice, failing to break it both times in the last month. If we can clear it this time, then we're likely to see a challenge of 1,115. If we can clear that, then we're likely going to 1,160 on the S&P 500: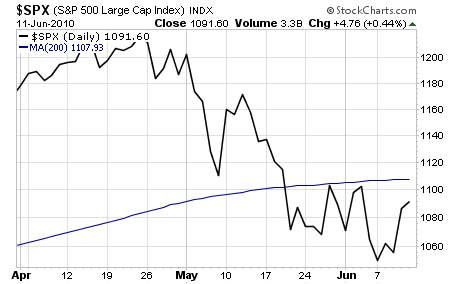 This would fit well with historic tendencies. So far in 2010, the market has followed a clear Crisis pattern that has historic precedents. That pattern is a March–May Crisis, followed by a summer rally, and then a nightmarish autumn.
Bill King detailed this pattern in a recent King Report noting that it occurred in 1907, 1929, 1931, 1987, 2000 and 2008. In each of these years, stocks came undone via some kind of Crisis during the March–May period. There was then a brief summer "relief" rally, and then things got VERY ugly in the fall. To check out Bill's work, (it's top notch stuff) go here.
So for now the market is in bounce mode. If history serves as any guide, we'll see something of a multi-week rally here, most likely a slow grind higher. However, once this is over, we will likely re-enter full blown Crisis mode in the Autumn. And that's when the REAL collapse will begin.
To the bears, the appetizer is over. Look for the main course this Fall.