Shares of Pengrowth Energy Corporation (NYSE:PGH), a Canadian oil- and gas exploration company, have fallen back lately and I am still scratching my head as to what the reasons for the consolidation are. The Canadian exploration play with a 54% exposure to liquids and 46% exposure to gas has done well for shareholders all along. The company has sold CDN-$1 billion of non-core assets in 2013 and reduced outstanding debt by CDN-$175 million.
From an operational/financial point of view, Pengrowth Energy also has had a solid fiscal year 2013.
Full-year 2013 production came in at 84,527 boe/d compared to 85,748 boe/d in fiscal year 2012 -- a minus of 1.4%. Revenues, however, increased to CDN-$1,538 million in 2013 compared to CDN-$1,480 in the previous year: A increase of 3.9%. Over the same time period, funds from operations (FFO) increased 4.1% to CDN-$561 million compared to CDN-$539 million in fiscal year 2012.
(Source: Pengrowth Energy Corporate Presentation March 2014, click to enlarge)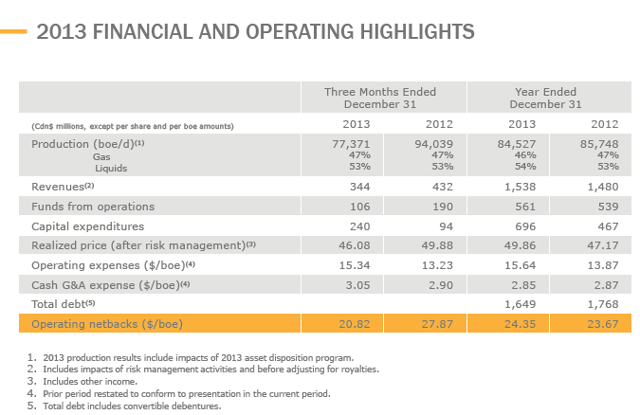 Lindbergh project set to drive production and cash flow growth
Pengrowth Energy's Lindbergh thermal development project is located in East Central Alberta. In 2012, Pengrowth Energy began its pilot development with two well pairs. Pilot results for the two well pairs ultimately pointed toward outstanding well productivity (Source: Company website):
Together produced in excess of 840,000 Bbls of bitumen from June 2012 to September 30, 2013.
In aggregate, as of June 30, 2013, producing an average of approximately 2,000 Bbl/d of bitumen, with an ISOR of 1.8.
Demonstrated faster than expected reservoir response to steam.
Demonstrated lower than expected steam/oil and diluent blending ratios.
Pengrowth Energy has now progressed to the commercial development phase with further successes in 2013:
Regulatory and environmental approvals received in July 2013.
Upon closing of dispositions announced in July 2013, Phase I development is notionally fully funded.
All major, and over 60% of minor, equipment has been ordered.
Process design is 90% complete and mechanical design is 40% complete.
Civil construction has commenced.
Construction of central processing facilities and drilling of an additional 23 well pairs commenced in September 2013.
First steam expected by the fourth quarter of 2014.
Ultimately, Pengrowth Energy's Lindbergh project is expected to deliver 50,000 bbl/d by the end of 2018. The ramp-up plan including capital expenditures and production levels (bbl/d) is presented below:
(Source: Pengrowth Energy Corporate Presentation March 2014, click to enlarge)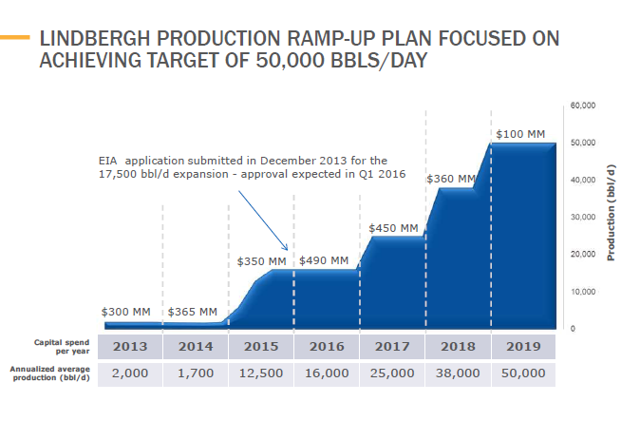 Pengrowth Energy's Lindbergh project will be instrumental for the future free cash flow and distribution prospects of the exploration company.
The table below summarizes projections for Pengrowth Energy's production figures and financial metrics until 2018.
Pengrowth Energy's EBITDA and funds flows are expected to receive serious tailwinds going forward: Total EBITDA is projected to increase from CDN-$602 million in fiscal year 2014 to CDN-$1,382 million in 2018. Over the same time period, funds flows are expected to grow from CDN-$520 million ($1.00 per share) to CDN-$1,315 million ($2.38 per share) in 2018: A whopping increase of 153% (138% per share).
(Source: Pengrowth Energy Corporate Presentation March 2014, click to enlarge)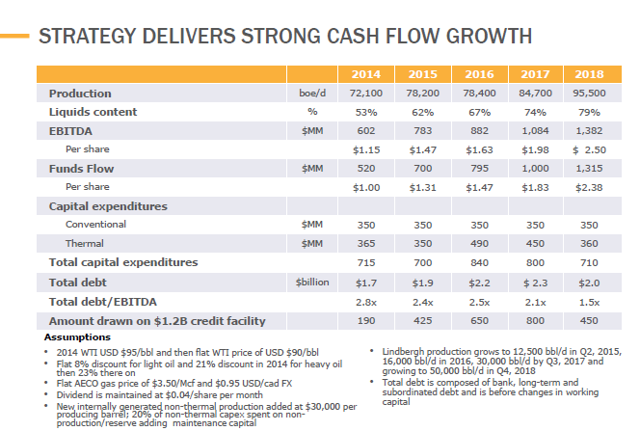 Share performance
Shares of Pengrowth Energy have returned approximately 12% over the last year. The exploration company marked a new 52-week High at $6.88 last month, but is down more than 11% since then; even though the company reported on March 3, 2014 that it exceeded its production guidance and presented strong reserve growth.
(Source: Yahoo Finance, click to enlarge)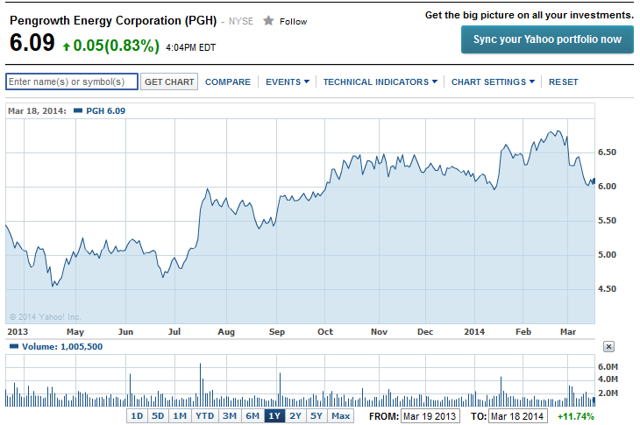 Conclusion
Pengrowth Energy is an interesting income vehicle for investors who want to diversify away from US-based energy plays and also want exposure to the Canadian dollar and a high dividend yield.
Pengrowth Energy currently pays a monthly dividend of CDN-$0.04 (approximately US-$0.036) which translates into an annualized dividend yield of 7.1%. With this high a yield, Pengrowth Energy might be a suitable alternative to high yield US income vehicles such as Linn Energy (LINE).
Strong production results that are about to trickle in over the next couple of years, particularly driven by the Lindbergh project, could provide a substantial boost to Pengrowth Energy's share price. Long-term BUY.
Disclosure: I am long LINE. I wrote this article myself, and it expresses my own opinions. I am not receiving compensation for it (other than from Seeking Alpha). I have no business relationship with any company whose stock is mentioned in this article.