AT&T (NYSE:T) is attracting my attention purely from a valuation point of view. As a value investor I always like to look for companies that offer reasonable dividend yields, low valuations and a solid margin of safety. AT&T's stock has declined throughout much of 2013. The stock is down 9% over the last twelve month, but down more than 15% from its 52-week High at $39. At nearly $33 per share, AT&T could be a good investment for long-term investors who want to act opportunistically and purchase a high-yielding telco as long as the sector is still unloved.
(Source: Yahoo Finance, click to enlarge)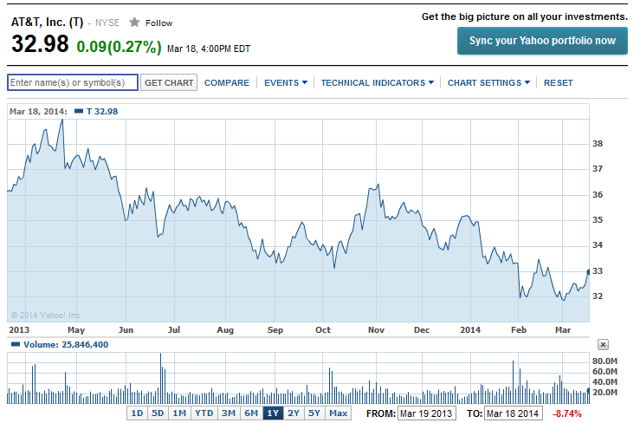 Click to enlarge
Over the last five years, Verizon (NYSE:VZ) has returned 68% while AT&T gained 30%. CenturyLink (NYSE:CTL), on the other hand, gained only 18% over the same time period (see chart below).
I specifically like that AT&T has not performed as well as Verizon Communications because it indicates that the market is more optimistic with respect to Verizon and more pessimistic with respect to AT&T. Oftentimes this translates into outsized rebound potential for the neglected stock.
(Source: Yahoo Finance, click to enlarge)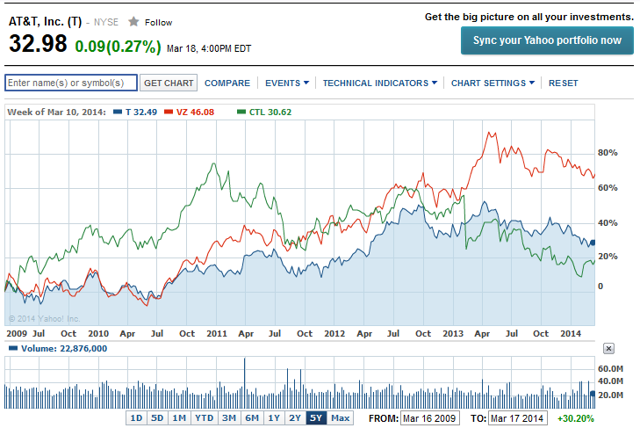 Click to enlarge
Intrinsic value estimate
I have update my AT&T free cash flow to equity valuation model (see below). I estimate that AT&T can grow its free cash flow to equity by 3.52% in 2015 and 3.40% in 2016 before the growth rate settles down at 3.00%.
Correspondingly, the present value of the terminal value comes in at $36.95 per share to which the present values of the free cash flows in 2015 and 2016 are added. As a result, I peg AT&T's intrinsic value somewhere in the neighborhood of $42 per share -- a 4% increase compared to my previous estimate of $40.53.
With a new estimated intrinsic value of $42.13, the stock of AT&T has further upside potential of almost 28%. My upward revisions to the FCFE estimates as well as AT&T's weak stock price have contributed to a larger margin of safety.
(Source: Achilles Research, click to enlarge)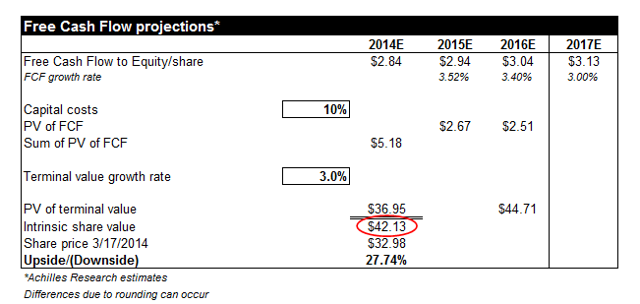 Click to enlarge
Market valuation
AT&T presently trades at less than twelve times earnings which is equivalent to a solid earnings yield of 8.4%. Telcos, US-based and European, don't seem to command premium multiples although their dividend yields would certainly justify higher equity valuations.
With around twelve times earnings, AT&T trades about in line Verizon and CenturyLink -- both of which also fetch forward earnings multiples of twelve.
(Source: Achilles Research, Finviz.com)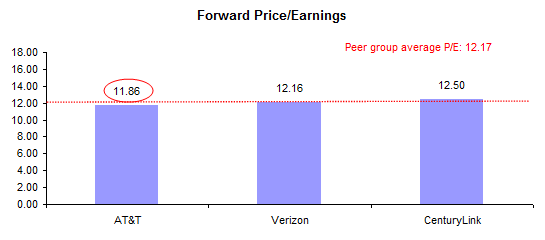 The main reasons why I would consider telecommunications companies/carriers as a long-term investment is because of their attractive dividend yields and relatively stable cash flows. The only exception I would make to this rule is Telefonica (NYSE:TEF) which has one of the most attractive growth profiles in the large-cap telco industry. I think Telefonica has substantial upside potential (up to 70% and the company could reasonably achieve a dividend yield of 8% in the coming years).
AT&T currently pays investors a quarterly dividend of $0.46 per share which equates to annual payments to shareholders of $1.84 per share or a dividend yield of 5.58%. Even though AT&T's dividend growth has slowed over the last couple of years, a cash flow yield approaching 6% is clearly a good thing for income investors.
(Source: Achilles Research, Finviz.com)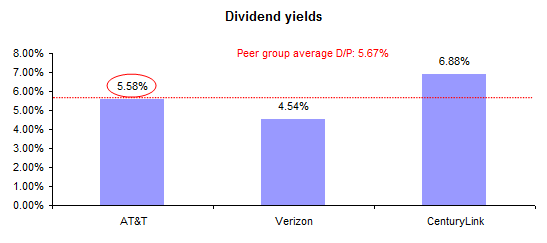 A summary table containing key valuation metrics as well as discounts to the respective peer group averages is presented below:
(Source: Achilles Research, Finviz.com)

Click to enlargeConclusion
For investors who seek US telco exposure, AT&T could be an equity investment that is worth a closer look. While many income investors focus on real estate investment trusts or master limited partnerships for recurring distributions, telecommunication companies offer equally attractive dividend yields -- and possibly lower risk.
AT&T's high dividend yield, low valuation based on cash flow and earnings as well as a low-risk/stable cash flow profile, make the telco a suitable vehicle for income investors.
Disclosure: I am long TEF. I wrote this article myself, and it expresses my own opinions. I am not receiving compensation for it (other than from Seeking Alpha). I have no business relationship with any company whose stock is mentioned in this article.