Chinese president Xi Jinping will visit France and Germany after the Nuclear Security Summit in The Netherlands. There are signs that China will announce buying up to 150 Airbus aircraft worth $20B. For Airbus Group (OTCPK:EADSY) this would mean a 33% increase in existing Chinese orders. China seems to favor Airbus over Boeing (NYSE:BA). For Boeing such an order would be of strategic significance and should be thoroughly analyzed.
Airbus Group and China
China and Airbus Group have strong links. As described in Europe's Growing Giant In The Aerospace Industry Airbus has an assembly-plant for A320s in China which assembles 4 A320s a month. Airbus also has other extensive manufacturing facilities in China.
Airbus Group also has a strategic partnership with AviChina, which is the commercial activities organization of the Chinese aerospace industry.
Airbus Group is a strategic partner of AviChina with a 5% stake and also supplies the only foreigner on the board of directors of AviChina.
AviChina is described in more detail in United Technologies And China: Time To Buy, which is about United Technologies Corporation's (NYSE:UTX) links with the Chinese aerospace industry.
Backlog
At the moment Airbus' backlog is more than 400 commercial airliners that have not been delivered yet. Two thirds of these orders are from Chinese leasing companies and one third from Chinese airlines.
If Reuters is right, the 150 aircraft deal is a 33% increase of the current Chinese order book. Reuters names especially the Airbus A330 and "some" A320s and A350s. Their sources also stress that the final size could change and might also not be announced during the visit as China tends to be decoupling diplomatic visits from these kinds of orders.
Significance of Chinese Airbus order for Boeing's strategy
The article also speaks of stiff opposition between Airbus and Boeing, but the strategic partnership with AviChina shows that the competition is probably smaller in reality than portrayed.
China will continue to give orders to both Airbus and Boeing, but strategically the preference seems already to be with Airbus Group. The strategic partnership with AviChina and increasing manufacturing show the strength of the (manufacturing) connections between Airbus and China.
Airbus Group CEO Tom Enders said in 2009 "no one will benefit more from this than Europeans," and (building aircraft outside of current borders) "is the future and, with innovation and internationalization, Airbus can win a share of this future."
This of course also applies to the US, where Airbus will open an assembly plant in Alabama next year and spend about $13B a year in the US.
(Source: Confero from financial reporting Airbus and Boeing)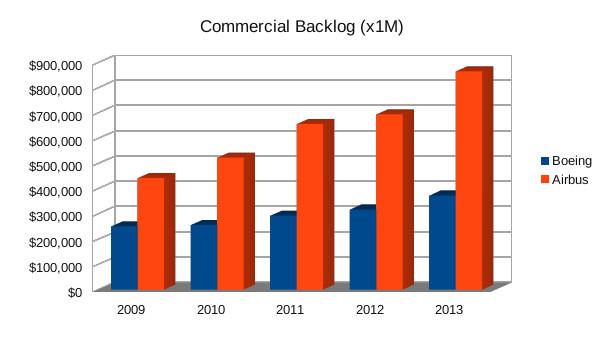 The strategy seems to work for Airbus. Analyzing the (financial) reports published by Airbus Group and Boeing show that the backlog for commercial aircraft is much larger.
Since 2009 Airbus' backlog has grown 100% compared to the 50% growth of Boeing. Both are respectable increases, but they also show a significant difference in acquiring new orders.
(Source: Confero from financial reporting Airbus and Boeing)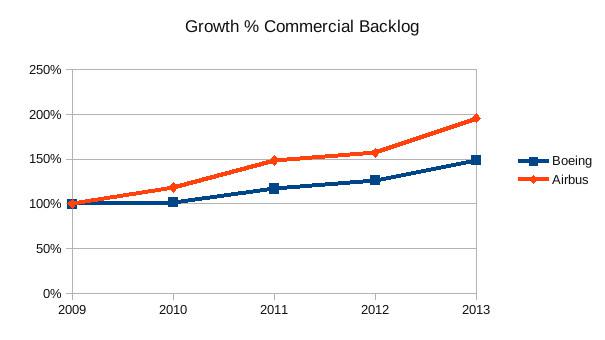 Boeing produces parts in China, but no assembly is done there and other cooperation is limited. If such a huge order (and what it consists of) comes through, this should be interpreted and analyzed thoroughly by Boeing. Maybe it could also serve as a trigger to review its (future) strategy for China (and other countries).
Disclosure: I have no positions in any stocks mentioned, and no plans to initiate any positions within the next 72 hours. I wrote this article myself, and it expresses my own opinions. I am not receiving compensation for it (other than from Seeking Alpha). I have no business relationship with any company whose stock is mentioned in this article.